Steemit Engagement Challenge S7-W6 | My Vision & Mission to Join Steemit
---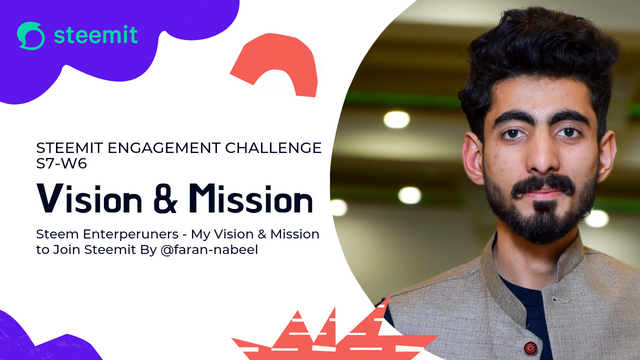 Thumbnail was created from Canva
Hello Everyone! How are guys Hopefully all enterperuners will be from of happiness ans all is fine and everything you all enjoying your lives. This is your very own Faran Nabeel and i will come here steem enterperuners community to looking out thier interesting topic for engagement challenge. This is a very interesting contest for all steemians on the end week of season 7. I hope you will enjoy this topic.
The topic of that contest is my vision & mission to join steemit platform. I am very excited to be participating on this engagement challenge. I hope all of you will really like my this post about my vision to join this platform.
---
---
How i first got to know and decided to join steemit.
I know about this platform through my collage teacher, his steem name is @cryptokraze, he is really nice and good man and he did a good job on steemit, he told me about this platform and guide me as well. When i know about this platform i checked the profile of my teacher thier was really good and strong and he earned good through this platform who really inspired me. So, he did advice me to joined this platform and learn new things and end earn many by creating quality blogs.
Because this is a blogging website and through creating blogs we get earned good money so, i decided to jointhis platform. As a student this was my good decision and now during my collage i easily earn my expenses through steemit platform and can easily manage my pocket money as well, I joined this platform but I was not sure that it would be a great change for me because he changed me totally.
I am very thankful to my sir who told me about that platform. Now currently he not active on steemit due to thier personal works. But i hope soon i will see his great comeback on steemit platform.
---
---
In My opinion, what are the Advantages of steemit Compared to Other similar platforms.
In my opinion, steem always better than other social media platforms because it is not only a source of earning, it is also a source of learning. And through steem platform i also learned alot of things. My friends, steem is an earning platform and through this platform we can get earned good. Otherwise he is also a good source of learning for students. If i would talked about others so, on that platforms for get good earning we should need to have many subscribers or many followers. But stremit is free from this.
The main motivation of mine to join this platform is that i can build my self and safe it for my future. This is our future and on our future it would be help us a lot to got many achievements. I joined steemit as student and now i earned good through this platform.
---
---
Do I intend to power down? or even more excited to power up? Tell us ! and what is your strategy not to lose your club status
Nope, I don't have any plan of Powerdown. I'm always doing powerups ans now i am a member of club100 it's means i didn't withdrawal my steem from last many months. My aim was to build my sp and become at least two dolphin. Now my target is taht reache to dolphin before the end kf this month. I hope you all will help me to achieve and hit this.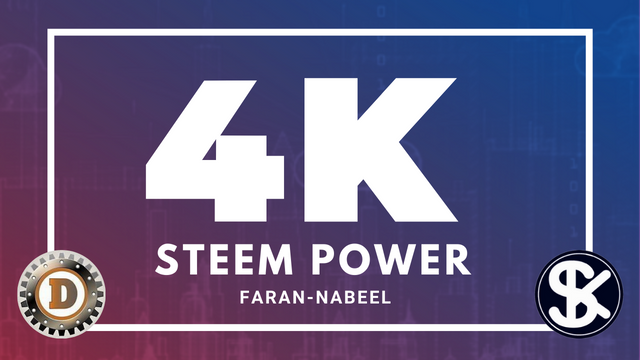 Celebrate My 4K Steem Power On Steem - Near to Dolphin 🐬
I am a member of club100 , which means I'm not taking out a single steem from past many months. That means I'm powering up all my earnings from pervious many months ans last night i hote my first goal of 4k steem power on steemit. Ans i also celebrate this by creating a saperate post on database community. Inshallah soon i will become a dolphin on that platform and get a good spot on this platform as well. I have plans to restart my community on the end of this month.
---
---
My Goals and Hopes with Steemit in 2023
Yes i have many plans ans hopes with steem in 2023. On this year i want to restart my community and want to grow not only my account but also my community, steemit graphics community. Now Alhumdulilah, my account is growing fast and last few weeks i earned good sp from my working. My target is to achieve dolphin as early as possible in the end of this month. I also want to build our pakistan community to support our pakistani users because many new users are joined this platform from our side. I hope on this year steem price will also comeback on thier old price.
Now this is my new participation post for steemit engagement challenge for steem enterperuners community. I hope you will like ans enjoy my this post. And i hope you help me to achieve my goals in 2023. Now i would like say thanks to all the team of this wonderful community.
I would like to invite @lavanyalakshman, @shohana1, @f2i5, @simonnwigwe, @ngoenyi, @ripon0630, @petface and @steemdoctor1 to take part in this wonderful contest.
Regards,
Faran Nabeel