Acts of Kindness | | Join the Leaders and members of the Steem Entrepreneurs Community. Distribution of hastaq charity programs #steemkindness25pc | To the Micro Business actors, Mrs. Mahnidar
---
---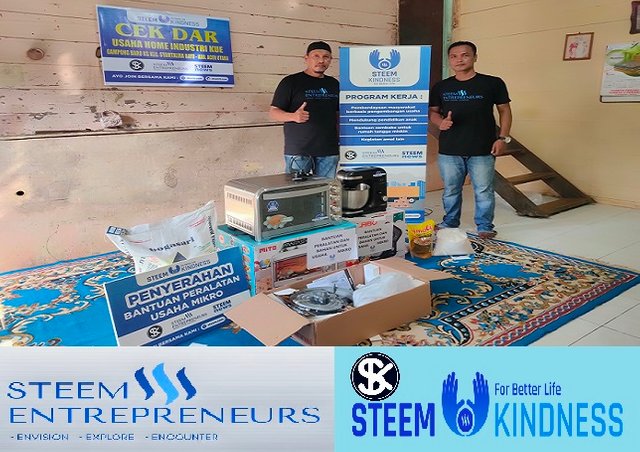 10 %Payout set to @steemkindness
Edit By Paint App
---
Yang terhormat Sahabat Entrepreneurs suluruh dunia. Harapan saya, semoga semua dalam keadaan sehat tanpa ada kekurangan suatupun. Dan tentu kita semua berharap. Pandemi yang sedang melanda segera berakhir.
Dear Friends of Entrepreneurs all over the world.
I hope that all are in good health without any flaws. And of course we all hope. The current pandemic is coming to an end.
---

---
Terima kasih kepada Pioneer Komunitas Steem Entrepreneurs @harferri untuk gagasan yang super ini, saya sangat menikmati dan bahagia bisa berpartisipasi dalam program ini.
---
Thanks to the Steem Entrepreneurs Community Pioneer @harferri for this super idea, I really enjoy and am happy to be able to participate in this program

---
Ayo Sedekah
---
Komunitas Steem Entrepreneurs merupakan komunitas terbaru di #Steemit. Dalam usianya yang baru berusia tiga bulanan, Komunitas ini sudah membuat beberapa gebrakan yang sangat menonjol. Komunitas yang memiliki tujuan sebagai "forum #promo-steem melalui kegiatan kewirausahaan. Dan juga berupaya untuk mengintegrasikan STEEM ke dalam bisnis yang dijalankan oleh Steemian".
Yang memiliki misi yang sangat baik sesuai dengan Re - Introduction | Steem Entrepreneurs Community yang di umumkan oleh Komunitas ini.
Disamping itu juga, Komunitas Steem Entrepreneurs memiliki program amal dengan memakai hastaq #steemkindness25pc yang mana hasil dari program tersebut akan digunakan untuk membantu orang-orang yang membutuhkan. Dengan tujuan untuk "mendorong pertumbuhan ekonomi keluarga miskin melalui dukungan Usaha Mikro yang dijalankan sebagai upaya membantu pemenuhan kebutuhan ekonomi keluarga, peningkatan status gizi anak usia sekolah dan pra sekolah sebagai fase emas dalam pendidikannya, mendorong pola hidup sehat sebagai upaya memutus mata rantai penyebaran virus dan dukungan pendidikan melalui bantuan keliling bagi anak-anak dengan latar belakang ekonomi yang sulit."
Sesuai dengan program yang sudah diumumkan STEEM KINDNESS PROGRAM FOR SOCIETY.
---
The Steem Entrepreneurs community is the newest community on #Steemit. At only three months old, this Community has already made some very prominent breakthroughs. A community that has a goal as a "#promo-steem forum through entrepreneurial activities. And also seeks to integrate STEEM into businesses run by Steemian".
Which has an excellent mission according to Re - Introduction | Steem Entrepreneurs Community announced by this Community.
Besides that, the Steem Entrepreneurs Community has a charity program using hastaq #steemkindness25pc where the proceeds from the program will be used to help people in need. With the aim of "encouraging the economic growth of poor families through the support of Micro Enterprises which are run as an effort to help meet the economic needs of families, improving the nutritional status of school-age and pre-school children as a golden phase in their education, encouraging healthy lifestyles as an effort to break the chain of the spread of the virus and educational support through mobile assistance for children with difficult economic backgrounds."
In accordance with the announced program STEEM KINDNESS PROGRAM FOR SOCIETY.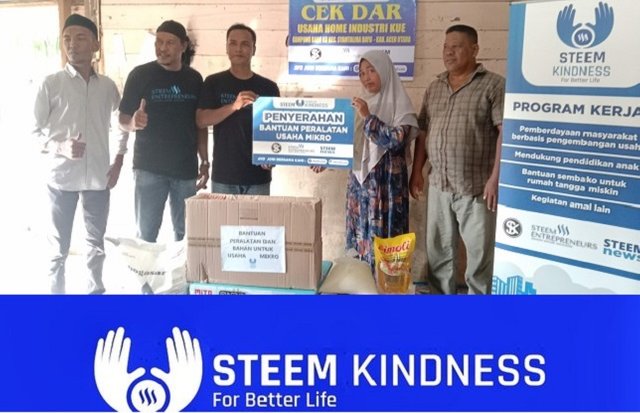 Acts of Kindness
---
Bergabung dengan Leader dan member Komunitas Steem Entrepreneurs. Penyaluran program amal hastaq #steemkindness25pc | Kepada pelaku Usaha Mikro Ibu Mahnidar
Join the Leaders and members of the Steem Entrepreneurs Community. Distribution of hastaq charity programs #steemkindness25pc | To the Micro Business actors, Mrs. Mahnidar.

---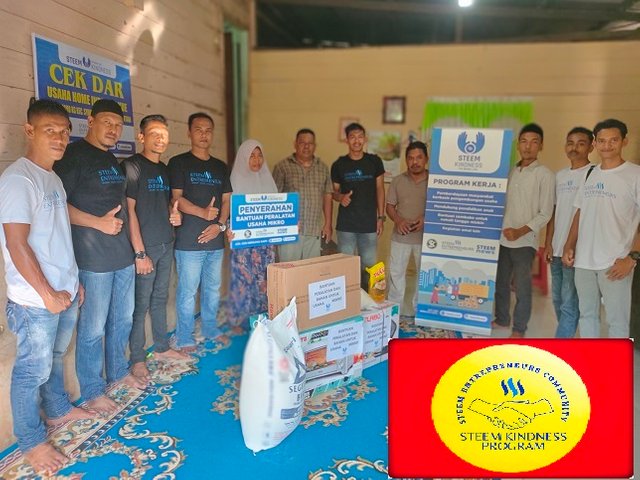 ---
Sesuai dengan hasil survei yang sudah dilakukan oleh @harferri selaku Pendiri Komunitas Steem Entrepreneurs bersama @subkiusman sebagai salah satu dari Leader Komunitas.
In accordance with the results of a survey conducted by @harferri as the Founder of the Steem Entrepreneurs Community with @subkiusman as one of the Community Leaders.

---
Sabtu, 16 Oktober 2021 saya mendapat informasi dari Leadership komunitas akan disalurkan pada siang hari ini. Beliau meminta kepada member komunitas yang mempunyai waktu luang untuk mendampingi dalan acara serah terima bantuan tersebut.
Saya merasa senang dengan peluang yang baik ini dan tanpa memikir panjang langsung mengiyakan ajakan tersebut.
Walau aktifitas saya terasa begitu susah untuk saya tinggalkan. Bantuan pun berhasil disalurkan dengan baik. Bantuan diserahkan kepada salah seorang pelaku Usaha home industri ibu Mahnidar. Ibu Mahnidar atau sering disapa dengan Cek dar salah satu penduduk Desa Baro, Kecamatan Syamtalira Bayu, Kabupaten Aceh Utara yang kegiatan hari-harinya membuat kue untuk dititipkan di warung-warung sebagai penopang biaya hidupnya setelah suaminya kehilangan pekerjaan sejak pandemi melanda.
Saturday, October 16, 2021, I received information from community leadership that it will be distributed this afternoon. He asked community members who have free time to assist in the handover event.
I was happy with this good opportunity and without thinking about it immediately agreed to the invitation.
Even though my activities feel so hard for me to leave. The aid was also distributed well. The assistance was handed over to one of the home industry business actors, Mrs. Mahnidar. Mrs. Mahnidar, or often called Cek, is a resident of Baro Village, Syamtalira Bayu District, North Aceh Regency, whose daily activities are making cakes to be deposited in stalls to support her living expenses after her husband lost his job since the pandemic hit.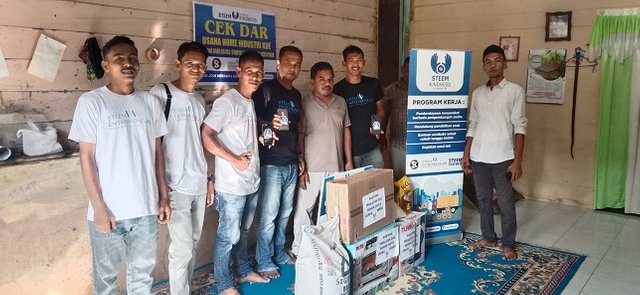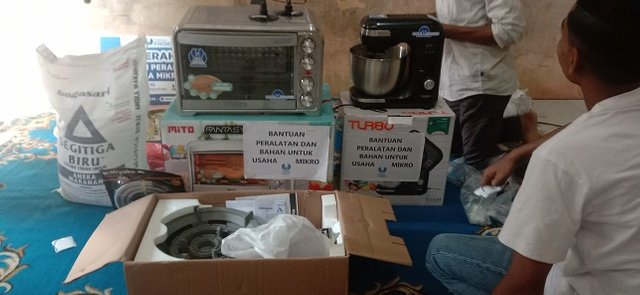 Bantuan yang diserahkan kepada ibu Mahnidar. Barang berbentuk peralatan untuk membuat kue dan sedikit bahan-bahan untuk membuat kue.
1 Unit Pengaduk Adonan
1 Unit Oven Listrik
1 Unit Kompor
1 Set Selang Regulator
1 Sak Tepung Segitiga 25 Kg
4 Kilogram Gula
2 Kilogram Minyak Goreng
Aid given to Mahnidar's mother. Items in the form of equipment for making cakes and a few ingredients for making cakes.
1 Unit of Dough Mixer
1 Unit Electric Oven
1 Unit Stove
1 Set Regulator Hose
1 Sack Flour Triangle 25 Kg
4 Kilograms of Sugar
2 Kilograms of Cooking Oil.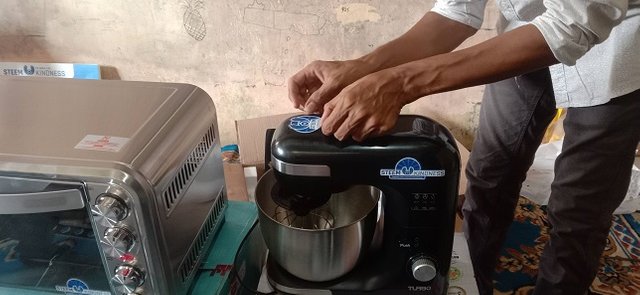 ---

To those who have taken part in this activity, I thank you. I'm proud of all of you.

| @fajrulakmal99 | @aril.hatake | @jcorner | @fikar22 |
| @akmal1 | @afrizalbinalka|

Steem Entrepreneur's Team
@Harferri | @tucsond | @subkiusman |@sofyan88

Peduli Covid-19, Komunitas Steemit Aceh Utara Bantu Warga Miskin Pelaku UMKM
Best regard @f2i5
Semoga semua akan lebih baik lagi di hari yang mendatang
Hopefully everything will be better in the days to come


---