Introduction of "Mera India." Community - Come Join Us
Today I will like to introduce a new Community that has been formed @meraindia. You may think there is already one Indian community then why this another one. As you go through this post, you will understand how this one is different. The community has been formed by @sduttaskitchen - Sunita is her name. She has been on Steemit blockchain since 2 years now, and has a good level of commitment towards the ecosystem.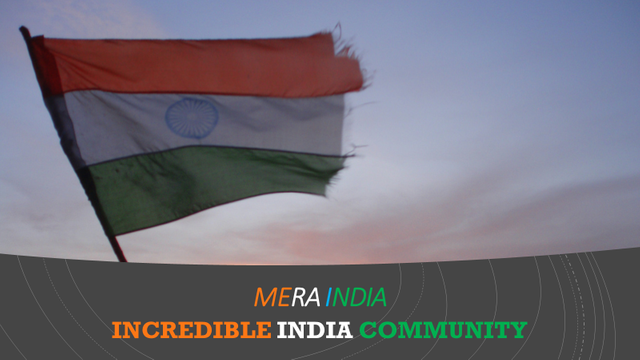 The main reasons for creating this community are:
Steemit is growing and the number of users are increasing. New joiners need hand holding in the early days. We would like to curate the new joiners content and give them a helping hand.

India is the second-largest country in terms of population, and we would like to leverage on this by promoting Steem and onboarding people.

In India, people use several languages, but they are bound to use only English because they don't get any platform where they can use their mother tongue. We would like to encourage regional languages as well and promote their content.

Bot users are not welcome in most of the communities. We do not wish to draw any boundaries and support all good content. There are big accounts who support but we see that the reward distribution is not equal and it just lands up to a handful of people and hence this is also one of the major reasons why people with big power are turning towards usage of Bots.

We would like to encourage Free writings and come up with themes which will motivate people to write.
---
Setting up a community is not a very easy task and has it's own challenges. We are working towards it and if you can resonate with our thoughts we would like to seek you support and cooperation in many ways that you can.
Our biggest challenge is getting enough Delegation to support the community. Without Delegation the Community will not hold much power. We urge members to delegate and grow our community in the best interest of everyone.

A community is not a one person's job hence we would like to have people who can help us with administration part.
We do not have many rules and it is very simple with us
No plagiarism.
No abusive content.
No nude pictures are allowed.
Criticism of any religion is prohibited.
Refrain Political agendas
We want to encourage quality content and not content like what I ate today and what time I woke up. Hence the quality of content will be on top most priority.
If anyone likes to share photography or poem posts, then at least use 150 words related to the content.
Other writings need minimum of 250-300 words.
Anyone and Everyone who can follow these criteria are free to join our Community. As far as the Power is concerned we are sure we will build it up soon. And we need your support as well in building up the Community.
As of now we do not have support of any big Curators, but we are working on it.
We will like to keep you informed about the criteria for getting support from curators.
1.Curators do not support bot users.
2.Have to maintain club status.
3.They only support steemexclusive content.
That's all about the community. Come join us and Stay connected so that we can make a difference.
Thank you for visiting my blog. 👼🏻👼🏻💖💖🌹🌺🌸




"Unlimited Abundance, Blissful Happiness and Unconditional Love"