mobile suit gundam :Thunderbolt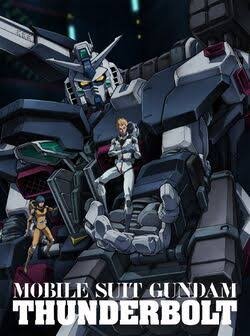 Composed of four episodes, each around twenty minutes long, Mobile Suit Gundam: Thunderbolt's first season details the reliant behaviour of those in war; and how many go through extreme lengths in order to perform better in their space battles, all for a thrill.
I'm relatively new to the Gundam world, and I recently dived in while searching for something to fill in the cyberpunk void, but thus far, Thunderbolt appears to be a mixture of all-out mecha action and mixed with the wonderful jazz that made Cowboy Bebop the amazing show it is.
Thunderbolt's protagonist is young, with a thirst for war, although he seems haunted by his simple childhood; especially given he lost both of his legs in a war. There's not all that much he can do outside of pilot a mecha--the mecha gives him the functionality that he no longer has with his real body, so he's connected to the job.
There's a darker meaning to the character's actions and thoughts outside of the jazz played alongside the destruction and deaths of pilots and mechas, which almost makes those moments that more bittersweet; it's displaying the popularisation of war and killing, associating such calamities with a calm, relaxing genre of music--something we already see today. It reminds one of Sun Tzu's The Art of War, which is quite self-explanatory.
Mobile Suit Gundam: Thunderbolt feels like an homage to the artistic perception of war, to those who actively partake in it. It's their life. Their creation.