Prep day!!! Freeze & Store Greeen Smoothie 🥬🍐🍏💚
Hello hello!
How is everybody doing? Ready to make a smoothie?:d:D 
If you search on my blog, you'll see one of my last posts is a recipe of smoohie. GREEN SMOOTHIE actually.
I am a big fan of smoothies. Why? Simply because they are loaded with nutrients, you can use whatever fruits and greens you have at home (the combinations are infinite) and they are easy to make. 
Having a smoothie is a good choice to take in your vitamins and minerals, fibers, proteins, good carbo's too. You can add fruits, seeds, nuts, milk, yoghurt, leafy greens, vegetables (like beets, carrots), protein powders, superfoods, healthy powders like spirulina, acai, blackcurrant, etc.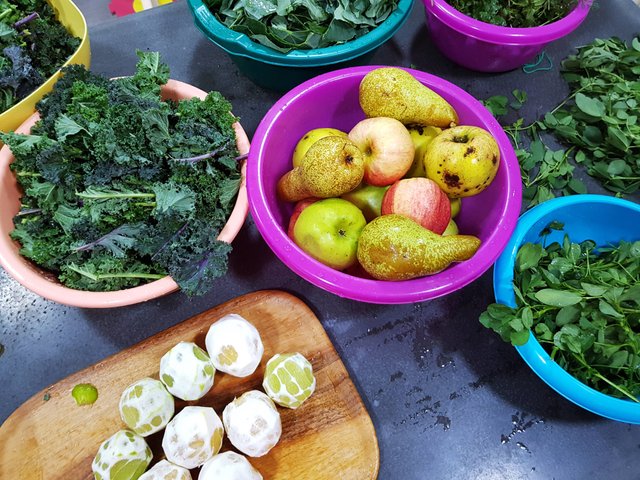 Here is my Original Post about Smoothies. 
You can find informations about why are they healthy, how to prepare a well balanced smoothie, study research, smoothie recipes and more tips.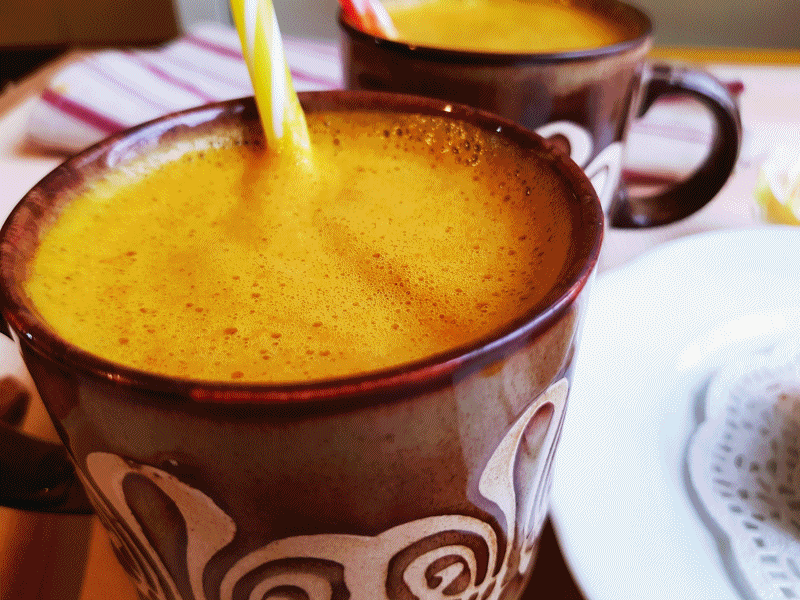 But there are days when I don't have the time to actually make the smoothie. That's why, I do them in advance by preparing and  freezig 'em until  The Busy Day comes.
It's nothing different than preparing a fresh smoothie. Last time I did this I used larger quantities because I knew I will have a rough period of time. Each bag has the specific amount to get 2 Large smoothies. (or three, smaller).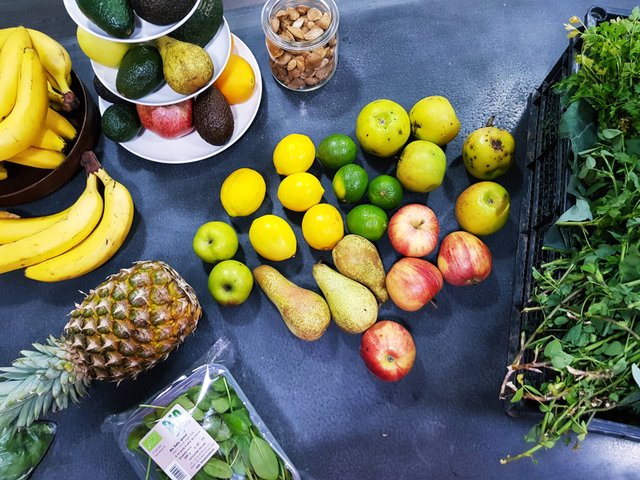 As INGREDIENTS I used:
bananas
apple
pear
pineapple
limes
lemons
already frozen berries mix
spinach leaves
kale
green parsley
alfa alfa greens
mangold (chard) leaves
broccoli leaves 
fresh aromatic herbs (fennel, mint, oregano)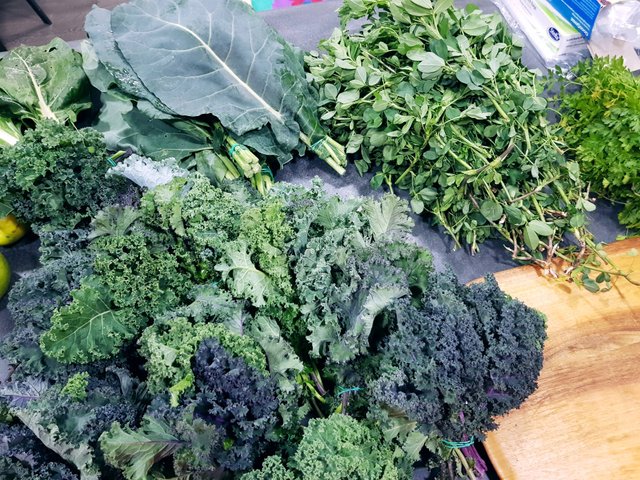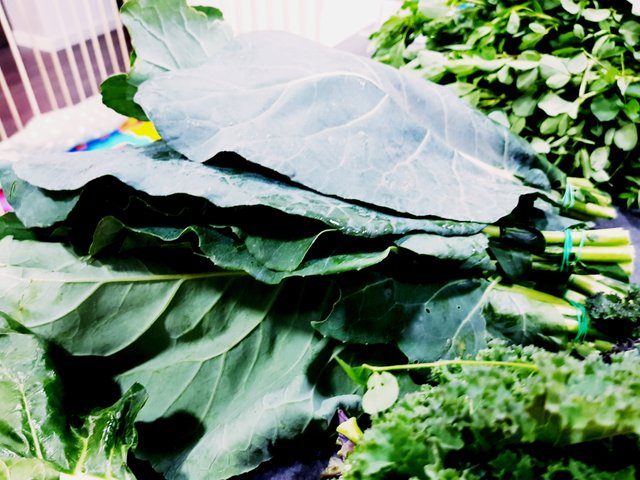 You don't need exact quantities. At leas if you don't mind the taste. How comes this? Well, if your leafy greens will dominate, then you'll have a bitter/sour taste. But if the fruits would dominate, then you'll get a sweeter and more-yummy smoothie. I think you need a balanced combination, so 50-50 is just right.
Green smoothies are healthier than regular fruit smoothies because the leafy greens comes in with a load of nutrients, plus they contra-attack the natural sweetener found in fruits. Cause even though the fruits contain natural sugar, its still sugar and when you eat fruits making an abuse of them, then it's not recommended. Especially fruit juices. They are not so healthy because they lack in fiber and they are high in sugar. It's recommended to drink fresh veggies juices and just a small proportion of fruits.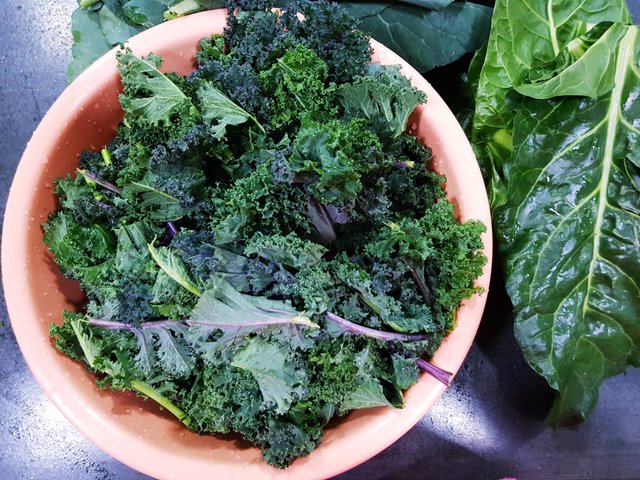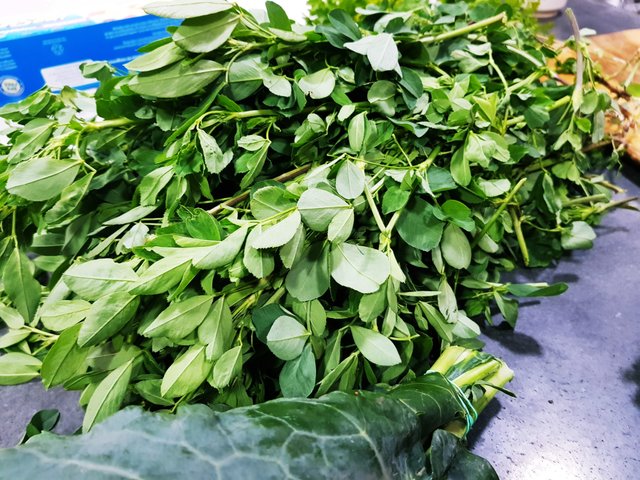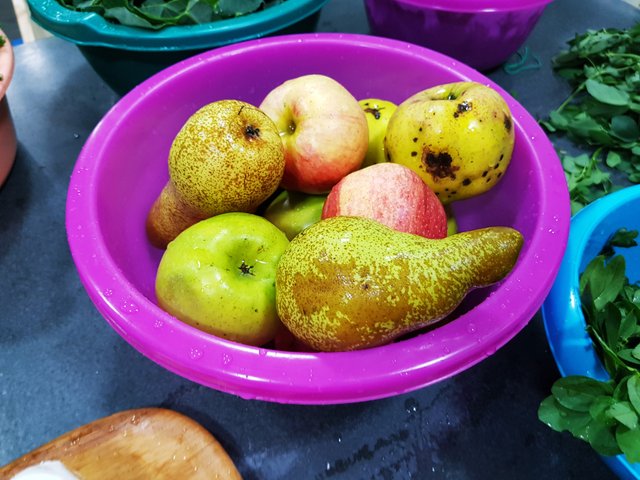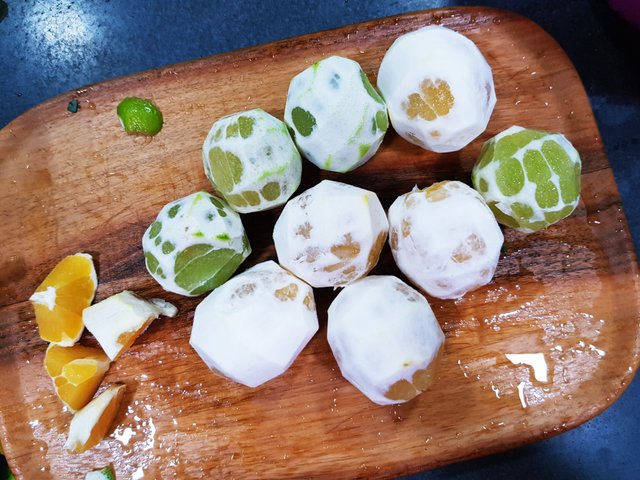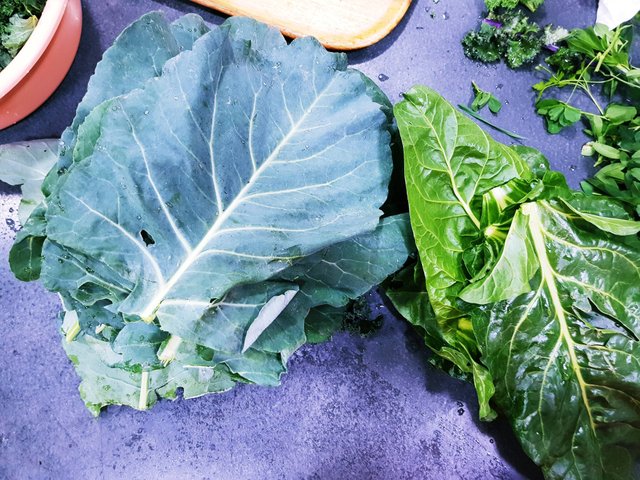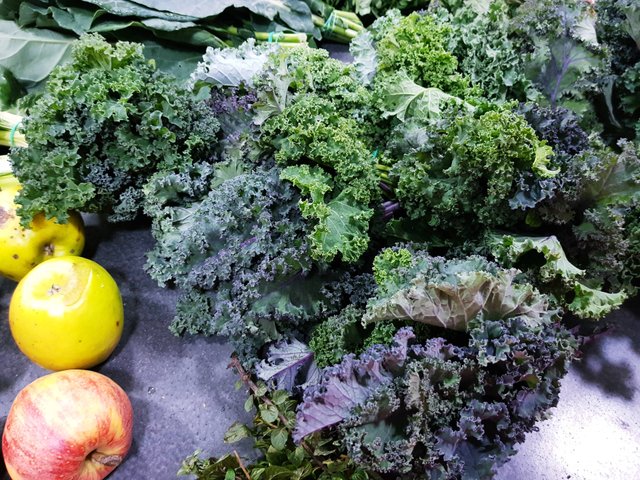 When I make the smoothie, I add 350-400 ml of water . (I rarely use vegan milk in my green smoothies.I don't like the taste of milk with greens).
Feel free to make your own combinations. You can add mangos, papaya, kiwi, cherries, kaki, peaches, strawberries, etc. Whatever you have around its great!
This time, I've got 17 sealing bags of green smoothie and 4 bags of fruits alone.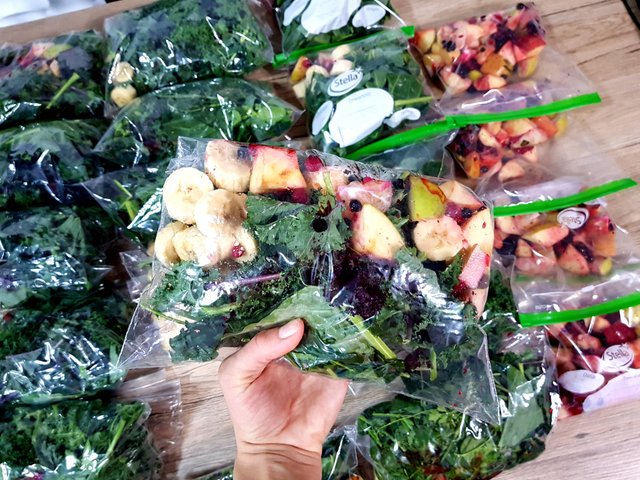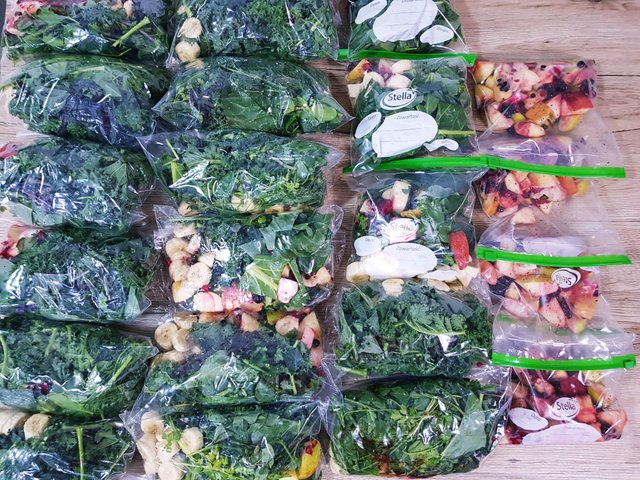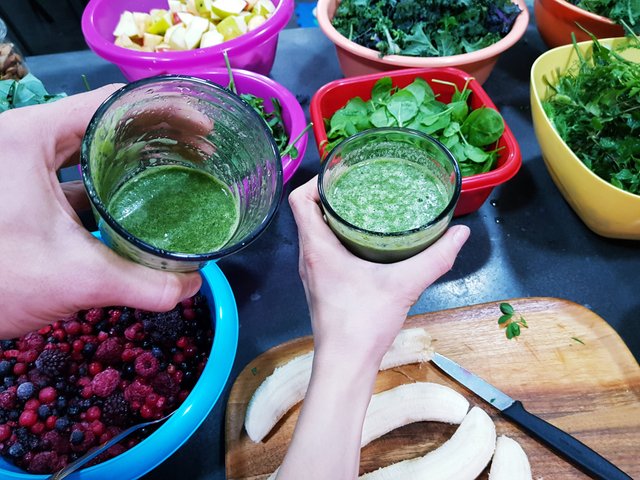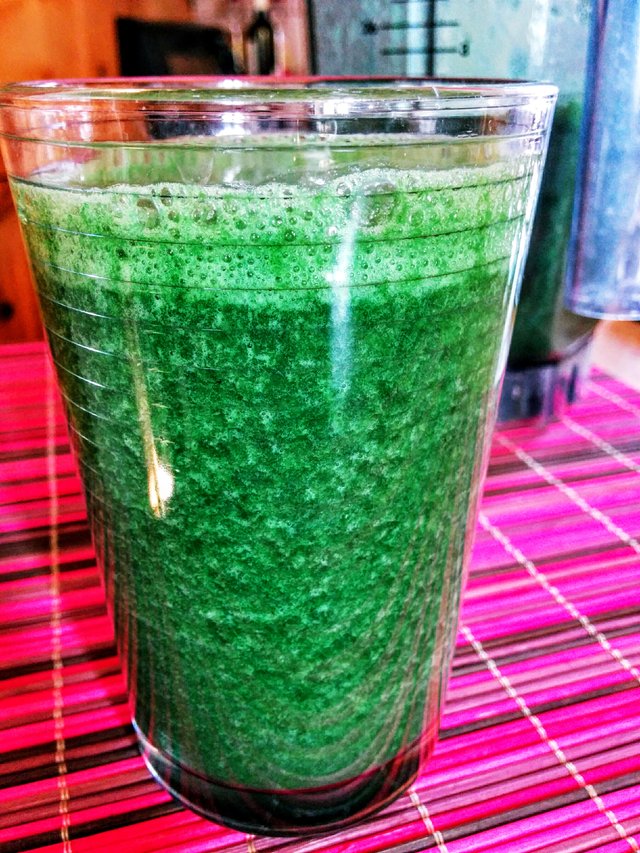 Here are two well-said quotes. 🥬🍐💚
Life expectancy will grow by leaps and bounds if green vegetables smelled as good as bacon. - Doug Larson
Let thy GREENS be thy medicine, and thy MEDICINE bee your Greens. - Julieanna Hever
Eat more vegetables. Don't become one!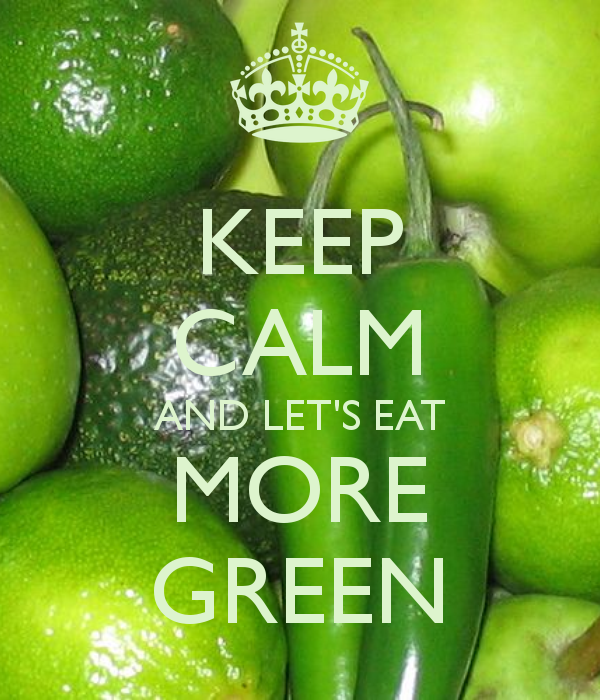 [image source]
Wish you a GREEN Weekend! 
Love, 
Miss Deli
💚
ALL CONTENT IS MINE AND ORIGINAL! ALL THESE PHOTOS WERE TAKEN WITH MY SAMSUNG S8.
If you like my work, comment, upvote and resteem!  Or if you want to stay in touch with me for more delicious healthy recipes and articles on health, HIT the Follow button on my blog!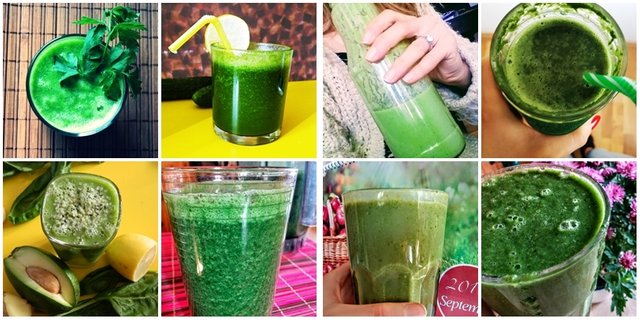 Proud member of @naturalmedicine Team. 

LOTS OF NATURAL HEALING AND LOVE TO YOU ALL!! ❤️