The Last Article on Nutrition You Will Ever Read
Health and beauty are way too valuable. Food is the key.
You can increase your lifespan by more than thirty years just by following a proper diet.
We share our planet with fruits, berries, mushrooms, vegetables, groats, seeds and plants, all of them being our natural ration. I've collected them all for you and, having excluded those containing gluten (a gluey substance that gums your brain and teeth down; it's commonly found in bread and macaroni, porridge, barley, semolina and several varieties of rice), figured out a perfect nutritional and mineral daily balance which comes at a minimum cost.
I got this idea from Rob Rhinehart, the creator of Soylent — a nutritious cocktail for a balanced diet.
Soylent is powder and oil to be stirred in the water.
Two minutes and the daily supply is ready.
Rob and millions of others used it and still use it everyday since 2014.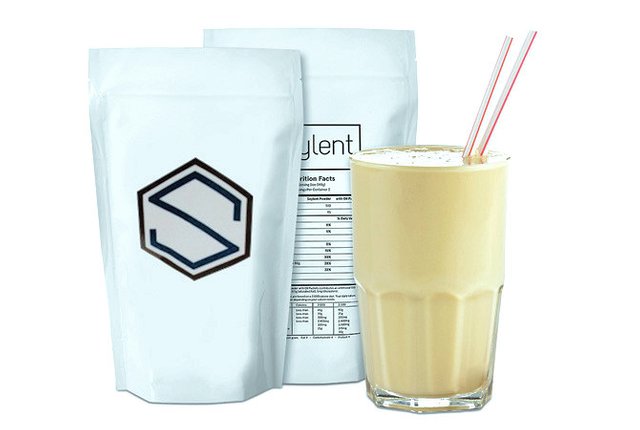 When i first found out about Soylent, it had contained gluten and some of the powders were likely to be of animal origin. I'm not sure if it still does contain gluten and animal-based components as of now.
Soylent was not available in Russia.
That's when i decided to beat Rob to it and start producing my own Soylent in Russia, gluten-free and exclusively veggie-based, by shipping powders out of China and following recommendations of local dietologists.
Following the advice of my friend, I've approached top five Saint-Petersburg universities in that field and learned that russian research on nutrition standards, let alone its balance, ratios and peculiarities, was non-existent.
All medical literature on the topic of healthy nutrition stood at a level of preschool books.
Together with the complications of shipping from abroad and difficulties regarding quality control at customs, it led me to abandon the idea of a product based on ready-to-go powders and oils.
As I sought answers to many of my question i have found them — largely, within Rob's community.
Basis — daily norms, products, recipes
Being a programmer, Rob launched Do–It–Youself–Soylent, now known as completefoods.co — a platform that helps to assemble and customize daily diets and recipes, including those for people with specific digestion issues.
You can set up a custom profile for you own diet with a specific range of nutritional substances to fit your needs.
In the list of these nutritional profiles, most data differs substantially from profile to profile. Different sources produce different norms. Let me tell you that I've spent many hours researching those and that daily norms calculated by me winded up being the most accurate ones for general population.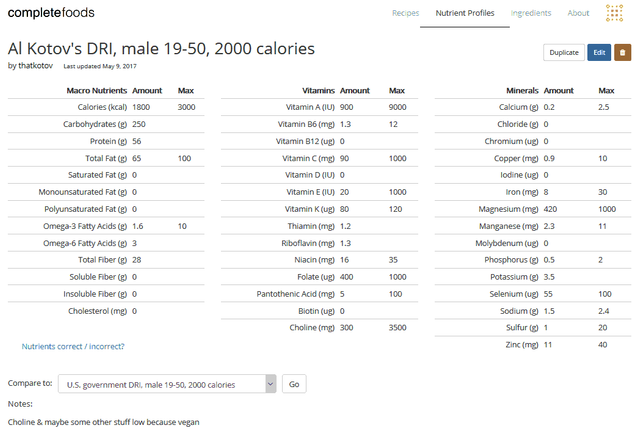 You can put a set together out of tens of thousands of products available in U.S. by using USDA National Nutrient Database. The nutrients' weights are then summed up and checked with the daily norm of the chosen profile.
Among products at USDA National Nutrient Database are, "salt free boiled potatoes", "frozen corn", "fresh soursop", "girolle mushrooms" — raw ones, but unlike other shrooms, girolles can definitely be consumed raw. Some products are missing, but most of it is there. I haven't found any dragon fruit, though.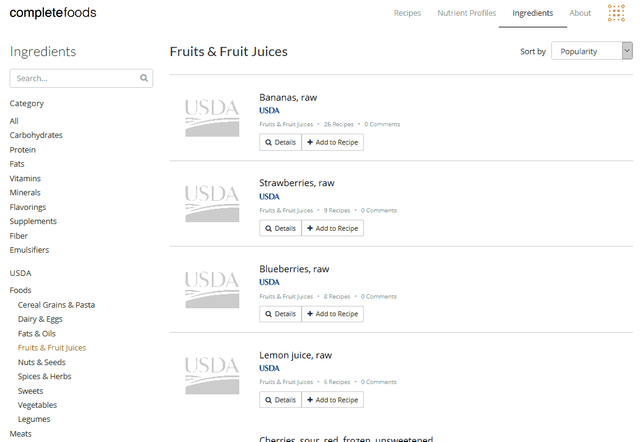 Among user-created profiles, many are being effectively sold as standalone products, and some of them are even delivered to Russia.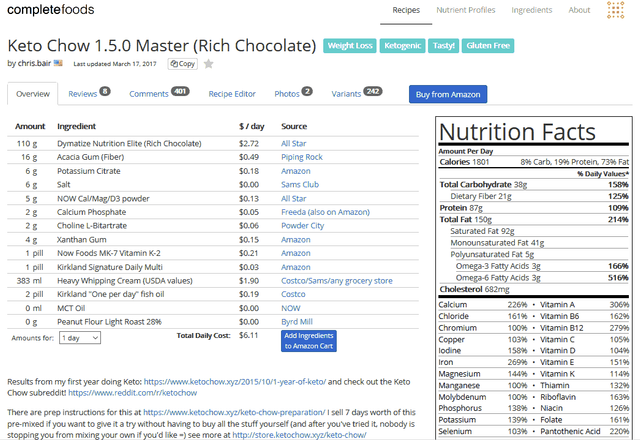 You can also publish your own sets and discuss them.
In some cases, sets are provided with links and prices, allowing you to buy the featured products on Amazon, for instance.
You can publish your own links and prices as well as adjust the lineup of nutrients.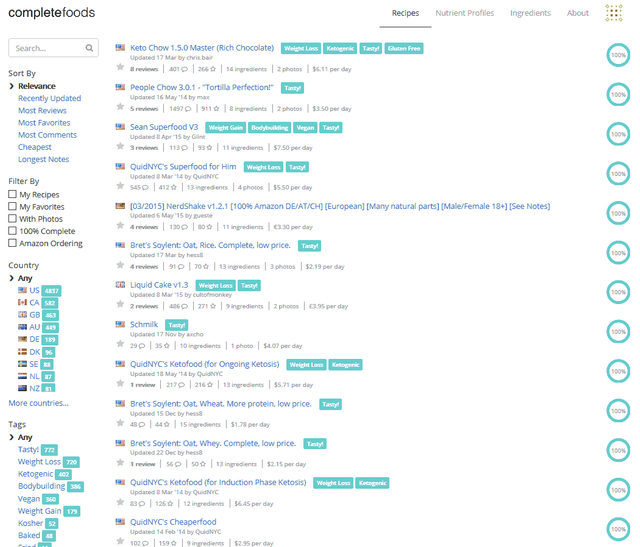 I'd picked out all the plants from the database — sometime before i learned that some of the mineral additives were animal-based and, unlike plant-based ones, required a far less daily maximum than what was recommended. I've added them too in case it's not enough.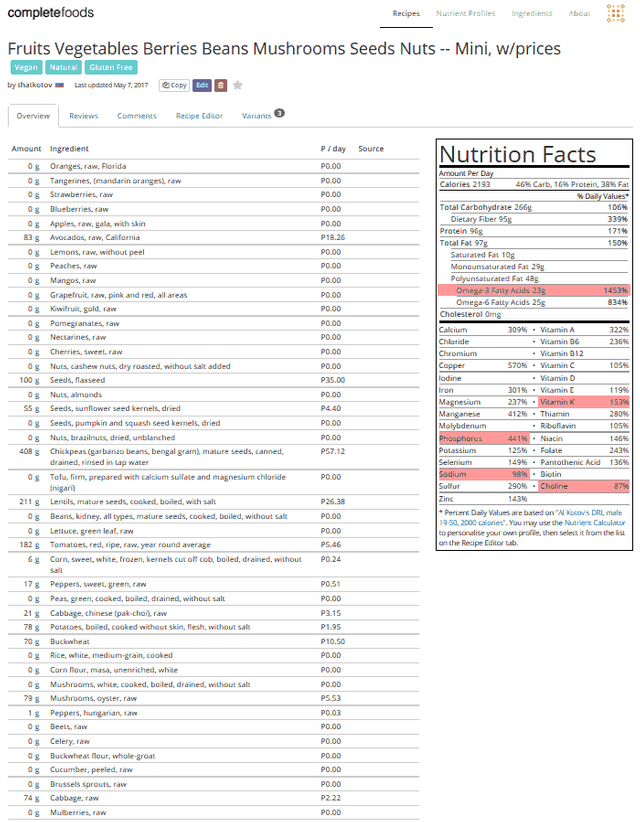 In the very first set there was yogurt (aka kefir, aka sour cream) for some reason — i guess it's because its veggie version with the very similar nutrient composition is also available. Let me tell you that nutrients found in potatoes with mushrooms and sour cream get along just fine, perhaps, that's why they taste so great together.
Calculations
Delving into the details of picking the right nutrients and balancing weights, I've stumbled upon an amazing neighboring project of completefoods.co, Genetic Soylent — 2potatoes.github.io/genetic-soylent. This is a platform that allows you to automatically balance the weights of nutrients in accord with your profile and adjust your priorities to minimize costs. Here's how it works on one of the best of my final recipes: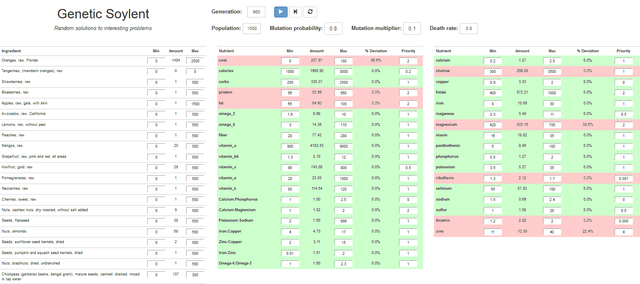 In order to upload a list of ingredients into Genetic Soylent, you just need to add /json to recipe's URL and copy the resulted text into the box in the bottom of the page and click somewhere. The products will then appear on top left of your screen. Then you can set margins and range of criterias as well as prioritize them.
On a screenshot above are my final criteria ranges, prioritized.
Here is JSON with nutrients, including those that were not featured in USDA National Nutrient Database.
The presence of these in calculations is not crucial — there are enough of them. Meeting your daily norm of vitamin D is achieved by getting out into the sunlight for three hours a day.
You are welcome to suggest any changes for the new recipes, specialized diets, specific digestion issues, etc. You can contact me at [email protected]
Genetic (or evolutionary) programming works as follows. For starters, the first generation is built — a variety of possible solutions, and for each solution so-called fitness function is calculated, which is then to be minimized or maximized. In our case, fitness function is departure from norms with our priorities in mind. Every consequent generation is then built by discarding the worst solutions and by cross breeding the best ones.
Genetic programming deals with these complicated challenges far better than other known methods and does a great job in our case.
That's what the website itself says about Genetic Soylent: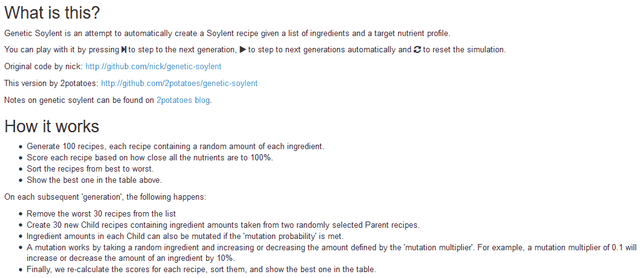 The products we have in the first generation have randomized weight. Death rate is the amount of the worst solutions that are replaced with the better cross-bred ones. With mutation probability set from 0 to 1, the solutions mutate according to mutation multiplier from 0 to 1. Values that worked best for me were mutation probability 0.8, mutation multiplier 0.5–0.05 (I've paused them from time to time and gradually lessened from 0.5 to 0.05), with death rate set to 0.8. Population is a number of recipes in each generation. I went with 1000.
Products and weights differed from launch to launch, and the solution ended up being the same set of products and weights everytime, however the deviation were greatly and quickly minimized. The range boundaries were slowing evolution down, even if when we had more than a kilo of oranges in every recipes, we set that low bar.
Thinking big time, I conclude that for the evolution to be the fastest the four or five worst ideas should be discarded and the best ones should be cross-bred and multiplied x5.
Conclusions
Here's a complete list of all the nutrients i've used in my calculations along with their resulting weights.
I've added some ingredients and excluded minerals, visited a bunch of marketplaces to get a grip on costs. My recipe winded up being 103 rubles per day. Back then i paid little attention to Omega-3, which is abound in beans. I learned of it later, following a number of certain reputed recommendations. For energy to be distributed evenly throughout the day, stated one of them, you should prefer complex carbohydrates (such as beans) over simple ones (fruits). A handful of nuts, especially almonds, as well as flax and sunflower seeds, began to appear in almost every recipe. And so did avocado, a wonderful source of natural fats. Interestingly enough, the cost shift — in case of oranges (from 25 to 60 rubles per kilo) and avocados (from 60 to 220 rubles) — in the new version of the final recipe didn't affect both presence and weights of these fruits, a number of other ingredients were shuffled instead.
I've also compiled a list of ingredients that turned up frequently in the recipes. Most recipes featured corn, cabbage, girolles, porcini and portobello mushrooms. These are exceptionally nutritious and a good match to many others, hence i preferred them.
It is better to have meals consisting of the same type of ingredients no more than once in two hours. That has to with secretion of gastric juice that adapts to certain food types and the time it takes to process them. This is especially true for fruits. If you digest a sole kind of beans during a meal, flatulence will not be a problem.
Fruits are not to be mixed. Bananas, for one, are adversary to citrus fruits. If you are to mix different types of ingredients within a meal, choose ones that are similar of fit each other on a molecular level.
Out of the ingredients in the aforementioned recipe (the one with chickpeas and lens) you can cook almost anything: soups, pastas, pizzas, burgers, hot-dogs, pies and cakes. Chickpeas and lens are great, and so are kidney beans. They are great for making delicious, juicy patties; and a good source of protein, much like greens. With falafel balls being so crumbly, it is easier to make flat cakes out of lens, unless you're willing to use tons of oil.
I, however, stand against frying foods, that's carcinogenic. Drying, stewing and steaming are way better. It feels good to crunch on chickpeas if you steep them for about six hours. Groats and beans are to be sprouted in humid environments with the use of distilled water, electrically activated and infused with silicon or shungite. That's living water, just like the one in fruits. You can refer to Vadim Zeland's and Arnold Ehret's works for more details.
Striving for a cleaner organism, one might look into mucusless diet, also conceived by Ehret. Apart from the benefits listed above, this diet also avoids starch foods. Here's where strach is commonly found: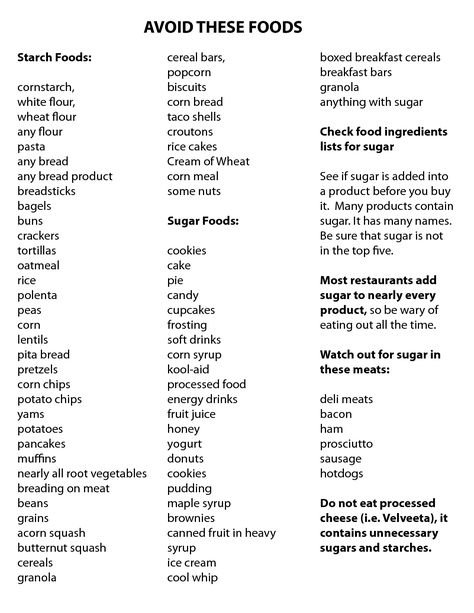 These are to be consumed with great health benefit, not to be heated, but consumed raw or steamed at low-level temperatures.
Ehret's recommendation is to sustain yourself exclusively on one type of season fruits.
It might be worthwhile to reassemble the recipe, excluding everything but fruits and berries. or nuts, seeds, greens, mushrooms and vegetables; and span it for about a year, taking harvest seasons into considerations, so that you have certain days, weeks and months of ration based on a variety of fresh produce.
Recently, I've been working on my nutrient profile, launching the genetic program, working on my last recipe, adding new plants into it while paying attention to everything i've learned.
And that's how it went down: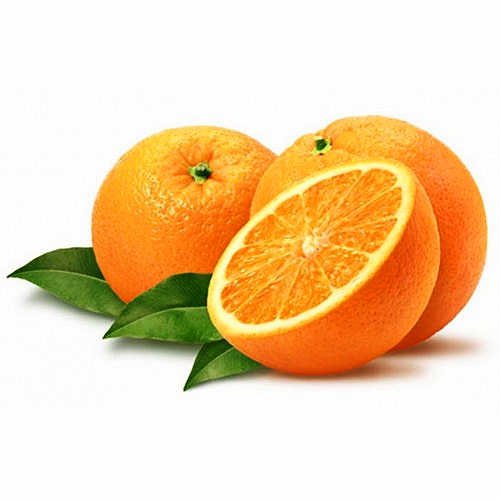 1875 g. of oranges
370 g. of chickpeas & 70 g. lentils
172 g. of seaweed
58 g. of sunflower seeds & 38 g. flax seeds
13 g. of ginger
1484 g. of oranges
172 g. of seaweed
164 g. of boiled potatoes
153 g. of frozen boiled corn
129 g. of beetroot
107 g. of chickpeas
68 g. of almonds, 38 g. of flax seeds, 9 g, of cashew
29 g. of kiwi, 20 g. of mango
13 g. of ginger
You can come up with myriads of alternative recipes, some of them would be quite similar.
It is better for your body to digest calcium in the mornings, so oranges are best for breakfast.
My recipes are soy-free, as I believe soy does our digestion a disservice and also lacks taste.
Brush your teeth by making mostly vertical moves with your toothbrush — horizontal moves cut away the enamel just like ocean washes away Palau islands. Horizontal moves done with a stiff brush cause your teeth to be susceptible to caries and pain. Use Splat Sensitive Soft toothbrushes and move a toothbrush along the gaps.
Main reason for tooth decay is bread. However, it is fine to eat cornbread.
Nutrition, along with heat, water and shelter, provide citizens with a ground for prosperity.
Security of life, health and private possessions are dealt with exclusively by insurance companies.
More and more decisions are based on poll and test results.
Social services play a bigger role in developing communities.
Private ownership is defined by contracts. The contracts are registered in a decentralized digital networks.
In a nutshell, this is how i see the foundations of life tomorrow.
The original article lives at KOTOV.IN/FOOD
Please, share while linking to me (CC BY 4.0)
Everyone will benefit A LOT.