I really hope I'll not shock anyone but this post has some sexual content, I just want to point this out clearly here to start with.
I'm very passionate about female sexual empowerment, or sexual empowerment for all mankind I should say, and my own journey on this path has transformed my life. By dedicating myself to this work and being persistent I have found so much acceptance for myself, my sexuality and my body. It's been the greatest tool for healing and for experiencing true self-love.
In this post I'll write about breast massage. This is a great practice that is easy to do as a self-care practice. It's also a great practice to offer your partner.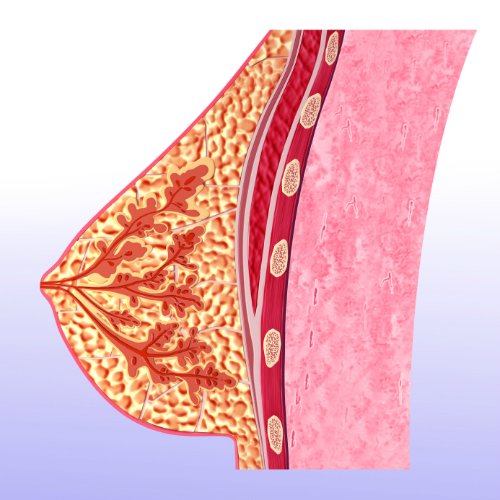 Image source
Why breast massage - what is it good for?
---
There are so many benefits of breast massage it's almost hard to know where to start.
Touching your breasts balances your hormones. It releases the love and bonding hormone oxytocin. This helps in alleviating stress and depression and can leave you feeling more uplifted and energized.

Breast massage encourages the movement of lymph fluids in the breast tissue. This helps to keep your breasts free of toxins that can lead to disease.

Breasts are sexualized and subject to a lot of attention, often unwanted and in an unhealthy way. Many women are also not happy with the looks of their breasts, they don't like the size or shape. Often we just wish they would look different. Women, in general, usually don't feel much self-love for or have a close relationship with their breasts. Often we also feel they are not really for us. They are there for the pleasure of our lover or if we have breastfed, they are there for our baby. It's very common to not really have touched our breasts. Breast massage creates a beautiful connection to your breasts and in time, makes you fall in love with them 😍.

There is also an energetic aspect to it. The breasts are closely connected to the heart and women can store so much pain and heartache in their breast tissue. This leads to a hardness around the heart and in the chest area. You can actually massage these stored emotions and pain away. I understand if you feel this is a bit woo-woo, I surely reacted that way when I first heard about it. All I can say is that it has been a very powerful practice for me and something I do regularly as a self-care practice. It has helped me to open up my heart and to feel more comfortable in my body.

Once you start massaging your breasts on a regular basis, you also increase the sensitivity. It's completely normal though to feel numb or uncomfortable touching your breasts. A lot of feelings can arise so be gentle and go slow if this is challenging for you. In time, you'll feel increased sensitivity and this will open you up to increased arousal, pleasure and orgasms. You can actually experience a breast orgasm without any genital stimulation, that's how powerful this practice is. This is because nipple stimulation activates the same region of the brain as clitoral, vaginal and cervical stimulation.
I can go on with the benefits but I also want to get to the 'how to do it part' 😊 Hopefully this has made you a bit curious to try, or maybe you already have a breast massage practice. I would be very happy to hear your thoughts!

How to massage your breasts
---
There's no 'one right way' to do this. The most important thing is to massage your breasts in a way that feels good to you. You decide what pressure and speed that feels good to you.
I'll write a short demo here though for some guidance.
In the taoist tradition the breast massage is performed using the heel of the hand, see picture below for clarity. This is also how I like to massage my breasts when I do this circular movement I'll describe.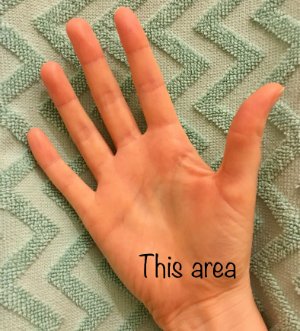 Lay down on your back and take some deep breaths and try to let go of your thoughts.
Rub your hands quite firm, fast and hard to create some heat.
Place your hands onto your breasts, cup them and send some loving thoughts to them.
Take some oil (any skin-friendly oil, I like to use coconut oil) and apply it to your hands.
Begin by massaging your breasts with the heel of your hands by circling down on the outside and up on the inside (see the picture to the left below).
This direction purifies the breast tissue and protects you against future diseases of the breast tissue. Focus on deep breathing to let go of emotions and toxins.
Then you're going to change direction and go down on the inside and up on the outside (see the picture to the right below). This increases the energy in your breasts and grow the breasts and makes them bigger. Don't massage in this direction if you have any health issues with your breast tissue. Focus on expansion, what you want your breasts to be filled with.
Finish with holding your breasts, cupping them to make them feel safe and held. Hold them and bounce them lightly, this moves lymph fluid.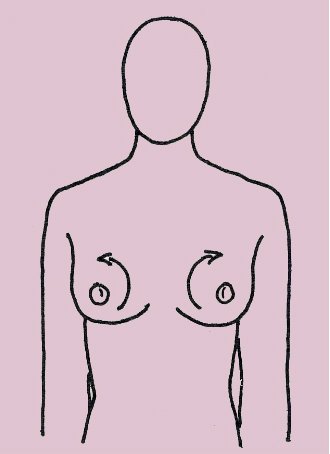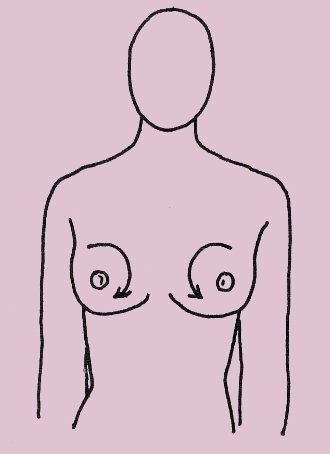 Image source
As mentioned above, it's common to feel numb and this practice can bring up a lot of emotions. So be gentle with yourself. It's up to you how long you want to massage your breasts, a couple of minutes in each direction is sufficient and is a nice routine to have before going to bed.

Thanks for reading 🙏
Love and blessings to you all 💚