STEEM GEOGRAPHY APPLICATION for The Communities of the Month Support Program - 2021 / 08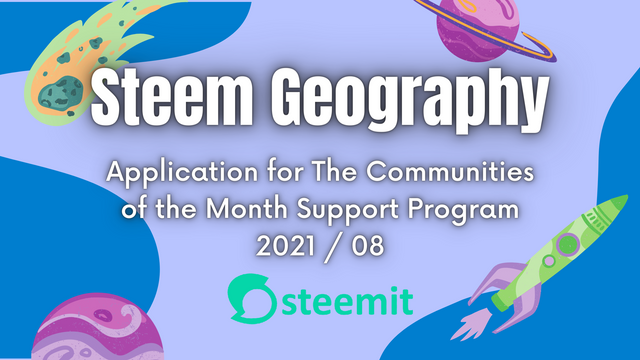 STEEM GEOGRAPHY APPLICATION for The Communities of the Month Support Program - 2021 / 08
---
Hello everybody!! I'm glad to share this application with you!! Thanks a lot for this opportunity!!
---

Community Purpose
---
What is the purpose of your community?
---
The purpose of the Steem Geography community is to provide the user space wherein he or she can share pictures of their travels, their cities, acts of kindness to our Planet Earth, The Diary Game post related to journeys or adventures abroad, or even in their own neighborhood.
It's also a place to share data as for example related to the population, flora, or fauna of different places.
---
Is it unique?
---
Our community is unique, users show an enormous commitment to it, and they've expressed their gratitude on numerous occasions for providing them with this space. They also tell us pretty often how happy they are for the treatment and responses that they receive from us, the administrator, and moderators.
---
Are there any other communities covering the same subject or area as yours?
---
Yes, previously, there was TravelFeed Community, but it was specifically focused on travels, and after Steem Geography was born, two other communities followed it: Around the World and Whole World's Dairy.
I never understood why those communities could move forward because they were covering similar topics to mine, but never said anything about it, and I kept working on Steem Geography with our committed subscribers.
---
Why should people join your community?
---
People should join because it's a large community that brings together steemians from all over the world and is open to sharing publications related to their own cities or with others they know.
Here they can talk about rivers, animals, vegetation, they can propose actions to protect our environment, they can tell us about their adventures. Everything that is exploration, falls within this community.
And it's nice to have a place to share this. To this is added that it is a subject that I am passionate about and that I am about to experience travel firsthand, so I am willing to help those who need advice, support, and others.
On the other hand, I consistently vote for users and host contests on a weekly basis to support them as I greatly value them.
---

Community Team
---
Who are the Admins and Moderators of your community?
---
The administrator is me, @belenguerra and moderators are @bright-obias and @badsha1.
---
What countries are they from and what languages do they cover?
---
@bright-obias is from Nigeria, @badsha1 is from Bangladesh and I'm (@belenguerra) from Argentina.
We speak in English, Bengali and Spanish.
---
Are the team members paid or rewarded in any way from the community funds for their work in running the community?
---
No, we've never paid for our work with the community account.
We make publications from our personal accounts such as contests or the Community Support report, considering that if they are voted by @steemcurator01, that would be our payment.
At the beginning of the community, I (Belén), offered 15 Steem from my personal account to each of the moderators to pay for the contests until they were better positioned. And as they were getting their own votes, I stopped "paying" them that way, since I considered that they could already offer the prizes with their own earnings.
---
If you only have one Admin what would happen to your community if you left or lost your keys?
---
I'm the admin and I have well saved the keys of the @worldgeography account (this was the original name of the community).
---

Community Curation Account
---
What is your Community Curation Account?
---
My own account @belenguerra and @worldgeography. I stopped using this last account because I was lacking time since I'm also moderating Writing & Reviews and by the time that I created Steem Geography, I was covering many tasks at the Newcomers Community. So I just stopped using that account.
I'm planning to make a delegation from my personal account to increase the SP and start using it again.
---
How much Steem Power does it have - both of its own and delegated to it?
---
@belenguerra: Total 13,379.62 SP ( 11,207.15 + 5,173.90 - 3,001.43)
11,207.15 own
5,173.90 delegated from @steemcurator01
3,001.43 I made this delegation to @writingnreviewaccount

---
@worldgeography: Total 260.76 SP

---
What are your plans for growing the SP of the account?
---
Make my own delegation and ask moderators if they want to do their delegations as well, and open the possibility of delegating SP to the account to all users who want it.
---
Are all the post rewards powered up, or are they used for paying delegators or members of the community team?
---
That's an account that doesn't have current use, but we admin and moderators make our posts from our personal accounts (setting them at 50%) considering that the vote of that will cover the prizes that we offer for the contests and we keep the remaining earning as a payment for our tasks in the community (vote, comment, pick posts for the Support Program, contests managing, and users verification).
---
Who has access to voting with the account?
---
@belenguerra, but as I mentioned before, I haven't been using that account, but my personal one.
---
On average what proportion of the posts each week receive a vote from the community account?
---
We try to vote for as many users as possible. With the recent implementation of user verification, we are prioritizing those who have taken that step, but we always seek to cover as many as possible, taking as criteria the constancy of the user in our community and their responsibility. However, we also intend not to repeat the votes, but to reach as many people as we can.
---

Plagiarism & Abuse
---
What measures do you take to check for plagiarism and other forms of abuse (content farming, duplicate accounts, fake accounts)?
---
We are covering the issue of duplicate accounts with the verification of users and we control plagiarism by copying different paragraphs of the publications and checking on the Internet if that is not already existing content.
---
Do you have designated people in your team for plagiarism checking?
---
We rotate it between @bright-obias, @badsha1, and @belenguerra.
In addition, the @endingplagiarism account helps us on numerous occasions to check this. Your participation has been invaluable.
---
Do you ensure all photos used in your community are copyright-free?
---
Regarding the images, we always ask that they cite the source from which they have obtained it, we point out the cases in which they share photos with a watermark (which is not allowed), and if the photos are of their own authorship, we ask that they provide data of the device used to take them.
---

Engagement & Commenting
---
Does the community team check and comment on every post in the community?
The community has 3383 subscribers, and between the 3 of us, we try to read and comment on every post.
If not, approximately what proportion of posts are commented on?
Approximately 90% reach to be read, commented and voted.
---

Plans & Updates
---
How often do you post plans and updates for the community?
---
Weekly we publish a report with the posts selected for the Community Support Program. In addition, in my report as CR I add the advances of the community.
I'm also currently making the users verification and I'm sharing weekly posts with accounts that have been verified.
---
Do you have a roadmap or long term plan for the community?
---
Yes, I have a monthly plan with the publications that I must make from the account, contests, and short, medium, and long-term objectives related to the number of users, Steem offered in contests, and active/ inactive members.
---

Promotion
---
I started with a YouTube Channel, Twitter, and Facebook account to promote Steemit and the communities that I manage:
Its name is Crypto Be.
All of them are awesome ideas, I know, but I'm still working on finding the balance to manage all this since as you may know, I quit my job and am planning my journey as a digital nomad, so I'm trying to find something online to increase my income to cover my life basically, on this new stage. And I'm with an online Yoga classes project right now.
I really hope to find the time as soon as possible to put all these projects for Steemit on the road again.
---

Anything Else
---
Please include any other information you would like us to know about your community, and why your community should be selected for extra support?
---
@worldgeography account was created on January 12th (2021), that was the day when I created Steem Geography community. It's been 6 months since the community is alive, and even having other communities and tasks in charge, I made it grow with the help of @bright-obias and @badsha1.

This is a community that has plenty of potential because of the topic, which really calls the attention and thanks to its amazing subscribers that show engagement with Steem Geography. In fact, we are almost 3400 steemians there.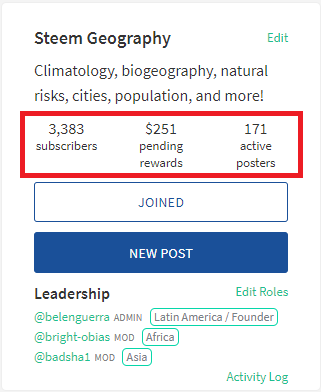 We would love to be able to give them good support. I can see how they share their best pictures with us, their beautiful presentation posts, and their kind words. No doubt they deserve so much more, and we'll be pleased to give them the opportunity to be supported here on Steem Geography.
---
Any other special features your community has?
---
There is a great diversity of cultures in our community, and it is beautiful to get to know them in your posts.
Our contests are extremely varied. They range from photography to information and films to community-related topics.
Subscribers constantly encourage us to keep it up and tell us how much fun they have here.
---
Do you encourage only #steemexclusive posts in your community?
---
Yes, when we check for plagiarism, we make sure the content is #steemexclusive
---
---

I really hope this community could be part of this amazing initiative! As I mentioned recently, our subscribers are really committed to Steem Geography, and this is a way of making the whole Steemit platform grow.
Thanks a lot to @steemitblog and @steemcurator01 for this amazing opportunity that you are giving to all the community admin!
---
Have a wonderful day!
With love,
Belén