SPECIAL OFFER : BUY UNTAMED/ORB FROM MonsterMarket SHOP AT 3% OFF (OFFER ONLY AVAILABLE FOR NEXT 24 HOURS )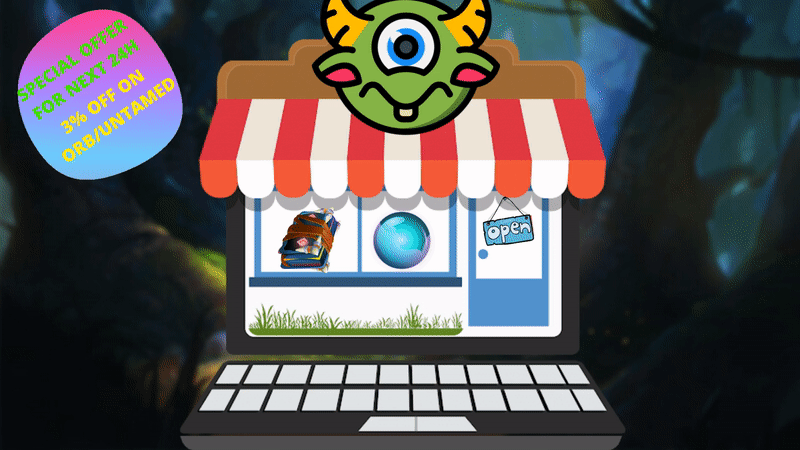 Greetings @splinterlands warriors, It's time for SPECIAL OFFER from @monstermarket. As you all know only 2190 Packs left on @splinterlands market to unlock next airdrop Monster which is Mimosa Nighshade Death Untamed Legendary Summoner. This is the first Untamed legendary Summoner, So we are so much excited about it. To complete fill up the airdrop target we bought more packs, That's why we are thinking to provide a 24h Special Offer. During this promo time customers will get 3% refund on Untamed/ORB purchase from MonsterMarket Shop. The refund will be given manually after the promo end, So during the promo time you need to buy it at regular price (1650 DEC/Untamed & 2230 DEC/ORB) and After 24h We will send that 3% kickback to your account manually.So, if you calculate the price of Untamed packs after cut off the kickback, it's around 1600 DEC/Untamed pack. Which is 3.912 STEEM($0.625920) worth of DEC according to current DEC price. But right now Untamed Token trading on Market around 5 Steem/Untamed. So it's almost 1 steem saving per untamed pack. Isn't this amazing?

Well previously I discussed about MonsterMarket Shop on this Post, But Again I am going to discuss what is MonsterMarket Shop & How it Works.
MonsterMarket Shop is a secondary market for UNTAMED edition booster packs and ORB. That's mean you are buying 2nd handed UNTAMED/ORB packs. Buying booster packs from this page is similar to buying from Steem-Engine. These packs doesn't count towards your total packs eligible for Splinterlands airdrops and maverick status. So if you want to your purchases to count towards airdrops and maverick status, please purchase from Packs.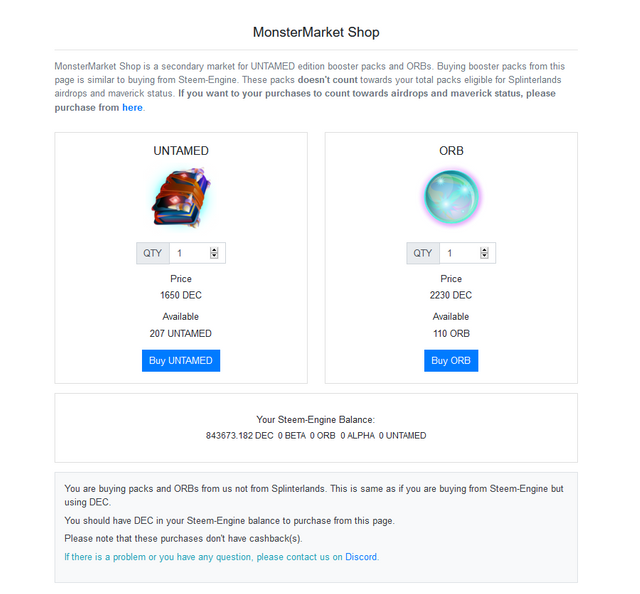 Process of Buying Untamed/Orb packs from MonsterMarket Shop
You need DEC into your Steem-engine balance. We are only asking DEC for those packs, so Steem/Sbd/DEC market won't affect the asking price of those packs.
Put the quantity, there is no bonus packs on 100 or more packs buying.
Price : We are asking 1650 DEC/Untamed packs and 2230 DEC/ORB packs. This is the cheapest way to get low numbers of packs. You no need to buy 100 or 500 packs to get cheap price. You can buy 1 pack at cheap rate from here. For ORB if your guild lodge max, that means you will get 10% discount on ORB buying from splinterlands so every ORB packs from there will cost you 2500-10% = 2250 DEC, but we are offering at 2230. But if you buy 100 ORB packs at once from splinterlands with max guild lodge bonus then that will be cheaper than us. But for single buy MonsterMarket Shop is the cheapest way.
Packs Available : Here how many packs we have on our shop will be showed. We always moderate our shop, so it will be filled always.
Smash that Buy Button to purchase packs and complete the payment through Keychain or Steemconnect. You will get Packs automatically into your Steem-engine balance.
The 3% kickback/cashback will be given after promo end (24h from post publish time and also we set 24 hours countdown on our post which is @steempeak feature)
The cashback process is manual, So it might take some time but not so long. Feel free to join our Discord Channel to contact with us.

If you don't know how to purchase packs from MonsterMarket then this post will help you to understand more. Still if you need to know anything about our market you can Contact with us on Discord, Our Discord Channel : https://discord.gg/3NCwbCv .
MonsterMarket Community:
To know about our Market updates keep your eyes on our community page : https://steempeak.com/c/hive-118875
All card images and icons shown are property of @splinterlands