¡GANADORES / WINNERS! - RANDOM MUSIC CONTEST - Ronda (Round) 2 + ¡Tips!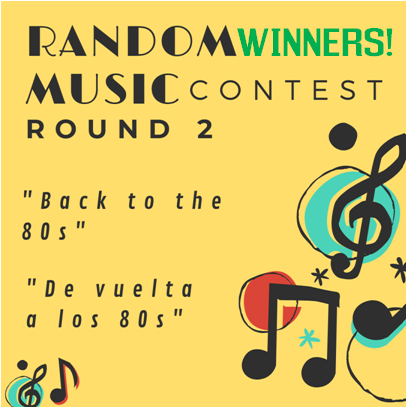 Sea que vivimos la época de los años 80 o no es una década que nos ha marcado a nivel musical de una manera muy positiva, desde sus ritmos enérgicos hasta sus pegajosas baladas, de una u otra forma todos respiramos la onda de los años 80, coreamos los temas y sentimos un encanto especial por esa época.
Whether we live in the 80's or not it is a decade that has marked us musically in a very positive way, from its energetic rhythms to its catchy ballads, in one way or another we all breathe the 80's vibe, we chant the songs and feel a special charm for that era.
Durante los pasados diez días estuve escuchando sus entradas y les agradezco por poner tanto corazón a lo que hacen, me alegra haber visto que algunas entradas de este concurso obtuvieran buenas recompensas. Claro está que se trata de disfrutar pero también es excelente y necesario recibir apoyo con palabras y monetización, todo esto forma parte de sentirse valorado como creador de contenido para la blockchain.
For the past ten days I have been listening to your entries and I thank you for putting so much heart into what you do, I am glad to have seen some entries in this contest get good rewards. Of course it's all about enjoyment but it's also excellent and necessary to receive support with words and monetization, all part of feeling valued as a content creator for the blockchain.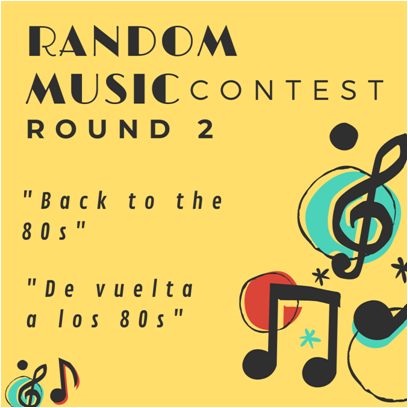 Esta semana estaré dando tips a aquellos que recibieron muy poca recompensas y que no hayan quedado entre los tres primeros lugares, es una ayuda humilde pero espero que la reciban con mucho cariño.
This week I will be giving tips to those who received very little rewards and who have not been among the top three places, it is a humble help but I hope they receive it with much affection.
¡Y ahora es el momento de anunciar a los ganadores! / And now it's time to announce the winners!
¡Felicidades! Congrats!
Primer Lugar (First Place): 5 Steem + 5 TRX
Elegir una canción favorita de esa época es algo complicado ...Pero me decidí por una que transmite los 80s a la perfección. El new wave y el synthpop era de lo más popular en esa época y pues sintetizadores, baterías electrónicas, riffs de guitarras memorables, y ritmos muy pegajosos.
Choosing a favorite song from that era is a bit complicated...But I decided for one that transmits the 80s to perfection. New wave and synthpop was all the rage at the time and it was all about synthesizers, electronic drums, memorable guitar riffs, and catchy beats. .
Segundo Lugar (Second Place): 3 Steem + 5 TRX
"Me va a extrañar" tiene una letra bellísima que llega a todos los corazones de cualquiera que haya perdido a alguien especial.
"Me va a extrañar" has beautifully written lyrics that touches the hearts of anyone who has lost someone special.
Tercer Lugar (Third Place): 2 Steem + 5 TRX
"...Mi padre cada vez que llegaba a la casa colocaba música y recuerdo que solo le pregunté quién cantaba esa canción porque cada vez que la escuchaba me hacía imaginar la escena de lo que la canción decía."
"..My father every time he came home he played music and I remember that I just asked him who sang that song because every time I heard it he made me imagine the scene of what the song said.."
Te invito a pasar por estas publicaciones y en caso de que el post ya haya vencido te invito a votar y comentar otro de sus posts. ¡Vamos a apoyarnos!
I invite you to go through these publications and in case the post has already expired I invite you to vote and comment on another of their posts. Let's support to each other!
Premios y tips entregados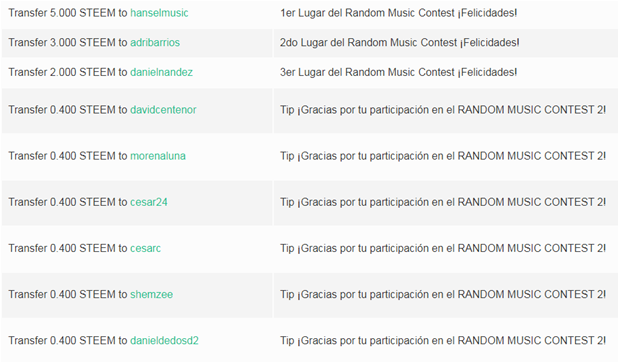 ¡Gracias a todos por sus participaciones!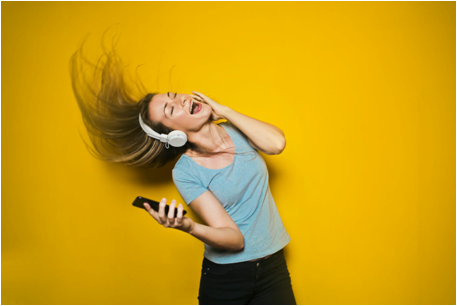 Thank you all for your participations!
Traducción: DeepL.com - Portada hecha en Canva - Imagen: Pexels.com