DLIKE DEX Updates - 0.25% Fees - One Click Rewards Claim
Hello Steemians!
As per our announcement of DLIEK DEX last week, here are updates for DEX.
0.25% Deposit and Withdrawal Fees
Holding to our commitment to provide an easy to use interface to trade steem engine tokens, we have updated depost and withdrawal features on DLIKE Dex. Now you can deposit STEEM and Withdraw STEEMP(STEEM) at a very small fee of 0.25%. On steem engine this fee was 1% so we have tried our best to ensure improvement. Initially there are some limits on maximum withdrawals as larger withdrawals will be processed manually.
Deposit and withdrawals can also be made directly by sending to @dlikedex account as it will be the main account dealing with all deposits and withdrawals on DLIKE Dex.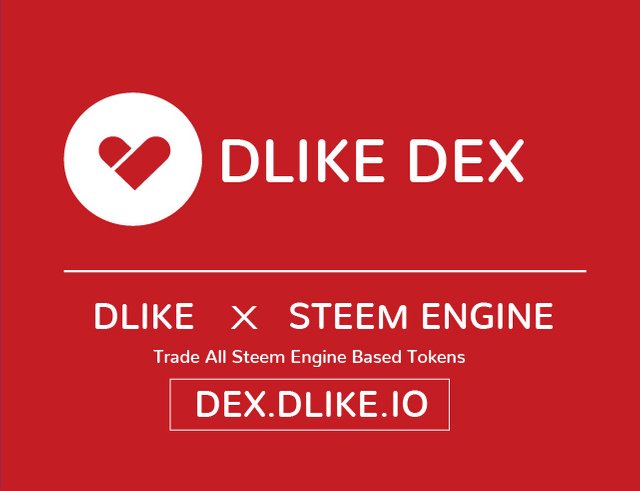 One Click Rewards Claim Option
We have added a feature to claim all pending tokens with on click. You can check this new added button on your wallet page of DLIKE dex
Upcoming Features

Richlist and Explorer
In next update we will add SE explorer feature with sort-able rich list of all tokens.
Candle Graphs
We will be adding candle graphs for all trading pairs on DLIKE Dex to make reading of market easy for users.
Suggestions and Feedback
We will love to have your suggestions to improve dex further more and make it user friendly.

 @supergiant | @devann | @shellyduncan | @vimukthi | @steemyoda | @steemshiro | @mtimetraveller | @bitshares101 | @hijosdelhombre

Delegate Your SP to Dlike to earn Daily DLIKER tokens at 11% APR

Subscribe to DLIKE Community for all future updates!
Join our Discord channel for feedback & questions.
Web: dlike.io | App: Android App
Follow us on
Dlike Twitter | Dlike Telegram
Upvote for DLIKE witness