Steemit Engagement Challenge S5-W1 | My traditional Wears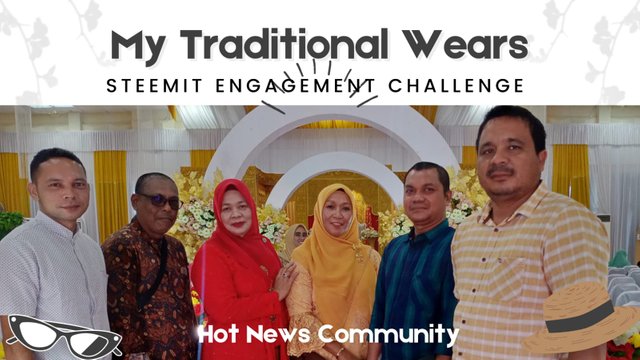 We are delighted to have been selected during this new season of Engagement challenge season 5. We want to use this opportunity to welcome you all to our Hot News Community.
In this first week's contest, we saw the enthusiasm of steemians to participate which caused a positive impact on the community, of course, we hope it will also be useful for users with increased activity and also the opportunity to get more rewards in the future.
We hope that the contest we hold, will increase the participation of steemians who are not only in terms of making contest posts but also interacting with other users in sharing various interesting themes.
For this first week, we chose the contest theme "My traditional Wear".
Contest Theme: My traditional Wear
We chose the theme of this week's contest with the tagging #lifestyle where we think this theme has a wide reach so it is hoped that many steemians in various countries can follow.
We all come from different backgrounds and most times we like appearing in our native costumes, most times we wear them to different functions and it looks good on us.
It's now time for us to tell the world about those beautiful traditional costumes, how fitting they are, and why the whole world should know about them.
But the important point of the contest is that every participant will share their traditional costumes that they and the local people like wearing in their country or region. Original content is very much important.
Highlight the following topic/Points in this contest
You are free to be creative in telling us about your traditional wear in your country regardless of the type of wear it is, hence it is traditional. As a help maybe you can tell us some things like the following:
What are your native wear Names? Talk about each of them if many.
How much can one cost? (Give price both in your local currency and steem)
What is their durability?
Do you think it can be allowed to be worn in other places?
Are there any similarities between your local wear and other parts of the world?
And so on...
Mandatory Rules to Follow
Must be posted in the Hot News Community.

Write in any relevant language.

Write at least 300 words

Use a maximum of 8 photos that present yourself according to the intended theme (mandatory). Photos from the internet are only to support your story.

Plagiarism is not allowed so it will automatically be disqualified which means the post must be #steemexclusive.

Use the post title "Steemit Engagement Challenge S5-W1|My traditional Wear: Your Title.

Use the tag #hotnews-s5w1 #lifestyle #yourcountry among your first 5 tags.

Participants are not allowed to use any auto-vote services.

Paste your contest post link in this post for easy search.

Upvote and resteem this post so that more people know about it.

Mention at least 3 other users.

Actively comment on other engagement participants from various communities that are included in the engagement community.

Put your Steemit Engagement Contest link in other communities at the end of your post.

The participation time is between Monday, October 11th, 2022, 00:00 UTC to Sunday, October 16th, 2022, 23:59 UTC.
The grading of all the entries will be done according to this pattern, the more score you get the more support you will get.
| Description | Information | Score |
| --- | --- | --- |
| Status Club | 🟢 or 🔴 | 2 |
| Plagiarism Free | 🟢 or 🔴 | 1 |
| #steemexlusive | 🟢 or 🔴 | 1 |
| Bot Free | 🟢 or 🔴 | 1 |
| 300 Words | 🟢 or 🔴 | 1 |
| Markdown Style | | 1 |
| Quality Content | | 3 |
| Total Score | | 10 |
| Voting CSI | [ 00.0 ] ( 0.00 % self, 00 upvotes, 00 accounts, last 7d ) |
| --- | --- |
Determination of Club Status refers to the https://steemworld.org/transfer-search Web-based Application
| Verification Date | Month Date, Year |
| --- | --- |
| O'clock | 00.00 AM/PM |
| Get Upvote | 0 |
| Valid Comments from Other Users | 0 |
| Note | Development Notes from Verifier. |
| --- | --- |
---
---
We do not guarantee that every participant will be supported by steemcurator01 or steemcurator02
The jury's decision cannot be contested
The main hashtag for this contest search is #hotnews-s5w1
---
October, 10th 2022
Regards
The Hot News Community Team