Steem-Travelers keeps growing || Steem-Travellers sigue creciendo
Steem-Travelers keeps growing
Today, like every day we woke up and while drinking the morning coffee we launched Steemit to start working in our community. What a surprise it was when we discovered that Steem-Travelers reached the magical number of 1000 subscribers and over 200 active users! It's a very amazing achievement compared that we are only three months old community. It's even more unusual when you will notice that majority of the communities on Steemit lost active members in the last month ( source ) Notice, that the activity of our members is still on the level of approximately 20% which is one of the highest ratios on whole the platform!
We also managed to accumulate 17 419 SP on our curation trail account, mostly thanks to your delegations!

Active subscribers: 1020
Active members: 205 (20.1%)
Community vote power: 17 419 SP

Thank you for your hard work and the best quality content shared every day! Let's try to make our community grow even more.
Our nearest goals are:
reach 1200 subscribers until the end of the year
reach 250 active members until the end of the year
get 20 000 SP until the end of the year

Distribution of curation account upvotes
Remember that by helping Steem-Travelers to grow, you are helping yourself to be more successful. More active members and better quality of the posts can make steemcurator01 even more interested in upvoting your publications (currently SC is upvoting at least one post in the community nearly every day). In the future maybe the curation account will get more upvotes as well, so we could power up earned money and grow even faster.
Community Account is used to upvote all your posts, so the more SP we have, the more money you get from our upvotes. That's why delegations are so crucial for further development.
Currently, we upvote 4 posts with 100% upvote, 2 posts with 75% upvote, 2 posts with 50% upvote, and 2 posts with 25% upvote every day. Every other post that is not against the rules is getting a 10% upvote, so nobody who writes on Steem-Travelers stays without the money.

HOW CAN I HELP STEEM-TRAVELERS TO GROW?
There are many different ways how you can help our community. You can choose one or more from the list:
delegate SP to @hive-111293 (or, if you already delegated some SP, increase your delegation)
set 10-15% of the beneficiary rewards from your posts to @hive-111293 (Steem-Travelers)
participate in The Steemit Awards and mention Steem-Travelers as the best community. The first place could help us to increase the power by over 1000 SP!
join club5050, club75 or club100 to attract @steemcurator01 to our community
invite other users to the community, mention Steem-Travelers in your "The Diary Game" posts in other communities (you can write about your articles in this community or just mention any interesting text you have read here)
comment and upvote posts of other users in our community
share the best quality content at least once per week
---
---
---

---
---
Steem-Travellers sigue creciendo
Hoy, como todos los días, nos despertamos y mientras tomábamos el café de la mañana lanzamos Steemit para empezar a trabajar en nuestra comunidad. ¡Qué sorpresa fue cuando descubrimos que Steem-Travelers alcanzó el número mágico de 1000 suscriptores y más de 200 usuarios activos! Es un logro muy sorprendente comparado con nuestra comunidad de solo tres meses. Es aún más inusual cuando notarás que la mayoría de las comunidades en Steemit perdieron miembros activos en el último mes ( source ) . Tenga en cuenta que la actividad de nuestros miembros todavía se encuentra en el nivel de aproximadamente el 20%, que es una de las proporciones más altas en toda la plataforma.
También logramos acumular 17 419 SP en nuestra cuenta de ruta de curación, ¡principalmente gracias a sus delegaciones!

Suscriptores activos: 1020
Miembros activos: 205 (20.1%)
Poder de voto de la comunidad: 17 419 SP

¡Gracias por su arduo trabajo y el contenido de la mejor calidad que se comparte todos los días! Intentemos hacer que nuestra comunidad crezca aún más.
Nuestras metas más cercanas son:
Llegar a 1200 suscriptores hasta fin de año
Llegar a 250 miembros activos hasta fin de año
Obtener 20.000 SP hasta el final del año

Distribución de votos a favor de la cuenta Steem-Travelers
Recuerde que al ayudar a Steem-Travelers a crecer, se está ayudando a sí mismo a tener más éxito. Los miembros más activos y la mejor calidad de las publicaciones pueden hacer que @steemcurator01 esté aún más interesado en votar a favor de sus publicaciones (actualmente, SC vota a favor al menos una publicación en la comunidad casi todos los días). En el futuro, tal vez la cuenta de curación también obtenga más votos a favor, por lo que podríamos aumentar el dinero ganado y crecer aún más rápido.
La cuenta de la comunidad se usa para votar a favor de todas sus publicaciones, por lo que cuanto más SP tengamos, más dinero obtendrá de nuestros votos a favor. Por eso las delegaciones son tan cruciales para un mayor desarrollo.
Actualmente, votamos 4 publicaciones con un voto positivo del 100%, 2 publicaciones con un voto positivo del 75%, 2 publicaciones con un voto positivo del 50% y 2 publicaciones con un voto positivo del 25% todos los días. Todas las demás publicaciones que no vayan en contra de las reglas recibirán un voto positivo del 10%, por lo que nadie que escriba en Steem-Travelers se queda sin voto.

¿CÓMO PUEDO AYUDAR A CRECER A LOS STEEM-TRAVELERS?
Hay muchas formas diferentes de ayudar a nuestra comunidad. Puede elegir uno o más de la lista:
Delegar SP a @ hive-111293 (o, si ya delegó algún SP, aumente su delegación)
Establezca entre el 10 y el 15% de las recompensas para beneficiarios de sus publicaciones en @ hive-111293 (Steem-Travelers)
Participar en Steemit Awards y mencionar a Steem-Travelers como la mejor comunidad. ¡El primer lugar podría ayudarnos a aumentar la potencia en más de 1000 SP!
Únete a club5050, club75 o club100 para atraer a steemcurator01 a nuestra comunidad
Invite a otros usuarios a la comunidad, mencione Steem-Travelers en sus publicaciones de "El juego del diario" en otras comunidades (puede escribir sobre sus artículos en esta comunidad o simplemente mencionar cualquier texto interesante que haya leído aquí)
Comenta y vota las publicaciones de otros usuarios en nuestra comunidad
Comparte el contenido de mejor calidad al menos una vez por semana
---
---
---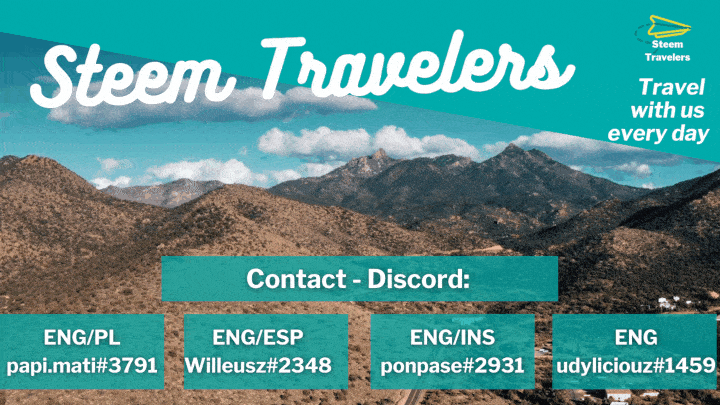 CC: @pennsif