Summary Steemit Engagement Challenge Season 4 Week 1 | Tell Us about your favorite tech store/shop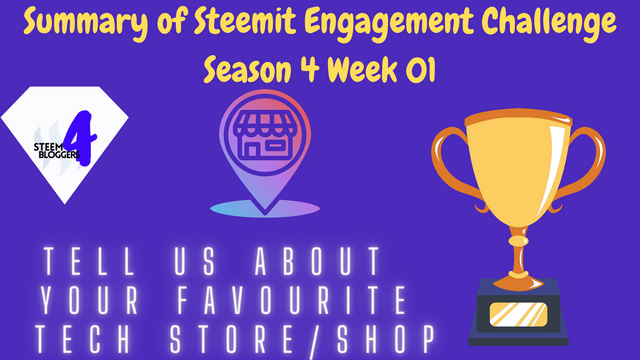 Image From Canva
Hello everyone.
The Week 1 of the Season 4 of Steemit Engagement Challenges has been ended successfully. There were lots of good participations in this week and we thank all of you for taking part in this week.
---
Theme of the Contest
---
In this week, we asked the users to share about their favourite technology stores or shops. There were many interesting countries from worldwide. Some important questions that we asked this week were as follows.
Which is your favorite tech store? His name and location.

Importance of this store for your daily life purposes.

Technology related devices available at this store/shop.

Their prices in your currency and in Steem.

Why do you like that store/shop?
---
Overall Progress
---
There were total 49 entries so far this week. The overall quality of the contest posts was good. Many of the participants have explained the topic in a very impressive way while the others also tried their best to provide their best.
In this week, one of the entry was considered as invalid entry because the user was new on the platform and have not completed the Achievement Tasks yet. Also, we recommend more and more people to engage with others. Creating a good post is not enough, engagement via commenting properly on others posts is also praiseworthy.
---
Winners of this Week (Top 3)
---
We have selected three top winners for this week. The selection of these participants is based on the engagement of the users as well as the quality of their posts. These three lucky people are:
---
Congratulations to all the winners of this week. We are also thankful for the other users who have participated in this contest.
---
Rewards By Community
---
According to the announcement, 10 STEEM fixed rewards that were to be given by the community to the each winner. The proof of these transactions is shown in the below screenshot.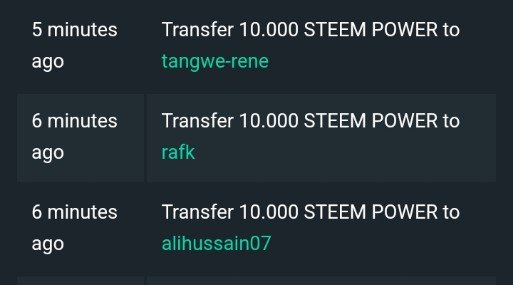 Screenshot from @malikusman1's Steemit Wallet
---
The new contest for the Week 2 of Season 4 has been uploaded and we wish more and more participants will take part in this contest.
---
---