Important Information: Official Account for rewards. @draftcrearte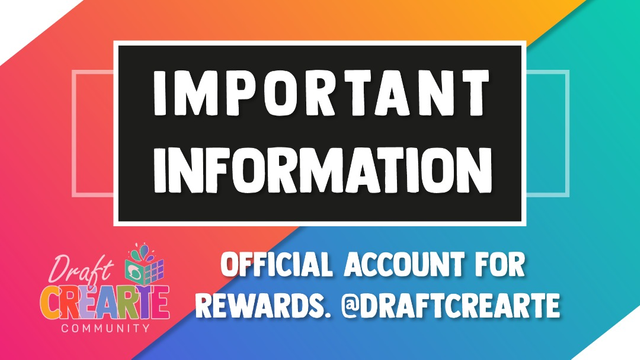 Hello dear #crearteloverr, today I come with an important announcement.
Draftcrearte has been characterized as a community that seeks the common good of all of us who make it up, seeing them grow by monetizing their talents is an honor for me as the founder of this project. I know it hasn't been easy in recent months, however, I have seen with pleasure how many of you, despite the difficulties, have continued to fight giving your best. And although these phrases sound trite in each of the publications where I address you, I cannot help but pay tribute to those who deserve it.
You are amazing!
Currently our official account @crearte is in charge of all the rewards of contests, dynamics, raffles that the administrators and moderators carry out weekly to encourage members of the community to continue creating, growing and developing their creativity. This is equivalent to approximately 520 steem distributed monthly.
Due to this, and the low rewards, on several occasions it has been impossible to make a Power Up of 50% of the profits that @crearte receives. As we know it is important that we strengthen our community account to be able to cultivate it in STEEM POWER, in addition to being a fundamental requirement to be in club5050 to continue being supported and consequently to be able to support their work, with votes and prizes.
For this reason I have decided together with the team that we use the @draftcrearte account as an official rewards account, with a view to self-sustainability.
With @draftcrearte as a self-sustaining community support account we will be able to achieve the following objectives and benefits in the near future:
Carry out more dynamics and contests.
Increase rewards.
Carry out beneficiary projects.
It will allow us to develop new projects.
This without significantly affecting the community account, in order to make it grow in STEEM POWER and increase voting power. It should be noted that this change will be gradual and will give results to the extent that we all consider putting the @draftcrearte account in our publications as a beneficiary.
So I invite everyone, hoping that they will be receptive, especially administrators and moderators, to put at least 10% to benefit @draftcrearte.
Place in the titles of your publications. 10% beneficiary @draftcrearte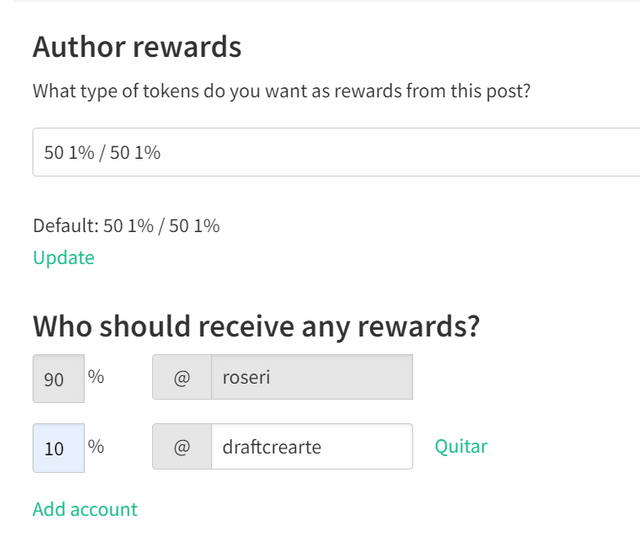 Are you new and would like to join the community? Visit the following post for more details.
https://steemit.com/hive-109427/@crearte/updated-getting-started-in-the-draftcrearte-community-or-general-rules
Links to support our DraftCrearte community via SP.
Social Media: