[UPDATED] Getting started in the DraftCrearte community | General Rules 📋📌 Power Down is not allowed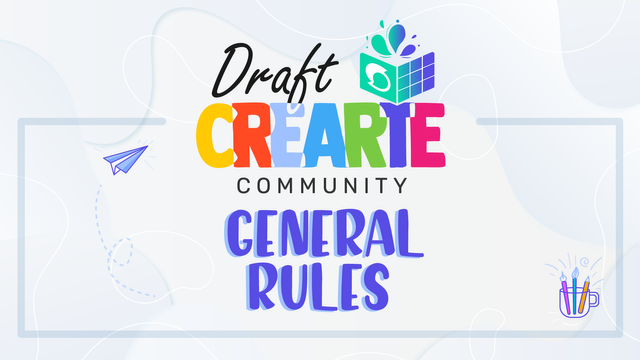 The community was created with the firm idea that it would become a digital art gallery where its members could hang their art, be themselves creating, imagining and having fun. We are doing it!
We have three weeks of activities and we are very happy for the receptivity that DraftCrearte has had both for users and for the curation project
@steemcurator01
. Thank you all for your commitment and to the team that works behind the scenes to help the development of our community.
We have advanced with firm steps towards the growth of the community and of each of its members, we are learning together and we will continue to do so, for this reason we have decided to include new rules which are necessary to achieve a more stable community.
Rules for participation in the
DraftCrearte community
Presentation
Upload a post within the community telling us a little about yourself and what you like to do the most. Also add a selfie holding a piece of paper with the word DraftCrearte, your username and date. Use the
#introduce-draftcrearte
tag to locate your post faster.
This way you can be verified and earn the Artist✅ badge. After being verified you will be able to participate in the contests and be taken into account in their quality publications.
Quality posts
Simple and irregular articles have little chance of being voted on. The creations must be demonstrated with a step by step with a minimum of 5 photos. A photo with the final result of your creation, the step by step or process, and your selfie with the art. Art must be identified with your username.
Tags
Post within the DraftCrearte community and add the following tags to all your posts:
#draftcrearte #steemexclusive #exclusive-crearte
Original content
Be original and authentic, we do not accept plagiarism.
Make exclusive publications for DraftCrearte, this means that if they have publications on other blockchains they should not republish them in the community. This includes communities within Steemit.
Suggestions, complaints or claims
We have a channel on our
Discord
to address all issues related to suggestions, complaints or claims.
Not allowed
Offensive Comments: Users who make offensive comments or publications that are not consistent with the theme of the Draftcrearte community will be silenced.
Power Down: If you activate the Power Down, it will result in your publications not being taken into account while it is active.
Asking for votes: Refrain from asking for votes in favor, we are not a curator account, we will do our best to support everyone.
---
The most important rule: Connect and have fun!
Enjoy the community and give feedback with the other members.
---
Links to support our DraftCrearte community via SP.
Social Media:


@steemcurator01