Minor - Creepy Light Painting Photography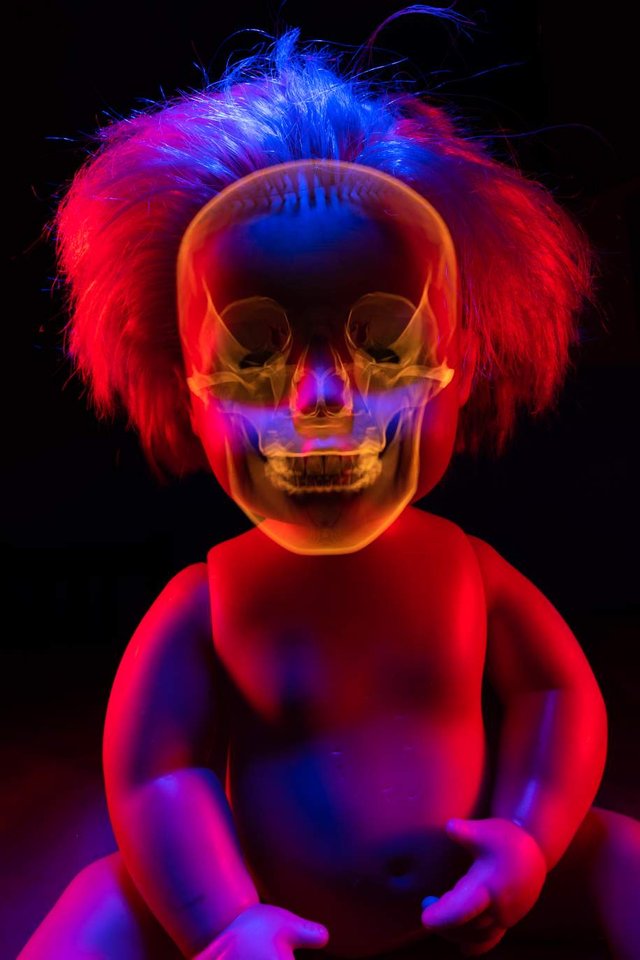 A nice happy upbeat shot for my daily picture from last week.
I did a half arsed steel wool shot earlier in the evening and packed my gear away. I reviewed it on the laptop and told myself to stop being so lazy and got my stuff out again.
I scrolled through my @oddballgraphics amazing video animations he kindly shared with me for inspiration, I opted for the skull version. I hadn't tidied the doll away from the other night's shot so she got her second appearance.
1 tripod for the skull played from my phone. 1 tripod for the doll which I believe was my sisters so probably 35 years old or so. You can even see the receding hairline from when she gave her a haircut.
Set the doll up on the table and lit from either side blue and red, lens cap on and swapped tripods to where the skull animation was playing on my phone. Lens cap off and let that image burn in over the top of the dolls head.
Pretty creepy I know but fun all the same
Would you like to see more lightpainting here? Give Lightpainters United a follow and you will be introduced into the amazing world of light painting.

Join us at Discord
Happy days.
Posted using Partiko Android