Steemit Crypto Academy Contest / S7W2 - Relive Your Top Moments of the Year 2022 (about your crypto trading experience)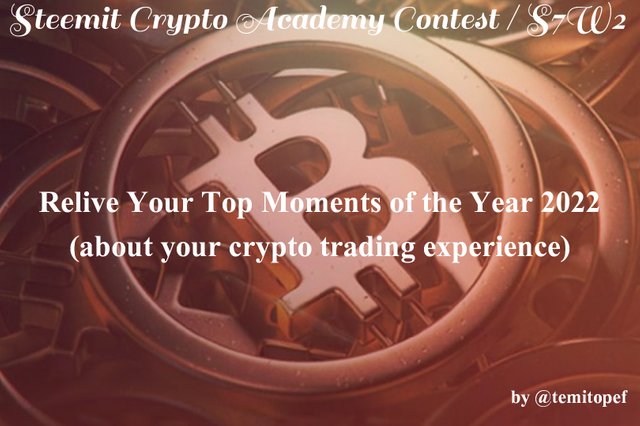 Cover Image Created using Poster Maker
---
---
Hello Steemians, I'm excited to be back in the academy to write a post in the contest organized in the community with the topic "Relive Your Top Moments of the Year 2022". This contest is a very good one that takes me back on memory lane to see my top moments in 2022 in terms of profits and losses.
---
---
What were your best moments in crypto trading in 2022? We want to know about your experience
---
We all know that the crypto market has suffered a very large decline since November 2021 when Bitcoin fell from $69,000 and other cryptocurrencies followed it, and the market is yet to recover until now. So the early part of the year 2022 was not something I can write about now because it does not suit this section of the contest.
The first best moment of my Crypto trading experience in 2022 was during season 6 of the crypto academy when we were taught trading and every week, we are required to test our strategies on the crypto markets. During that time we joined teams of different professors, this helped me to try futures trading and I made profits from many of my trades, it was indeed one of my top moments in 2022.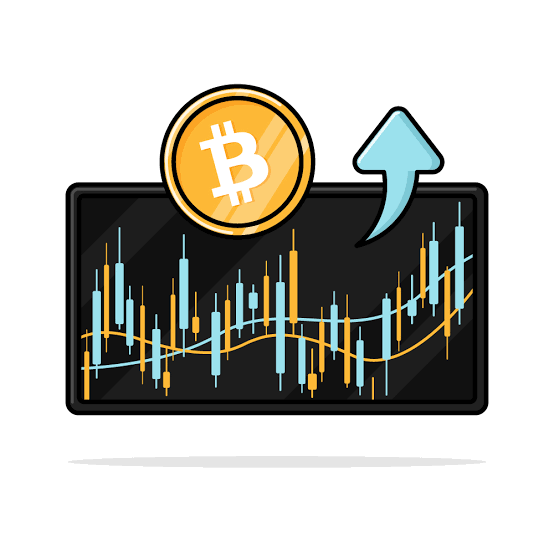 Crypto trading image taken from VectorPortal
Furthermore, some of the tokens I traded during that time are BNB, ZEC, XLM, AXS, WAVES, GMT, TRX, ADA, BTC, ETH, SOL, and many more. This experience for me started in February 2022 and I enjoyed my new trading method because I was able to make some good profits from the trades that were used to support myself.
There are good in bad times as well and that led to my second-best moment in 2022, this is about the infamous Terra crash that happened in May of the year, even though this is a bad experience for many traders but it ended a blessing for me on the LUNA coin. After the heavy fall of the coin, I find a good place to enter the market again and made about 7x on my capital, this was one of the very best moments I had with crypto trading in 2022.
The staking of my Steemit earnings on the platform is also one good moment for me in 2022, I used the #club5050 to keep half of my earnings as STEEM Power which I know it's a very good decision to allow me to have more value on Steemit and contribute to the growth of STEEM token. I'm glad I took that action as well.
---
---
What were your worst moments in crypto trading in 2022? Tell us about your experiences
---
The beginning of the year 2022 had me entered a market that it seems I regretted till today. So many cryptos did well in terms of a bullish market in 2021 before the decline began at the end of that year, I was not aware that this is going to last almost forever because it's already more than a year now and most of these crypto has not returned to where they used to be during the 2021 bullish market.
FTM (Fanton) token was one of the tokens that did well from 2021 and it reigned into 2022, to the extent that it topped a lot of charts of cryptocurrencies that are doing well doing that time. Fantom token is the utility token of the Fantom network that uses a Proof-of-Stake (PoS) consensus mechanism, it is used for payment, for network fees, used to participation in the governance of Fantom, and many more.
Furthermore, many people believed that FTM is the future like Bitcoin because it was just rising very well and I was one of those people. In January 2022, the coin was trading at $2.7 per one and I bought 18 FTM for $50. I was optimistic that this token will rise further because it has made an all-time high (ATH) of $3.3 before. Unfortunately, the market of FTM dipped and I lost a lot of my money as the token is now trading around $0.34.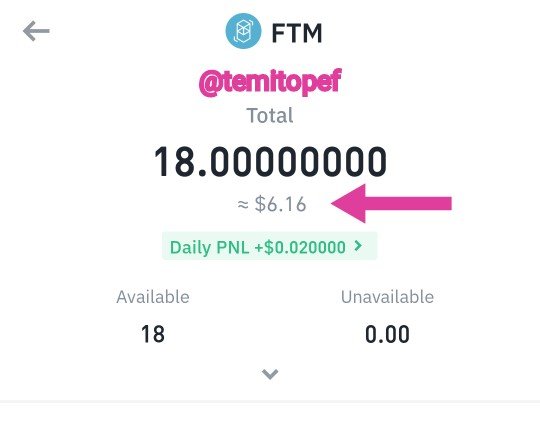 Screenshot taken from my Binance wallet
I'm still holding the FTM token and you can see in the image I uploaded above that the $50 I invested to buy FTM on my spot wallet is now only worth $6.16 which means I am on a loss of about $43.84 at the time I am writing this post. This happens to be my worst crypto trading moment in 2022.
I have other moments I lost my crypto to in 2022, even more than triple the amount I used to buy FTM and as I understood this topic, we are asked about crypto trading and not investment fails. I have had some investment fails when I invested in scam mining projects that are literally Ponzi schemes I know from the beginning, I just want to make some quick money from it but I lost my capital, this is not crypto trading to me and that's why it's not included.
---
---
What did you learn from these experiences of 2022?
---
I learned a lot from the year 2022 that I would be putting into practice so that I don't make the trading mistakes I made last year. I will be listing some of the things I learned from my experiences in 2022.
Do more Research: Doing more research is very important in crypto trading and it includes fundamental and technical analyses to be sure that the market is still having strong support to go more bullish. I have only based my buying into FTM only on fundamental analysis and that failed me, I will make sure I combine both in my future trades.
Trade with Minimum amount: This has been the basic rule of trading that you should only invest the amount you are willing to lose because anything can happen and to prevent heartbreak, trade with what you can afford to lose so that you can have enough assets to trade other tokens.
Buy more DeFi and Decentralized Exchange Tokens: The year 2022 has a lot of conspiracy that surrounded some centralized exchanges and affected their tokens which made a lot of people lose their life savings. During this time the trust in DEX increased, most people now prefer DEX tokens and when the market starts coming up again this year, it starts with Defi and decentralized exchange tokens so it is advisable to buy more of them to remain safe.
Don't Invest your Profits in Fake Projects: I learned that I shouldn't use the profits I have made from crypto trading to invest in fake projects, these scam projects are now so much in the crypto space and even if you know that from the beginning that they are fake projects and you just want to make some money, they may go off before you take profit. I'm not investing in such again.
---
---
Tell us about your future in crypto trading for this year in 2023
---
The crypto space has been experiencing a lot of negative talks for many years and the events of hacking that happened to Terra and FTX last year drove the market down and liquidated a lot of traders. This made some enemies of crypto believed more that cryptocurrency is a scam and that the CEOs of the networks that crashed have their hands in it, that it's a conspiracy.
I have always believed that crypto is the future of finance and no matter what, I will always be part of the crypto market. The year 2023 started showing good signs of a bullish phase in the crypto market which is a probability that the market can be good again so that some losses can be recovered and trust can return to the crypto space.
Furthermore, if the market continues to be bullish the way it is these days and does even more, crypto trading activities can be something lucrative like it's used to be before. My future in crypto trading is strong for these reasons as I have been constantly trading using the method of the futures trading and I have made some good profits since the year began.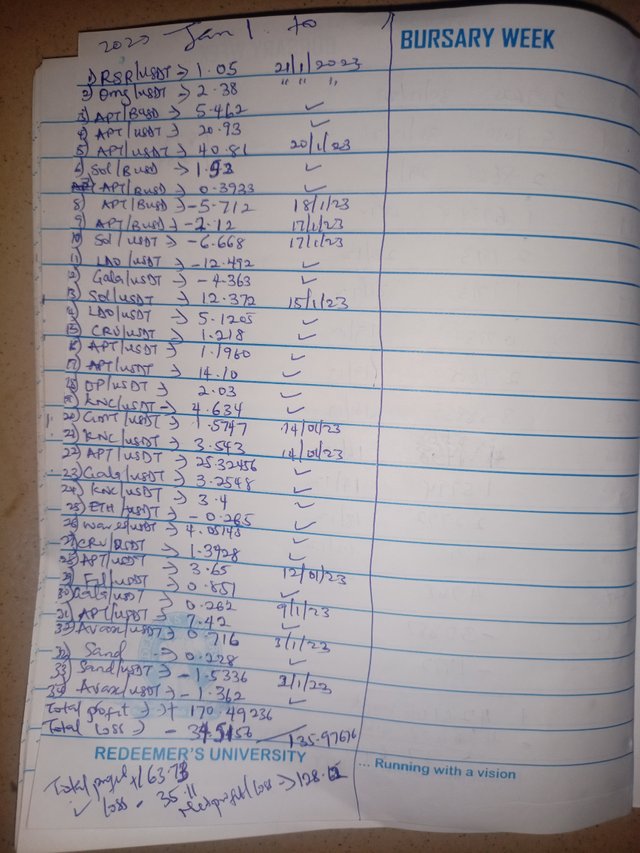 The Image of my Record book
I took advantage of the market since the year started and as uploaded above is my trade record book and the total profits I have made so far until the 21st of January, the net profit was $128.62 minus the transaction fees. I believe the crypto market will be doing well this year and this guarantees my future more in crypto trading.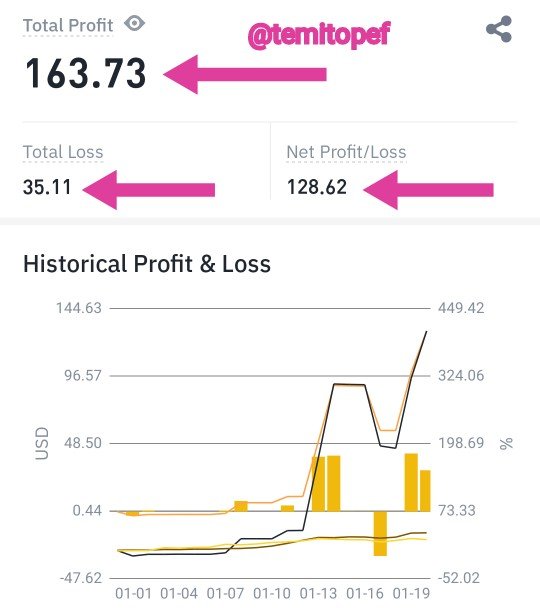 My futures profit from the beginning of January
The token I trade mostly these days is the APT token and I hope I can use more capital for better productivity in the market. If the market continues like this, I will be making more and that makes my crypto trading future brighter.
---
---
Conclusion
Cryptocurrency trading has been one of the ways many people across the world use to make some extra money for themselves and I have not been left out. 2022 was somehow a year that has a lot of downs for crypto lovers, it affected me as well and at the same time, there are times when traders made something for themselves and I experienced both ups and downs too. I'm very excited to write a post for the contest again and this is where I will be stopping now, thank you for reading.
---
I invite @patjewell, @jasminemary and @josepha to participate in this contest.