Steemit Crypto Academy Contest / S3W2 – My Experience Investing in the Crypto Market by @temitopef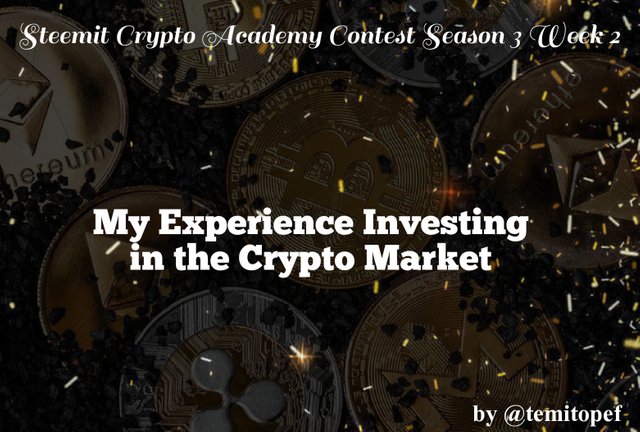 Cover Image Created using PosterMaker
---
---
Good day Steemians. I am very much happy to come back to the academy to join the contest for the week, last week was good as I have the opportunity to learn something new and better my understanding of it. This week is another one to write about my experience in trading cryptocurrency and I invite you friends to read with me.
---
---
Discuss your first experience investing in the crypto market
My first experience of investing in cryptocurrency takes me back in memory lane to the time I started buying and selling cryptocurrency. It all happened in late 2020 when I saw an Ad on Facebook where someone was advertising how to trade cryptocurrency, I have heard about cryptocurrency at this time but I was so naive about it all because it's complicated for me especially when I hear how people lose money in the market.
I took the chance to learn about cryptocurrency because it's free, I followed the free class to create a new account on Binance and learn about how to trade. After days of the free class, we were asked to subscribe to a signal channel but I don't have the money to do that and I have not performed a real trade at that time. I lost access to the email address I used for my Binance account so I created a new Binance account in 2021.

My Registration on Binance
I created my new account 510 days ago, that's like in March 2021. My first trade after the registration was a short-term trade because I contacted the teacher again to subscribe to the signal channel that cost about 3000 Naira for 1 month subscription at that time.
Furthermore, I bought a small decimals of Bitcoin that was used for some short-term trades with some altcoins. My first experience in cryptocurrency trading is positive because I made profits from the first short-term trade and I will talk about it in this post today.
---
---
What is your first investment in the crypto market and what drives you to invest in the crypto market
My first investment in trading cryptocurrency is Bitcoin which I used 30% of my salary from the laboratory to buy, that's about 10,000 Naira. The signal channel I joined shares coins that we can buy with Bitcoin and sell back at a certain price, that's where I get to learn about different take profit levels as they come with each signal on the channel.
The first cryptocurrency I bought with the Bitcoin for short-term trade was RVN (Ravencoin), I used 50% of my Bitcoin to buy it and sold the coin back at the third take profit level where I made a profit that is estimated to be 850 Naira at that time, I was so excited that I can make that in a trade just in a day, it was a satisfactory experience for me and I kept on doing it. There are days I win and some days, I lose. I couldn't retrieve my first trade history from my Binance App, I would have loved to show you the screenshot.
What drives me to my first investment? It was first an opportunity to learn cryptocurrency free of charge that I saw and the signal channel I paid for which allowed me to trade with the cryptocurrency signals, these are the major drive to my first cryptocurrency investment.
---
---
Have you ever encountered any loss as a result of the instabilities in the crypto market? Discuss
I have encountered some losses as a result of instabilities in the crypto market, it happened more than once, twice, and more. I was able to research markets on my after I have studied hard in the academy and I now make some decisions on my own but sometimes I involve my friends to also assist me in updates so that I can learn about the projects I have not been able to research about due to my work in the laboratory.
I could remember the recent cryptocurrency I'm currently on loss with, the name is Fantom, it is one of the many cryptocurrencies that have enjoyed a bullish market last year. I researched about it this year and bought some because I trusted the project and I am currently losing money in its market because I bought it for long-term purpose but the instability that hit the crypto market puts me at a loss as of now. Bitcoin that is worth $50 was used to buy 18 FTM at an average price of 0.00005373 BTC in January.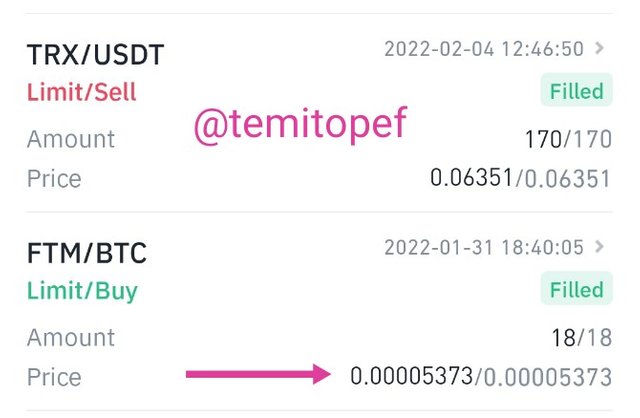 Screenshot from Binance App
The instability that occurred in May affected the FTM I was holding and it's now trading at 0.00001416 BTC, my money is only worth $5.35 as I am in loss of -$44.65.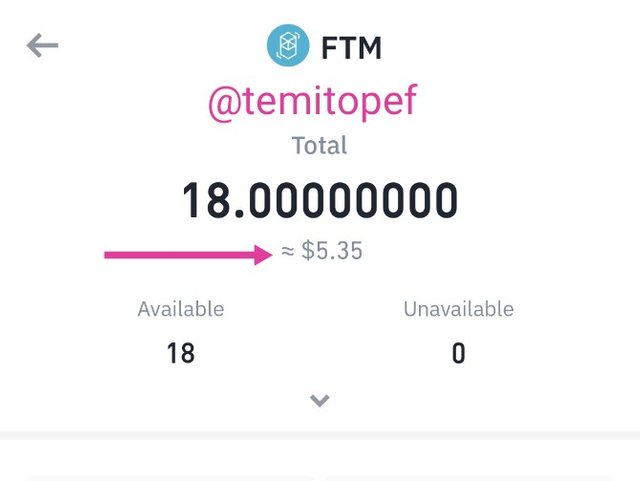 Screenshot from Binance App
I have lost in other markets too and that's mostly because I had planned to hold them for the long-term and the instability of the market led to my losses.
---
---
What crypto assets are you currently holding? Why did you invest in them? Please take a screenshot of your portfolio
I have only invested in 6 cryptocurrencies, for now, they are for long-term investment. The cryptocurrencies are BNB, STEEM, TRX, LUNC, SHIB, and FTM. These coins are my main investment and I have my reasons for keeping them which I will talk about below.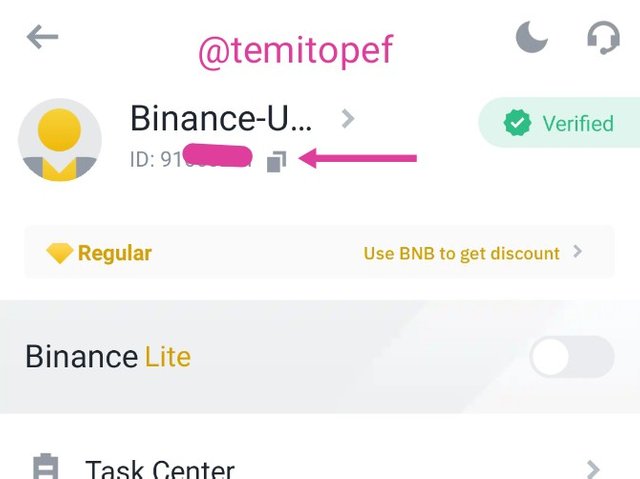 Screenshot from Binance App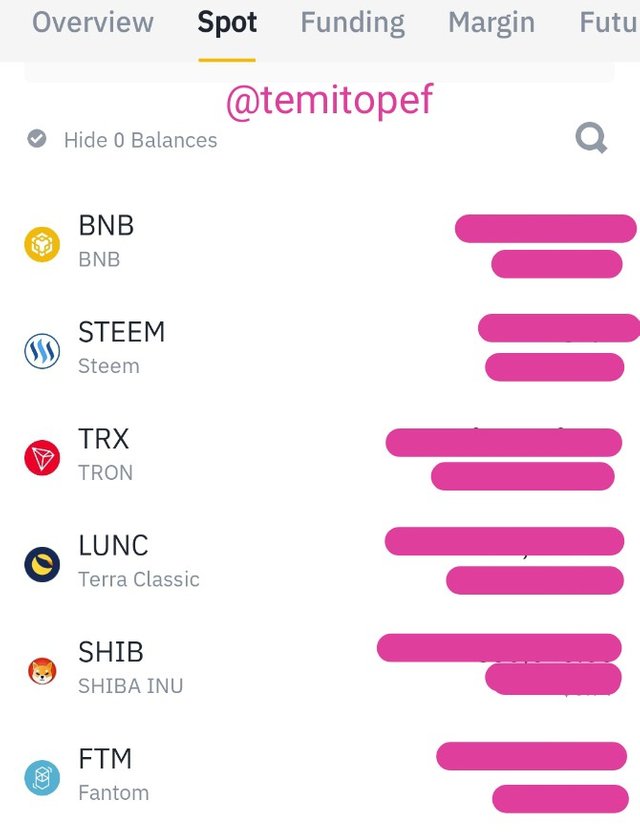 Screenshot from Binance App
BNB (Binance Coin): BNB is a utility token of the Binance Smart Chain, it's used for paying discounted trading fees on the Binance exchange and for participation in presale on Binance, and other platforms. I know it's a coin that will grow bigger in the future so I kept it.
STEEM: Steem is the native cryptocurrency of the Steem blockchain, I love it and I've always had a strong belief in the future of STEEM. It's one of the cryptocurrencies with networks that allow free transfer, so I keep some in my portfolio, it's an asset that is worth it and I believe it will climb higher in the future.
TRX: TRX (Tron) is the native coin of the Tron blockchain and one of the coins I love so much because of its low transaction fees and smart contracts functionality at a very lower fee when compared to the Ethereum blockchain. I used to keep more of them before but I sold many when I was extremely financially unstable.
LUNC: Terra Classic formerly known as Terra is one of the cryptocurrencies in my portfolio. I bought it at a lower price after the infamous Terra market crash with the hope that it will rise again one day and will make good gains for me.
FTM and SHIB: Fantom and Shiba Inu are the cryptocurrencies I bought because of their price behavior last year, they enjoyed a very great bullish market and I entered their markets to hold them for long term and make profits in the future.
All the cryptocurrencies in my wallet are held for a long-term purpose because they are the assets I so much trusted and believe will grow bigger in the future.
---
---
As an experienced cryptocurrency investor, Do you believe in Holding or Trading cryptocurrencies?
Before I choose either of the two, I will like to write my understanding of holding and trading cryptocurrency. Holding in cryptocurrency means buying cryptocurrencies to keep them for the future, it's also called long-term trade where an investor believes the price of an asset will do well in the future to earn her good profits.
Trading cryptocurrency which we can also be called short-term trade is the type where investors look for opportunities in the market of a cryptocurrency for a quick profit, this can be done when they notice that the market is bullish or taking advantage of a bearish market to enter a short position for profit making in the market of a coin.
As an average cryptocurrency trader, I prefer holding to trading cryptocurrency although I practice both but holding is more preferable and at the same time risky. The profits that could be made from holding cryptocurrency for a long time are much more, for example if someone has held Bitcoin from the years when it was worth nothing till now, such a person must have made a lot of profits.
So I believe in holding though it requires more research (fundamental analysis) before choosing to hold a coin and it's also risky especially due to unforeseen instabilities in the market. I have shown my portfolio before, these assets are my long-term investment, I'm holding them.
---
---
What's your advice to a newbie investing in the cryptocurrency market
As a newbie, I made some silly investment mistakes I wish I had known earlier, I lost some money due to these mistakes and I will like to give my advice to newbies below.
Be Opened to Research: Even if your close friends has shared with you to buy certain cryptocurrencies, you should also make your research and make sure you are convinced about the project. If it's a short-term trade analysis signal, if you know how to, do check the crypto chart to be sure of the market phase before investing or performing fundamental analysis.
Don't Allow Fear of Missing Out: Bullish phase of the market will not continue for life so will a bearish phase. Do not enter a market because the price keeps rising and you also want to make some profits, that's very dangerous as you may end up buying at the overbought zone where the market will drop and you may incur some losses. Make sure you use your analysis of the market well before going into it.
Practice Diversification of Portfolio: You should diversity your capital into different parts and make sure you don't use all on one cryptocurrency so that when something goes wrong, you don't lose all your investment. They say don't put all your eggs in one bag, in the same way, don't put all you have into one cryptocurrency alone.
Invest what you can Afford to Lose: It's necessary to invest the amount you can afford to lose so that your hopes are not high on an investment. This is because the cryptocurrency market is highly volatile and this makes its trading very risky, you should understand this before trading cryptocurrency.
---
---
Conclusion
My journey with trading cryptocurrency began very well but it's not always sweet, I lost and win several times, and they add up to my experience about trading cryptocurrency, this contest has helped me to remember how I started my trading experience. I prefer holding than trading cryptocurrency, my advice for the newbies is that they should please know that the cryptocurrency market is highly volatile. Thank you crypto academy for this contest. This is where I will be stopping for now.
---
---