Steemit Crypto Academy Contest / S6W5 - Common Crypto Scams And How To Avoid Them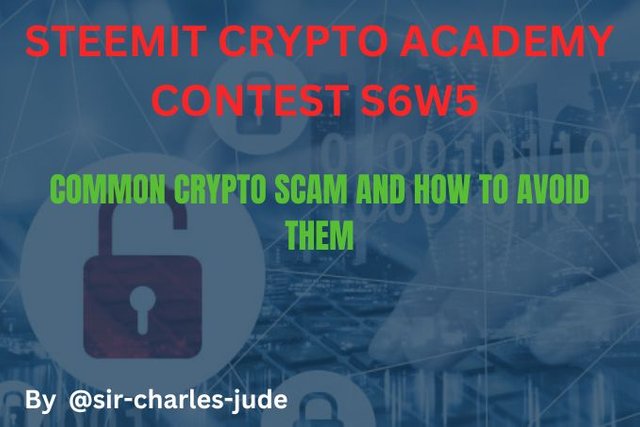 image source.edited on canva
---
Hello everyone, you are all welcome to my post. I will be participating in this week's engagement challenge titled "common crypto scams and how to avoid them"
---
MY UNDERSTANDING OF WHAT CRYPTO SCAM IS ALL ABOUT
---
The crypto world has been all about making money. People have seen how crypto has made a lot of people very wealthy, so scammers are using that opportunity to create scam crypto projects. These scammers know that people will patronize their project because they know that they can easily lure people into it by promising huge profits.
So many people have lost their hard-earned money in scam crypto projects. These scam projects come in so many forms. They also look very real which makes it very difficult to tell if they are scams or not.
---
TYPES OF CRYPTO SCAM
---
These scammers came to be very smart. They will make it very difficult for one to know their project is a scam.
---
ICO SCAM
---
ICO means "initial coin offering". It's a process whereby investors buy a coin before its being released hoping it will increase and hold good profits.
This is a good investment but nowadays, so many scammers are taking advantage of it in scamming investors. They will make it look so real and also create great hype about the coin on social media which will make people show interest in it.
It's advisable for investors to always do proper research on any ICO before going into it and also, investors should learn how to avoid FOMO (fear of missing out). Most investors find themselves falling into the trap of these ICO scams because they are scared of missing out on the wrong profits. Investors are advised to do proper research first before putting their money into it.
---
FAKE WALLET SCAM
---
In this type of scam, scammers develop fake wallets that can easily be controlled by them without the owners knowing. They make it look so real that no one will suspect them.
They convinced investors to store their coins in their wallets. Sometimes, they try to convince investors to stake their coin and lock it up for a particular period, and promise a huge return on investment.
---
PONZI SCHEME
---
A Ponzi scheme is a very common crypto scam. Here, the project promises a great return on investment in a short period with little investment. This is too good to be true.
They simply use the money of old investors to pay the new investors in a continuous cycle. In some cases, they tell investors to bring referrals to get additional bonuses.
Their return on investment is so attractive. They keep paying until they hit their target and run away with investors' money. That's why the Ponzi scheme, its most early investors benefit from it.
---
HOW TO SPOT THIS TYPE OF CRYPTO SCAM
---
---
To spot this crypto scam, there are some signs that you must consider which I will mention below.
• Crypto scams promise a very high rate of RIO with little capital.
• They have a very high level of hype which pressurizes people to invest in them. They even go about spreading fake news concerning the project just to get people's attention.
• The owners of the project don't give full details about their identity because they do know they are not legit and don't want to be caught.
• A Low budget website. Most of these scam crypto projects don't always have good and smooth-going websites. Sometimes, one can experience a suspicious error while going through their website.
• In some aspects, crypto scammers pump the coin by holding a very large quantity of the coin which will make the coin rise so abnormally in a very short time because they know it will attract the interest of investors. When investors start putting their money into it, they will immediately dump the coin and run away with investors' money.
---
A SCAM INCIDENT I KNOW
---
So many people have been victims of this scam project. I have also been a victim. I will share my experience with you.
Some time ago, there was a coin that was said to be lunch Which is Fc Porto token. The hype of these was so much that soo many people put their money into it. The coin was legitimately going to be launched in binance though. So that makes it a legit coin.
Crypto scammers took advantage of that and created a fake coin and named it exactly FC Porto Token under the BSC network (Binance smart chain) So many people taught it was real including me.
To purchase it, you have to first, buy the binance smart chain and convert it to the Fc Porto Token on pancakeswap. I taught I was buying a legit coin and waiting for it to be launched on Binance so that the price will rise and I will make good profits but I never knew I bought a fake Fc Porto Token.
When binance finally launched the coin, I went to pancakeswap and tried to convert it back to bsc and collect my profits but to my greatest surprise, the coin had no liquidity at all that was when I knew the Fc Porto Token I bought was a fake one.
---
HOW TO PROTECT YOURSELF FROM CRYPTO SCAM
---
The fear of missing out has been a very great reason why people fall victim to all these crypto scams.
You have to do very detailed research on a project before going into it no matter the hype. Also, find out if a project has a very good community.
After I experienced that scam incident, before I go into any crypto project, I always take my time to study the project in detail before putting in my money. If I had done proper research, I would have known that the Fc Porto Token on Binance was different from the one on pancakeswap.
Also, avoid projects that offer very high RIO with little capital. These types of projects are not legit. The owners know that promising high returns will easily lure people to invest in it.
It's also advisable never to invest what you can't afford to lose. People get so emotionally attached to a project they know nothing about because of the huge benefits the project promises and put all their life savings into it which is very wrong. We have to be very careful because these scammers have a way of messing around with people's emotions.
These scammers are so smart in scamming to the extent they even get in through emails. They present themselves as a company and send emails to you asking you to click on a link that will direct you to a wallet and ask you to link it to your wallet, please avoid such things because once you link that wallet to your wallet, they will have access to your wallet.
They also go ahead with creating groups on social media platforms like discord, telegram, etc, and creating fake audiences, which are also part of their fake project, they will invite real investors into the group and start giving fake testimonies just to lure the real investors to invest. Avoid such groups.
---
CONCLUSION
---
Crypto scams have been very common these days. People fall victim to these scam projects and lose their hard-earned money. It's advisable to always do very proper research before going into any crypto projects.
This was a very interesting topic and I will like to invite @srrebullient, @temitopef, @ngoenyi, and @edidiongeffiong to participate in these interesting contests.