Steemit Crypto Academy Season 2: Week8| TECNOLOGÍA HASHGRAPH, by @pelon53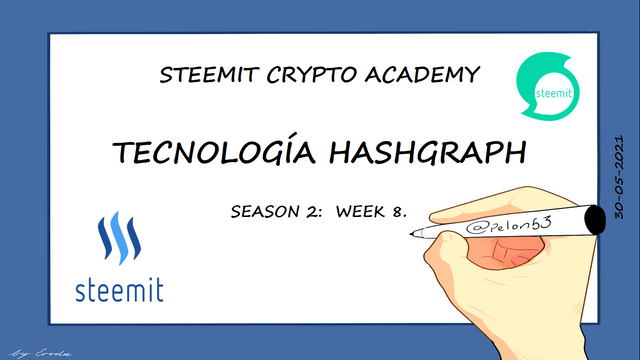 Steemit Crypto Academy Season 2: Week8| TECNOLOGÍA HASHGRAPH
Bienvenidos a esta nueva clase, hoy estaremos estudiando una nueva tecnología que puede ofrecer grandes beneficios al ecosistema financiero y al mundo en general, pero veremos que sucede en los próximos años. Su modelo es diferente a la cadena de bloques, que ya ha sido probada y mejorada en estos últimos años. ¿Será posible que esta tecnología, le dé un cambio al modelo antiguo de las blockchains? Esta nueva tecnología es la llamada Hashgraph, empecemos: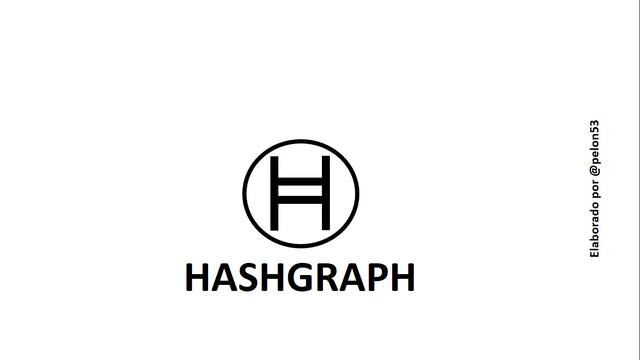 Elaborado en PowerPoint
Es una tecnología o algoritmo de consenso descentralizado, que forma parte de los llamados proyectos de 3era generación de cripto. Se considera un gran competidor de la tecnología blockchain, para ser su competidor garantizan mayor seguridad y un elevado rendimiento.
Este proyecto se basa en Gráficos Acíclicos Dirigidos (DAG), usando como base la Contabilidad Distribuida (DLT), es decir, su estructura es parecida a un gráfico, donde las informaciones de todos los nodos se comunican entre sí, generando un gráfico de conexiones. Y la información se va almacenando en eventos. La información se distribuye veloz y se evita el ataque informático de la plataforma, ya que es un algoritmo de consenso asincrónico. En este sistema se elimina la necesidad de mineros que validen la información. Generando transacciones muy rápidas y manteniendo la seguridad.
Ahora para dejar a un lado la minería, Hashgraph utiliza un protocolo de consenso que se basa en la votación virtual, que trabaja apoyado con Gossip protocol, que es el sistema de transmisión de datos. Con este sistema podemos decir que Hashgrap trabaja más eficientemente que los protocolos conocidos como: Proof of work (PoW) o proof of stake (PoS).
Gossip protocol tiene como objetivo difundir la información de los usuarios de una forma rápida y confiable a través de los nodos, realizando para ello la comunicación de ordenador a ordenador.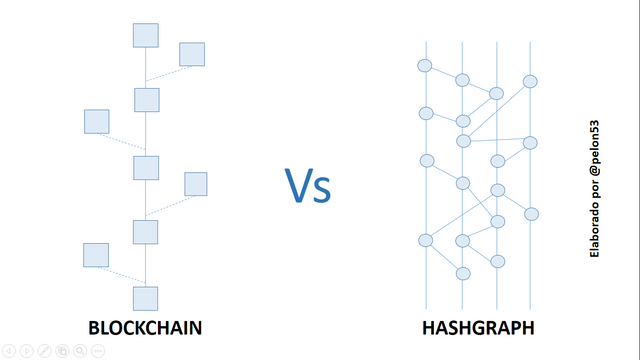 Elaborado en PowerPoint
Con esta tecnología y los beneficios que ofrece de su alta escalabilidad y seguridad se abren las puertas a una mejora y evolución de la tecnología descentralizada, deseada por muchos.

2.- CARACTERÍSTICAS DE HASHGRAPH
Veamos algunas características de esta tecnología Hashgraph en comparación con la blockchain. Este sistema sigue en desarrollo y algunas de estas características todavía no han sido comprobadas totalmente. Hashgraph es:
Seguro: Para garantizar la seguridad de los datos almacenados en la red, Hashgraph utiliza Tolerancia Asincrónica de Falla Bizantina (aBFT), de esta manera evita que personas malintencionadas manipulen datos del sistema. Una transacción una vez confirmada no se puede revertir ni cambiar.

Rápido: Utilizan un protocolo de consenso que genera una gran velocidad, este protocolo es Gossip. Este protocolo permite validar casi instantáneamente 10.000 transacciones por segundo.

Escalable: Uno de los principales problemas de la blockchain es la escalabilidad, al contar con un algoritmo asimétrico hace que este sistema sea mucho más escalable y evita el riesgo de permitir las bifurcaciones.

Justo: Hashgraph es fundamentalmente justo, porque ninguna persona puede atrasar o impedir una transacción. Si hay algunos nodos maliciosos quieren impedir la transacción, el sistema provee el mecanismo del protocolo Gossip con su sistema aleatorio, donde los nodos fluyen y se lleva a cabo la transacción.

Enfoque: El Hashgraph usa un enfoque totalmente diferente al de blockchain. El Hashgraph usa un gráfico acíclico, donde todos los nodos guardan una copia del registro y esto lo hace totalmente descentralizado.

Eficiencia: Hashgraph no depende de crear bloques, solo eventos lo que lo hace muy eficiente. Mientras que la cadena de bloques, desperdicia el esfuerzo en la minería.

VENTAJAS Y DESVENTAJAS
Comparando estas ventajas y desventajas con la blockchain, veamos:
VENTAJAS:
Una de las principales ventajas de Hashgraph es su velocidad de transacciones por segundo, solo lo limita el ancho de banda de internet, mientas que la blockchain está limitado por su algoritmo de consenso.

Se considera más segura y robustas ya que, usa el aBFT (Tolerante a Fallas Bizantinas asincrónicas). Esto quiere decir, que siempre y cuando menos de 1/3 de los nodos de la red sean maliciosos, el protocolo llegará a un consenso.

Hashgraph no permite el bloqueo o atraso de las transacciones, su sistema es justo para todos los usuarios. Mientras que otros protocolos de la blockchain permite el minero decidir cuál transacción validar, dependiendo del usuario y de sus tarifas.
DESVENTAJAS:
Una de las grandes desventajas es que su eficiencia matemáticamente está comprobada, pero no en la vida real. Esto puede traer incongruencia y no tener los resultados que tiene en la teoría. Mientras que la blockchain tiene más de una década en el mundo real.

Otra desventaja es que su tecnología no es de código abierto. Es patentada y eso evita que otros desarrolladores puedan hacer una bifurcación de esa tecnología.

La tecnología Hashgraph está patentada, pero tiene una red pública, llamada Hedera Hashgraph, de la cual vamos a estar hablando.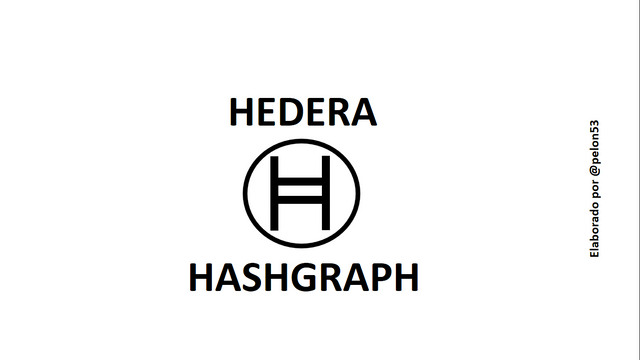 Elaborado en PowerPoint
Hedera Hashgraph es una red pública descentralizada dirigida a empresas, aprovecha el algoritmo de consenso de Hashgraph. Esta red ofrece algunos servicios, veamos:
Hedera Token Service (HTS): Ofrece este servicio, donde puedes crear tu propio token nativo. Se puede configurar y administrar. Puedes crear un token fungible o no fungible. Esta tecnología ofrece configuraciones de alto rendimiento.

Hedera Consensus Service (HCS): Puedes construir tu propio método de verificar y llevar a cabo una serie de acciones, usando el protocolo de consenso que ofrece Hashgraph. Puedes hacer un seguimiento a los activos en una cadena de suministro, pero también lo puedes usar para crear registros auditables como en una votación electoral.

Smart Contrats: Puedes crear tu propio contrato inteligente a través de Solidity e implementarlo en la red. Para crear estos contratos inteligentes se recomienda utilizar el servicio de token Hedera y el servicio de consenso de Hedera; donde te daría un rendimiento superior a un bajo costo.
Ofrece otros servicios como: transacciones programadas, transacciones con múltiples firmas, intercambio atómico y servicios de archivo.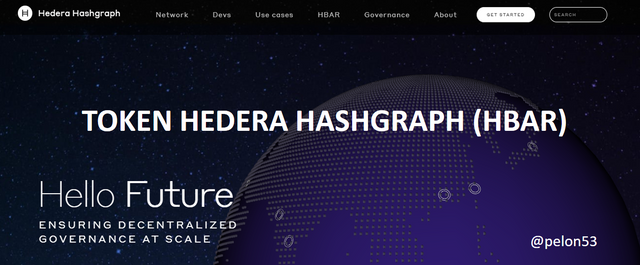 Capture tomado de la Página principal de Hedera Hashgraph y modificada en PowerPoint
El token nativo de Hedera Hashgraph es HBAR, que utiliza la tecnología Hashgraph. Es altamente personalizada y sus transacciones son de bajo coste.

Capture tomado de la página de coinmarketcap
Para poder usar los servicios de Hedera Hashgraph, se necesita del token HBAR, que es el combustible, para poder impulsar dichos servicios como almacenamiento de archivos, transacciones con múltiples firmas, contratos inteligentes. Pero también se utiliza este token como protector de la red, donde se puede apostar este token, y de esa manera se ayuda a mantener la integridad de la plataforma.

CONCLUSIONES
La tecnología Hashgraph es muy veloz, teóricamente tiene una escalabilidad muy alta, pero necesitamos ver los resultados en la vida real, y observar qué tan cerca se aproxima a los datos teóricos.

Hashgraph es muy segura y robusta, ya que usa Tolerante a Fallas Bizantinas asincrónicas.

En los próximos años veremos cómo se comporta esta tecnología y si es posible adaptarla a las labores cotidianas de la vida real, y sobre todo al sistema financiero.

TAREA:
1.- Explique en detalle el protocolo Gossip, usado en Hashgraph.
2.- Explique Tolerancia a Fallas Bizantinas en Hashgraph.
3.- Haga una comparación entre Hashgraph Vs Blockchain, para un proceso de votación en su pais ¿Cuál tecnología elegiría usted? ¿Por qué?
4.- Explore Hedera Hashgraph enlace muestre captures de pantalla.

REGLAS:
• Debe postear en la Comunidad de SteemitCryptoAcademy.
• Debe incluir obligatoriamente entre las 3 primeras etiquetas: #pelon53-s2week8 y #cryptoacademy . y etiquetarme en algún lado de tu publicación @pelon53.
• Asegúrese de colocar bien la etiqueta #pelon53-s2week8, de lo contrario su publicación puede perderse.
• EL PLAGIO O SPAM NO SERÁ TOLERADO.
• Esta tarea se ejecuta hasta el 5/06/2021. 11.59pm UTC. (7:59 pm, Venezuela).
• Mínimo 300 palabras.
• Use imágenes libres de derechos de autor y señale la fuente, obligatoriamente.
• Coloque tu usuario de Steemit en cada gráfica o screenshot utilizado.
• Según los criterios determinados por el equipo de Steemit, no recibirás un voto por tu tarea si tu reputación no es superior a 50 y no cuentas con 150 SP o más.
• Antes de publicar su tarea, verifique con detenimiento las reglas pautadas para esta semana en la página de @steemitblog.
Cc: -
@steemitblog
@steemcurator01
@steemcurator02