Steemit Crypto Academy | Summary On Homework/Task 2: Cryptocurrency Exchanges and Cryptocurrency Market Capitalization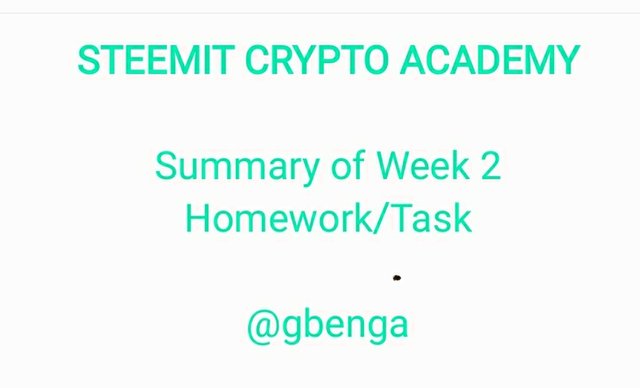 The major purpose of the homework/task summary is to share general thoughts, guidance, and feedback on previously submitted tasks/homework by students. Content creation isn't an easy task and it requires great time, brain work, and concentration and with that, I must commend everyone who participated in the task for the previous week.
The Steemit Crypto Academy Week 2: Cryptocurrency Exchanges and Cryptocurrency Market Capitalization really received a lot of traction and I acknowledge everyone who spared time to go through the lecture as well as participate in the homework/task, Thank you very much and I hope to see more of you in the subsequent class as well as activities.

My general Thoughts
The aim of this academy is to get efficacy as related to cryptocurrency where anyone can look at the steemit crypto academy community and be able to learn, as well as understand the nitty-gritty of the blockchain technology as well the crypto world. Since the beginning of this course, I have seen great attention from users as there is an increase in the number of posts on the academy community.

Observation
During the week, I went through a lot of posts, made a lot of comments (quite friendly but information-packed), and did several corrections and in this post, I will talk about the observations I made.
When I say short post, mean post below 300 words which is the average number of words expected to be written by every participant. Writing long contents won't actually keep people to your post, even project papers and thesis can be very boring due to their length but writing a short post can be very disgusting as it will be a post with incomplete information. I went through a lot of posts in the previous week and I realized that a lot of people were writing short posts of less than 300 words with the aim of submitting to get votes on the post.
This was another trend I noticed in the steemit crypto academy community where certain users spam the community with bot accounts re-writing other users' posts and claiming them to be theirs. A very good example is the user @singh70 who made a repost of user @chinma and claiming the post was authentic whereas it was a copied post.
Another aspect of spamming is writing posts not related to the topics given for the week. I have seen a lot of accounts using the Steemit crypto academy community to propagate their own project as well as write posts not related to cryptocurrency or the topic. This is completely wrong and I must completely condemn this act.
Plagiarism and Spinning of content
While plagiarism is a crime against copyright, spinning is a crime against copyright and integrity. The formal can be annoying while the latter can be very disgusting as the writings will be unreadable. Plagiarism is using another content creator's content without referencing them while spinning is using tools to change the content of another author by using synonyms. The negative aspect about spinning is when the post has been spun, it becomes literarily out of context and out of sense since the sentence will not give the same meaning as when it was in its original form.
A lot of users submitted plagiarized/spun content in the previous week which isn't good for both the user and Steemit's SEO. I made a few comments on this and I realized that the users who received these comments immediately deleted their posts which shows they knew what they were up to before submitting the content.
Poor organization of post and bad grammatical construction
These are two flaws that make posts unattractive to readers. The organization of your writings, pictures, audios, and videos in a post is what makes users stay to read your post at first but when the post is not properly organized, it keeps readers far away from the post.
Another observation is the poor use of English (which includes spelling, use of tense, and grammatical construction) by students in their posts. When a post has a lot of grammatical blunders, it becomes less understandable and chases users from your posts.

Guidiance/Reation to the Observations
Posts with less than 300 words would not be accepted and would be rated poorly. Your post should be a minimum of 300 words meaning it should not be less than 300 words but it can go beyond that.
First, I will take accounts with no profile picture as bot accounts since most of the accounts involved in this act barely add profile pictures. Users are expected to add a cover image as well as a profile image when they join the steemit community and not having one means the user didn't take time to go through their accounts.
Spam accounts are here to get the rewards that are meant for genuine users or to share phishing links so as to get users' information and steal their funds. So I will appreciate it that we fight this together and in other to get a good result, you can report any act of spam by making a comment beneath the post and tagging one of the official steemit accounts.
Plagiarism and Spinning of content
Personally, I do not like this. I will advise that original and quality contents are submitted. Finding a plagiarized post or spun content will incur a comment with a negative/low rating which will mean not getting votes at all.
Poor organization of post and bad grammatical construction
Since we are all learning, posts that are poorly organized or that poorly structured grammatically can be overlooked although, they will receive low ratings. At the same time, we will be looking into how to help users improve their writing skills (but do not forget that steemit is not all about writing, you can do vlogging, photography, and other types of content).

Three Interesting Homework Posts You should Checkout
Let me state clearly that every user wrote impressively and while there are a lot of posts to read, I can only pick out three posts from the numerous posts.
---
---
1
Will You Keep Your Crypto Assets in a Wallet or on an Exchange? [@gbenga crypto academy course 2] - Author @ben-edom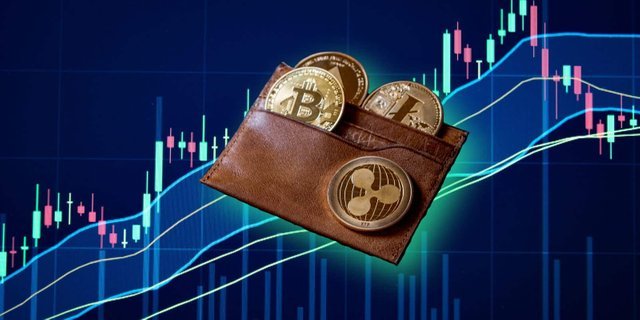 Image Credit
Wallets, unlike the traditional ones where we keep our paper money, cryptocurrency wallets are applications, devices, and portals that record transactions for s particular address thereby keeping track of every token that goes through that address thereby serving as a wallet to store the assets in the address. - @ben-edom
Differentiating between traditional wallets, crypto wallets, regular exchanges/markets, and the crypto market is an interesting way to start the post. The post was properly organized with images properly referenced beneath each one.
---
---
2
Crypto Academy Week 2 Homework Post for [@gbenga] (100% powered up)- Author @kouba01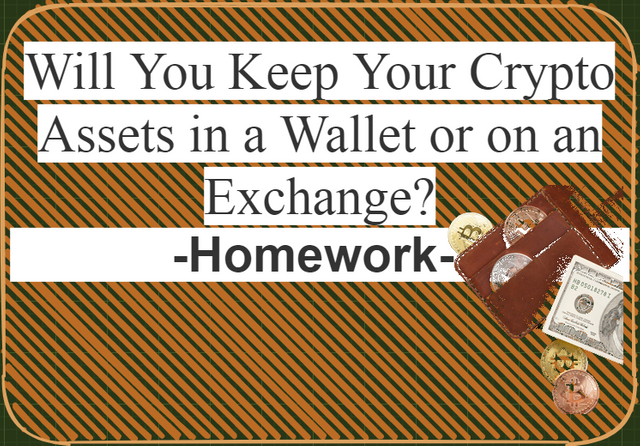 [Image credit] @kouba01
Whatever method is chosen, it aims to secure your private key. This key identifies you as the owner of the currency in question. It is made up of a long series of upper and lower case characters. - @kouba01
The post explains the essentials of using an exchange, as well as keeping assets in crypto wallets. The post was properly written and images properly inserted and referenced were needed. Finally, emphasizing the use of backup phrases, mnemonics, and other methods of recovering wallets properly.
---
---
3
Homework-Task 2 || Cryptocurrency Exchanges and Cryptocurrency Market Capitalization by @gbenga - Author @simonnwigwe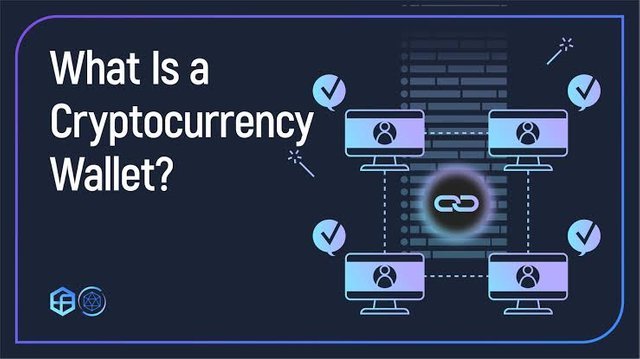 Image Credit
I think An exchange is essentially a bank, with the added feature of real-time exchange. But there's a difference: if the bank gets hacked, your personal data get stolen, but your funds are protected by insurance and transactions can be reversed. If an exchange gets hacked you not only give away your personal data, but you lose also all your Bitcoins, and Bitcoin transactions can't be reversed. - @simonnwigwe
The User took time to explain the types of wallets available (hot and cold wallet), the types of exchanges available, comparison between a regular bank and a cryptocurrency exchange, as well as preferred choice to store crypto.
---
---

Suggestion
I want to commend every user who has participated in this academy but then, I will like to appeal to everyone to be creative with choosing topics instead of using the title of the course as a topic for your task.

Final Note
The Course for the third week is ready and your participation both in the class as well as in the task will be welcomed.
Topic: The Steemit Crypto Academy Week 3: All You Need to Know About Bitcoin Network
Task: Segwit Bitcoin Network or Legacy Bitcoin Network, which do you prefer and why?
The Rules
Everyone is eligible to participate in this task.
The Post should be a minimum of 300 words and should be submitted in the crypto-academy community for visibility.
You should include the exclusive tag #steemitcrypto and a tag of your country (for example #nigeria).
Post should be your original content. Show references for images used when writing your post.
Task runs until Sunday, February 28th, 2021