The Steemit Crypto Academy Week 2: Cryptocurrency Exchanges and Cryptocurrency Market Capitalization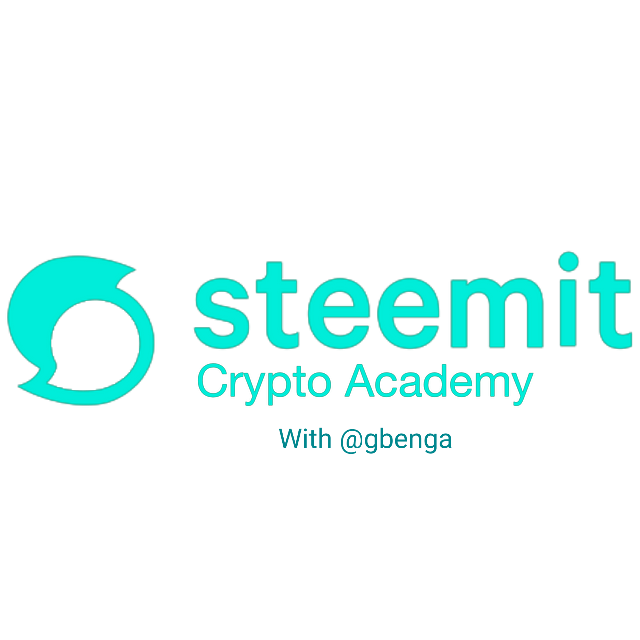 Course Outline
Introduction

Cryptocurrency Exchange

Brief History About Cryptocurrency Exchange

What is a Decentralized Exchange

What is a Centralized Exchange

Difference Between Decentralized Exchange and Centralized Exchange

Cryptocurrency Exchange and Who Owns the Asset Transferred to It

Initial Exchange Offering

Cryptocurrency Market Capitalization

Market Capitalization

Diluted market capitalization

Conclusion

Task

Image Source

Introduction
Welcome to the second week of the Steemit Crypto Academy, I am still your distinguished crypto academy professor @gbenga and in our today's class, we will be looking at Cryptocurrency Exchanges and Cryptocurrency Market Capitalization.
What gives a coin a price is the value placed during a buy and sell and in other to do this, there need to be a medium where the trade can take place and this is where Cryptocurrency Exchanges come in. You should join me in the course, and I can say that at the end of the course, you will get a better understanding of Cryptocurrency exchange and Cryptocurrency market Capitalization.

Cryptocurrency Exchange
For the purpose of this course, I will be referring to Cryptocurrency exchange as an organized financial market/marketplace where buyers meet with sellers and vice versa to trade crypto assets. There are exchanges far beyond the Cryptocurrency market, exchanges that trade Commodity, Foreign currency, Security, etc.
Just like the commodity, forex or security market serves as a medium of exchange and provides liquidity, so does the crypto exchange market provide liquidity for both spot, derivatives, and futures trading.



cryptocurrency exchange
Brief History About Cryptocurrency Exchange
After the introduction of Bitcoin, the next fundamental business was the cryptocurrency exchange as people needed to trade Bitcoin for fiat and fiat for Bitcoin. Do not forget that most of the earliest usage of Bitcoin was for gambling so people needed to trade fiat for the coin. Bitcoin had no price value until Laszlo Hanyecz bought Two Pizzas for 10,000 BTC. 1
A lot of us know Mt.Gox as an early exchange for cryptocurrency (as a result of its scandal) but I should let you know that Mt.Gox wasn't the first cryptocurrency exchange. On January 15, 2010, at 09:42:18 AM, a Bitcointalk full member dwdollar wrote about his plans to start a cryptocurrency exchange called Bitcoin Market. In his writings;
Hi everyone. I'm in the process of building an exchange. I have big plans for it, but I still have a lot of work to do. It will be a real market where people will be able to buy and sell Bitcoins with each other. In the coming weeks I should have a website with a basic framework set up. Please bear with me 2.



bitcoinmarket.com
In March of the same year, he launched the Exchange and it was trading buy and sell with PayPal 3. Bitcoin market was successfully launched with a few trades, one of the notable trade was selling 5050BTC for $5.02 by Martti Malmi 4. You can see the blockchain transaction here. Although, there was a means to trade Bitcoin thanks t Bitcoin Market, but it had its set backs as there were charge back with PayPal 5. After the establishment of Bitcoin market, other exchanges such as Mt.Gox which launched in July of the same year 6. Mt. Gox was the first exchange to determine the last price of the coin based on the last buy and sell. Immediately after the birth of Mt.Gox, other cryptocurrency exchanges began to emerge like Britcoin which was founded on March 27, 2011 6, BitMarket.eu, founded on April 5 7, and many more.
Just as it is inevitable for online businesses to experience a cyber attack, a lot of cryptocurrency exchanges did experience cyber attack and so many lost huge sum of money. Mt. Gox, which is the popular was attacked in June 19, 2011. Mt. Gox lost over 200 thousand BTC worth about $500 Million as at the time of announcement. A lot of people lost their funds and this particular event shook the industry 8. Some other exchanges were hacked at the early stage of cryptocurrency exchange and they include Bitomat, MyBitcoin, TradeHill and Bitcoinica.



Mt.GOX
What is a Decentralized Exchange
After the Mt.Gox Hack which led to loss of funds, decentralized exchange came to being. The exchange requires a pear to pear trading of currencies without the exchange being a middle man. The first set of decentralized exchanges were OmiseGo and BitShares which were founded in 2013. With Decentralized Exchange (DEX), trading orders are executed on-chain with smart contracts or off-chain, thereby not allowing the user to lose custody of their coin at any time to a custodian or intermediary 9.
On-chain order books DEX
Just like Bitshares exchange, these decentralized exchanges are recorded on a chain (blockchain) making it the most transparent exchange. Most on-chain DEX requires a several nodes to record the transaction order as well as transfers. This nodes serve as miners on the blockchain and they keep the blockchain safe from hackers. Examples of such exchanges are Stellar Term DEX, Bitshares DEX, Wave DEX and so on 10.
Off-Chain order books DEX
As the name goes, the orders are not stored transparently on the blockchain, instead they are stored/hosted by a centralized exchange. The reason for this is to have other blockchain coins function on the DEX as well as increase the speed when transacting. Off-Chain decentralized exchange do not keep custody of the tokens. They use relayer framework to manage off-chain orders. After submitting the order to the Relayer, the market maker waits for the taker to fill the order which is executed on the blockchain. Decentralized exchanges that uses Off-chain order books are Binance DEX, 0x, Poloni DEX, EtherDelta, Fork Delta, IDEX, and so on 11
Automated Market Makers (AMM)
This is the latest type of DEX in the industry. This type of decentralized exchange came into full flesh in 2020 with no market maker or taker. The traditional order books are replaced with liquidity pools. AMM uses a bunch of smart contracts to determine the price. In order to ensure there is liquidity in the market, the exchanges implement incentives so users can stake coins for both assets in the trading pair and the incentives are gotten from transaction fees. Exchanges that uses Automated Market Markers (AMM) are Uniswap, SushiSwap, and Kyber Network, and it has been made easy for users to use these exchanges with wallet such as Trust Wallets, Meta Mask and so on 12



centralized exchange and decentralized exchange
What is a Centralized Exchange
Centralized exchanges are the most recognized exchanges in the cryptocurrency exchange industry. These exchanges are operated by companies. With Centralized exchange, there is a third party which needs to be trusted with traders assets.
When traders deposit funds into the centralized exchange, the trader do not get the tokens rather, a corresponding amount of IOUs representing the asset is issued to the trader. The traders then trade IOUs on the exchanges but this IOUs become real asset s when they are moved out of the exchange to an external wallet. Most centralized exchange adhere to government regulations and require KYC by users before trading or increasing limit of trade. Example of Centralized exchanges includes Kraken, Poloniex, Binance, Bittrex, Huobi, Okex, Mercatox and so on 13
Difference Between Decentralized Exchange and Centralized Exchange
| Function | Decentralized Exchange | Centralized Exchange |
| --- | --- | --- |
| Speed | Slow, Requires nodes to verify orders | Fast (in milliseconds) |
| KYC | No KYC needed | KYC/AML needed |
| Control | Complete control | No complete control, Platform controls activities |
| Listing Coins | Easy to list coins | Requires a long procedure |
| Liquidity | Low liquidity | High liquidity |
| Compliance to Regulation | Difficult to regulate | Easy to regulate by government bodies |
| Fees | Little or Low fees | High fees which is used to run exchange activities |
| Security | Very Secured | Experienced few attacks |
| Features | very Little Features | Lots of Features and always adding more with upgrades |
---
---
Cryptocurrency Exchange and Who Owns the Asset Transferred to It.
Have you heard of the phrase "not your private key, not your coin"? If you are trading on a decentralized exchange, you own your coin and you are only trading peer to peer or with contracts which gives tokens directly back to you on exchange. On the other hand, if you send assets to centralized exchanges, then you do not own the coin rather, you own IOUs of the coins not the actual coins. So when you send coins to exchanges, the coin automatically becomes the property of the exchange while you own rights to the corresponding IOU.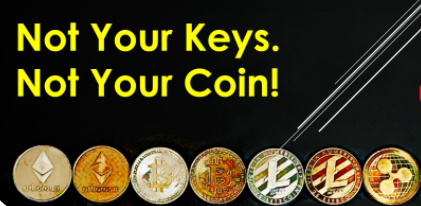 Initial Exchange Offering (IEO)
With the Ethereum smart contract, projects started conducting Initial Coin Offering, to enable project raise money while giving investors their coins in exchange. This process was very successful but there was a problem with ICO projects which was listing on an exchange. I would take up to a year or two before listing on a major exchange and most cases, the projects were fraudulent, so Initial Exchange Offering (IEO) came to being.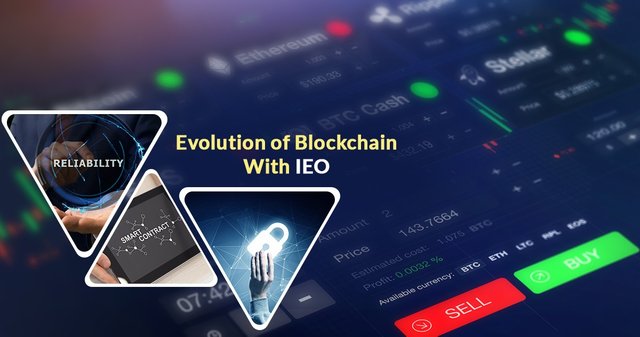 With IEO, projects can raise funds on an exchange using designated currencies usually the exchange based currency and get listed shortly after depending on the agreement signed with the exchange. With exchanges getting involved in the initial offering of a project it help investors ascertain the credibility of the project, proven business model of the project, credibility of the team and trust for the future of the project 14.
Cryptocurrency Market Capitalization
I am sure you must be conversant with the word market Capitalization with stock markets, the same thing applies with cryptocurrency and the cryptocurrency market. There are a lot of coins and cryptocurrency project and each of this project has a valuation, knowing the market capitalization of a coin helps to see an estimation of the cumulative value of the project and cryptocurrency asset currently as well as in the future.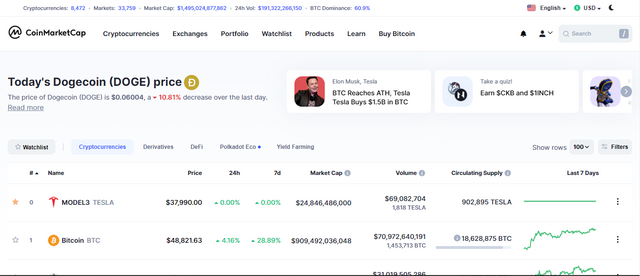 Market Capitalization
Regarded as the current valuation of a coin or project, it is calculated by multiplying the price of an individual unit of a crypto asset by the circulating supply of a crypto asset.
Mathematically
Market cap = price of a single unit of crypto asset × circulating supply of the asset
On the other hand, the total market cap is the total value of Bitcoin, altcoin, stablecoin, and other tokens listed on the cryptocurrency market. The total market cap may defer from one market to another as they list different coins depending on their criteria. A few cryptocurrency market include Coinmarketcap, CoinGecko, BlockFolio, etc. 15
Diluted market capitalization
This word is used in the stock market but we are currently discussing cryptocurrency so I will explain with cryptocurrency. Diluted Market Capitalization is the valuation of a crypto asset, if all coins (max supply) are circulating and is multiplied by the current price of the coin.
For example, there are going to be a total of 21 million BTC to ever be minted but currently, there is a circulating supply of 18,628,687BTC which makes the market cap to be $905,303,125,371 at the current price of $48,812.79. To determine the Diluted Market Capitalization, the total BTC of 21 Million BTC is multiplied by the current price of BTC ($48,812.79) to give $1,024,012,038,577.

Conclusion
Over the years, there have been several decentralized exchange and there have also being improvement to them whilst still giving holders right to their coin, we should expect that there will be improvement to decentralized exchanges following that the cryptocurrency industry is very young and growing. For centralized exchanges, we cannot have enough of them as there is a large team of innovative people, programmers and marketers to push the business while innovating. I cannot say for sure which of the exchange will be the most chosen in the future but currently, people still go with centralized exchanges due to its features.
You need to understand that the beauty of cryptocurrency is the fact that it is a relatively new industry and not everyone has started investing in it which means that the industry could go to a total market capitalization in hundreds of trillions. You can use the cryptocurrency market capitalization to depicts how the market moves as well as market trends.

Task
Will You Keep Your Crypto Assets in a Wallet or on an Exchange? Make a post to why you would prefer to keep your asset in one over the other.
The Rules
You are to choose either to keep your coin in a wallet or on an exchange and then make a post stating why you prefer the one you picked over the one you left.
Everyone is eligible to participate in this task.
The Post should be a minimum of 300 words and should be submitted in the crypto-academy community for visibility.
You should include the exclusive tag #steemitcrypto and a tag of your country (for example #nigeria).
Post should be your original content. Show references for images used when writing your post.
Task runs until Sunday, February 21st, 2021

Image Source
Coin motion
news.bitcoin.com
Pinterest
Coinmarketcap
Icoshock
crypto wisser