Steemit Crypto Academy Contest Season8 Week5 [SUMMARY] - "Let's Think About Steemit's Future"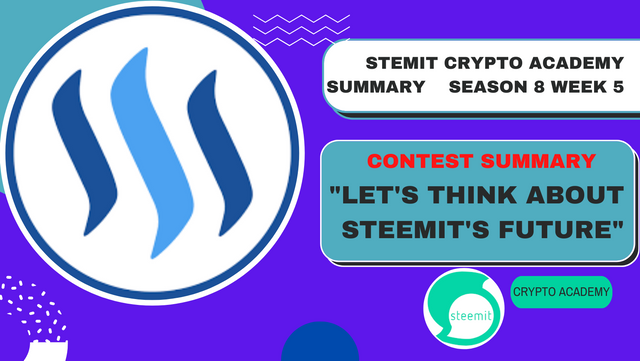 image edited on Canva

Introduction
Greetings to everyone. We hope everyone enjoyed participating in the Week5 season8 of our contest which was base on thinking about bout Steemit's Future . we will be giving our summary of how things went during the contest window and in this summary, we will be discussing about the valid, invalid entries, plagiarism cases, general performance of participants and top3 winners of the contest
For last week, the contest was centered on
"Let's Think About Steemit's Future"
. In this theme, users where ask to answer the following questions
What is Steemit And How Does It Work

What Is STEEM Coin And How Does Steemit Make It's Money

What Is The Current Price Of STEEM At Coinmarket. Explain Your Understanding Of what You know About This Current Price And The Situation Surrounding It.

Is Steem Coin Good For investment? As A Crypto Analyst, What Can Be Done For STEEM Coin To Reach A Maximum Supply And Becomes Top 100 Crypto Currencies In The World.

How Can We Do To Solidify STEEM Offering In Terms Of Technology And Operating System Inorder To Attract More Investor
We noticed that most users didn't respond well to the 2nd question of how steemit make it's money. However, this is how we were expecting y'all to answer the question
Steemit cryptocurrency is directly created by the Steem blockchain. It's called (STEEM). New Steem are generated every day, in a certain volume, according to a very specific algorithm called DPoS (Delegated Proof of Stake) with (20+1) witnesses responsible for creating, signing transactions and securing the network. More concretely , blocks are created approximately every three seconds. The production of blocks is done in rounds and each round lasts 63 seconds. Each block contains a little STEEM.

It gains value by entering the cryptocurrency exchange market. This value is measured on its usefulness, its rarity and the confidence that is placed in it on the markets. Plus a product, service, etc. is useful, sought after and rare, the more its value increases. It's the same for the money we know (euros, dollars etc.). Moreover, when a block is created with a regular amount in Steem, it's as if the bank printed a new note. A bank note, in reality, is just an insignificant little piece of paper, but one that has been given value and that value has been recognized. It's the same for all crypto including Steem. The more people join the Steem platform, the more Steem is used, the more its value increases
Also,
The money comes mainly from new people who buy Steem and who therefore inject money into the network in a way, by giving value to the tokens already issued. Without injection of external capital, inflation would quickly cause the value of Steem to drop enormously.
The contest theme was highly attended by a great number of entries. However, we noticed that there was an increase in the number of plagiarism cases as well as invalid cases. Without further ado, let's dive directly to the general stats and top3 winners.

General Statistics
For the just-concluded week5 contest, we received a total of 30 entries within the contest's validity period. We recorded 2 invalid entries to this contest. 2 article were found to be plagiarized during the contest window. We will continue working hard to completely eradicate plagiarism in the Crypto Academia. Henceforth, we hope to continue seeing pure and genuine content creators at this academy and steemit out larg. Let's take a look at the table below.


| Total Entries | Invalid Entries | Plagiarized Content |
| --- | --- | --- |
| 30 | 02 | 02 |
Performance Distribution
Just like I earlier Said, most entries to this contest didn't perform well in answering the questions to this concluded contest. However, 15 entries scored between 8 to 8.9, 4 entries got the score between 7 to 7.9and 4 entries got average score of 5 to 6. We notice 3 entries failed in the contest and were below average
From the metric above, We would like to encourage users who didn't score too high or who scored below average to improve on their entries subsequently.

Week3 Top 3 Users
We have come out with our selection of the top 3 users in the last week's contest on understanding the Steem Blockchain. The selection process is not only considered base on scores alone but it's considered base on both scores and general engagement with other participants in the contest.
There are some articles that scored high but didn't engaged with other entries and as such, they were left out of the selection. It should be noted that this is an engagement challenge and we hope users can engage to the best of their ability.
Many many congratulations to all the winners of this contest

We hereby appreciate all of you who took part in this contest, your efforts were great and we encourage all those who didn't perform well to try their best subsequently. We also urge y'all to take engagement very serious in other to have a chance of winning. A new contest is running already and we look forward to your participation.

Have a blessed week y'all