Steemit Crypto Academy Contest Season 8 Week 4 [Summary] Blockchain Oracles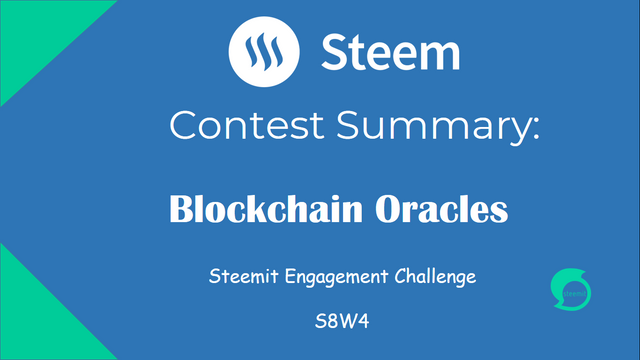 Designed in PowerPoint.
---
We hope everyone is doing very well, best regards to all the friends of this community. We have already finished the 4th week of this 8th season of the Steemit Engagement Challenge and the 5th week is already underway.
---

This report is intended to show the statistics of what happened in this 4th week.
Last week we were chatting about: "Blockchain Oracles" We wanted to know each participant's opinion on the service Blockchain Oracles provides in supplying information to Smart Contracts, and the different types of Blockchain Oracles that exist.
Several participants made excellent participation and offered high-quality articles, referring to Blockchain Oracles, their research fulfilled what was requested. Other participants made acceptable papers, however, it is necessary to go a little deeper into the subject matter. Let's move on to the statistics of this fourth week, which has just concluded.
---

Statistics of the Participation
---
In this fourth week of the challenge, 20 participants made their entries, of which 18 entries were valid, one invalid entry, and one entry with content generated by Artificial Intelligence, considered plagiarism.
| Valid Entries | Invalid Entries | Plagiarized Content |
| --- | --- | --- |
| 18 | 1 | 1 |
---
This can be further shown in the bar chart below.
---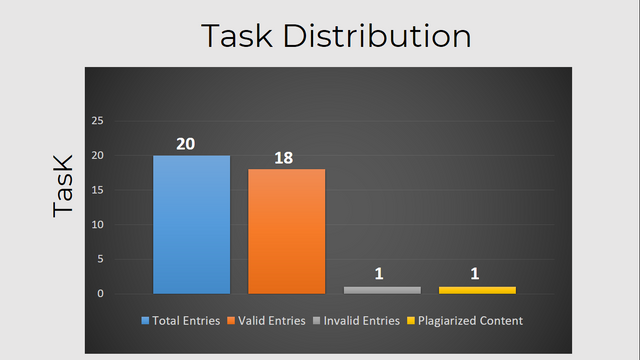 ---
Task Distribution
---
---
The graph below shows that 25% of the participants made excellent assignments, 55% of the participants' entries were good and 10% only completed their assignment. One invalid entry received accounted for 5% and one entry with plagiarism accounted for 5%, we continue to work to eradicate plagiarism in Crypto Academy.
---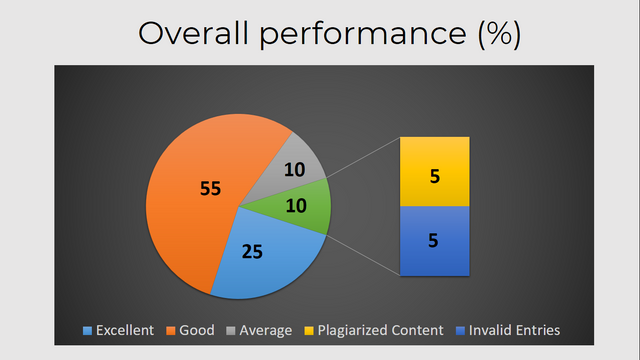 Overall Performance.
---
---

---
Top 3 Users
---
For the selection process of the three best publications in our community, we took into account the following:
Highly rated posting. Quality of performance.

The quality of engagement interaction with other users.
---
After doing a review of all entries received, the top 3 posts are:
---
---

Conclusion
---
We have culminated this fourth week, where 25% of the entries obtained an excellent rating.
Only one entry is by Artificial Intelligence, we encourage users to make a post with their own words.