Assignment Crypto Academy Season 3 | Intermediate Course: Spotting Market Reversals With CCI [@asaj]
This week professor introduced us to an amazing indicator Commodity Channel Index (CCI) which is calculated by the average provide momentum of the asset and the rate at which the prices change. I hope you have heard about the very famous indicator Relative Strenght Index(RSI) and I personally use this to find out the overbought, oversold zone, and Diversions.
CCI does the same thing but the difference is the value of the CCI is not bounded, unlike RSI which can be 0-100. The value of CCI can vary from anything greater than 0 or less than zero. CCI value can be -400, -300,-100,0,100,200,400. This is a very useful oscillator that helps us to find the area of interest from where we can look for reversal opportunities.
a) The high level (above +100%)- We may see reversal towards downside.
b) The central level (point zero)- It shows wait and watch senario.
c) The low level (below -100%)- We may see reversal towards upside.

1 -Open a demo account on any trading broker and select five cryptocurrency pairs
As I already have a live account on Binance, KuCoin, and OctaFX where I used to do live trading however to implement this strategy in life I would like to go with Paper Trading plug-in in TradingView.com as per the suggestion of the professor.
Let me explain how we can add Paper trading Plug-in Tradingview.
Step1: You need to click on selected buy/sell button.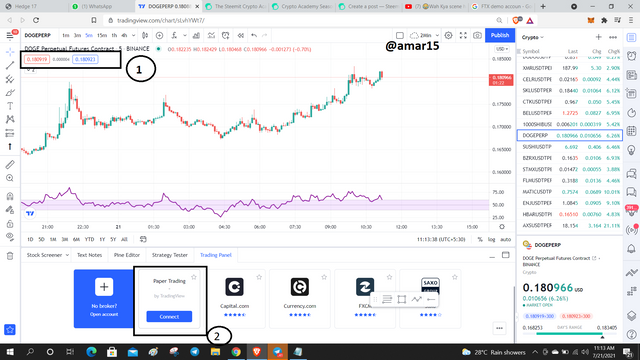 Step2: Now you can see the menu opened downside and you just need to click on Connect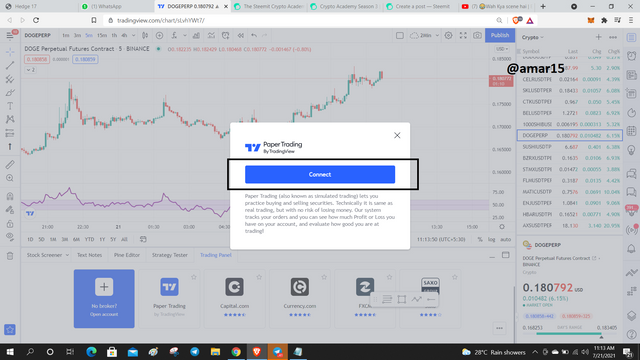 Step3: Whoo!! now you can ready for the paper trading.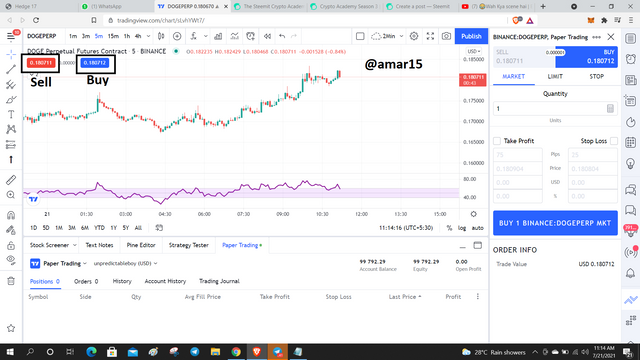 Step4: You can place buy/sell orders just by clicking on the Buy/Sell button then need to select the quantity. Also you can watch your position, running Profit and Loss at the bottom. It also allows you to set Take profit and Stoploss.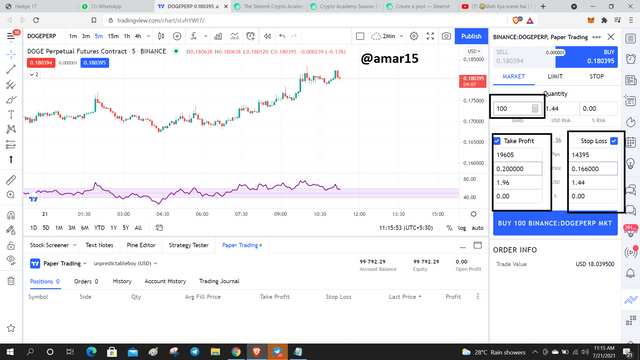 Step5: Monitor your running position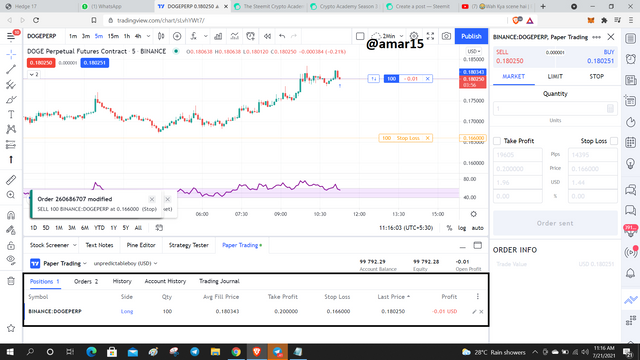 2- Create a market entry and exit strategy
To create Entry and Exit strategy I will be using 50 and 100 EMA. Moving averages is a very easy-to-use yet powerful tool in trading that provides dynamic Support and Resistance.
Here are the criteria for Buy-
a). Price should be above the 50 & 100 EMA
b). It should be in the Over Sold zone. The value of CCI should be negative (above -100)
Here are the criteria for Sell-
a). Price should be below the 50 & 100 EMA
b). It should be in the Over Sold zone. The value of CCI should be positive (above +100)
3- Use the signals of the Commodity Channel Index (CCI) to buy and sell the coins you have selected
Most of the time I used to trade in BTC though it can be less rewarding I feel safe because the momentum of Atl coins depends upon BTC sentiments. Even in my real trading life, I used to trade in Index Banknift and Nifty (Indian Stocks.)
I got a buy opportunity in BTC. Here are the conditions that I got-
a) The value of CCI was -150 when I decided to go for long.
b) It was taking support from 50 EMA and also trading above 50 & 200 EMA.
c) The stop loss was below 200 EMA which will work as another good support after 50 EMA.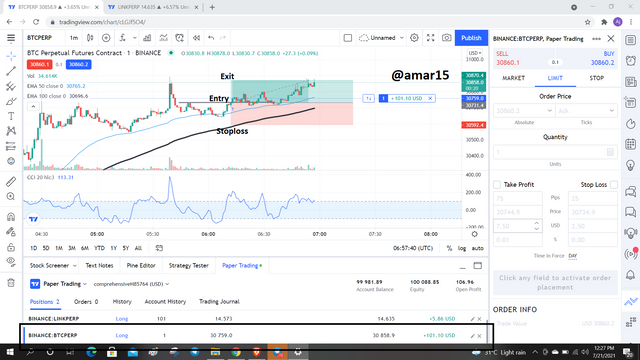 4-Declare your profit or loss
As you can see in the above picture that the BTC successfully hit my hit and I exited on the time. I made $100.00+ from this single trade. I got a 1:1 Risk and Reward Ratio.
Entry Price- 30759
Target Price- 30869
Stop Loss- 30590

5-Explain your trade management technique
Money management is a very important aspect of the trader. I used to put it in the second quadrant. In trading, I used to focus on mainly these 4 quadrants.
a) Technical Analysis
b) Money Management
c) Psychology
d) Life management
I personally believe if your money management is really good and you are a disciplined person you won't wipe your account in a single day. However, if your money management is poor even with super solid technical analysis may fail and you can wipe your account. I use only 5% of my capital per trade and in which if I lose then I try to lose 10% of that 5% capital and in case if I win then I will win 20% of that capital.
I always look for 1:2 Risk and reward ratio so if my accuracy is even 50% I can still make money. Let's suppose if I have $100 then I will take the trade with only $5 and my loss would be $0.5 and profit will be $1.00. I believe in taking only quality trades which are where I can get at least 1:2 RR.

Conclusion
The session was really full of knowledge and I enjoyed learning new Tool that will help me in my day-to-day trading life. I wasn't aware of the CCI indicator before but now I have one more tool that I can use for thee more confirmation. Also, the assisgment was very easy to do as the Professor already explained everything in the lecture
.
If you have any query then feel free to discuss with me in comment.
---
Don't get Stressed, Stay Blessed.
---