Our first Act of Kindness... / Unsere erste karitative Aktion
Deutsch im Anschluß...
Maybe it seemed arrogant when we opened our own Charity Account quite soon after the founding of the Dream Steem Community. Maybe it was - in the face of huge and diverse problems where help is urgently needed and our small, insignificant possibilities.
However, I firmly believe that even small resources, small margins, can help change things for the better. For one thing, not all difficulties immediately require a fortune to remove. For another, it is often valuable to give a first impulse. On the whole, people are very helpful and compassionate. Steemians are exactly like that; their hearts are in the right place!
So I'm not pretending that we are going to finance a vital operation or reforest a district or even save the world. But: we are committed to education!
I write from the supposedly safe bubble of Germany in Central Europe, where education is guaranteed for everyone as a matter of course and, moreover, offered free of charge. Well, the reality now looks somewhat different and that should also be the subject of some reflections here. But not at this moment.
Today we are talking about a young Steemian who has not been blogging here with us for too long. Certainly, when he started on the Steem, the hope of an extra income, of financial relief, was one of the decisive factors. Of course, it did not come true so spontaneously; we all know that and we know that it is a long and challenging road to success on the Steem. But an acute need exists now, not in a few years' time.
He himself has provided explanations and asked for help in his post:
https://steemit.com/hive-147599/@lilbiz-yl/eng-esp-seeking-for-support-i-m-in-need
Not only there, but also on some channels on Discord and other Social Media he is looking for support. The approach may seem brash or clumsy, but for me it is ultimately an expression of great desperation.
In a nutshell - I have contacted his university, which is collecting registration fees from its students at the beginning of June. UCHE SUNDAY LEBECHI is a 4th semester Information Technology / Computer Science student at Modibbo Adama University (M.A.U), Yola, Nigeria. He has difficult mid-term examinations ahead of him; being faced with worries about continuing his studies and other hurdles at the same time in this situation is anything but conducive.
I have great understanding for his request for help; my children had a much easier time on their educational path. No one should have to fight for his or her education! It is and remains a fundamental right for me!
Let's work together to ensure that Uche Lebechi graduates and gets on with his professional life! I am sure that he would also help a complete stranger if given the opportunity.
The authenticity of his person has been verified; the amount and due date of the fees have also been checked and it is now up to us to help our colleague.
For our part, as the Dream Steem Community, we have decided to donate 50 STEEM and 100 TRX. The transfer has already been made:
This is not enough for the whole necessary sum, but a part to which you might contribute: @o1eh - you are active in WOX-Helpfund, would you like to contribute a little something? @ubongudofot and @damithudaya - can Steem for Betterlife help? @crypto.piotr - does Project Hope still have capacity for a small contribution? A total of $200 is needed: you can find the breakdown of costs in Uche Lebechi's original post linked above....
I ask you all for a little active compassion and your spontaneous help! And I thank you from the bottom of my heart! @lilbiz-yl is full of hope...
Yours @weisser-rabe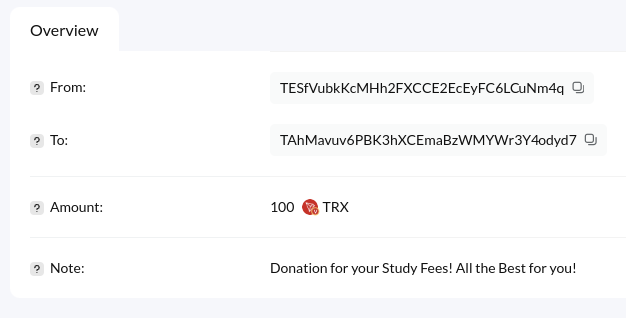 Deutsche Version:
Vielleicht hat es arrogant gewirkt, als wir recht kurz nach Gründung unserer Dream Steem Community einen eigenen Charity-Account eröffnet haben. Vielleicht war es das – angesichts riesiger und verschiedenster Probleme, bei denen dringend Hilfe benötigt wird und unserer kleinen, unbedeutenden Möglichkeiten.
Ich glaube jedoch felsenfest, daß auch kleine Ressourcen, kleine Spielräume, dazu beitragen können, Dinge zum Guten zu verändern. Zum einen erfordern nicht alle Schwierigkeiten gleich ein Vermögen, um sie zu beseitigen. Zum anderen ist es oftmals wertvoll, einen ersten Anstoß zu geben. Insgesamt sind die Menschen nämlich durchaus sehr hilfsbereit und mitfühlend. Steemianer sind da ganz genau so; sie haben das Herz am rechten Fleck!
Also tue ich jetzt nicht so, als ob wir uns daran machen, eine lebensnotwendige Operation zu finanzieren oder einen Bezirk aufzuforsten oder gar die Welt zu retten. Aber: wir setzen uns für Bildung ein!
Ich schreibe aus der vermeintlich sicheren Blase Deutschland in Mitteleuropa, wo Bildung für jeden selbstverständlich garantiert wird und darüber hinaus kostenfrei angeboten. Nun ja, die Realität sieht mittlerweile etwas anders aus und das sollte auch einmal Gegenstand einiger Betrachtungen hier werden. Nicht jedoch in diesem Moment.
Heute geht es um einen jungen Steemianer, der noch nicht allzu lange hier bei uns bloggt. Sicherlich war bei seinem Start auf dem Steem die Hoffnung auf ein Zubrot, auf eine finanzielle Entlastung, mit ausschlaggebend. Natürlich ging sie nicht so spontan in Erfüllung; das kennen wir alle und wir wissen, daß es ein langer und herausfordernder Weg zum Erfolg auf dem Steem ist. Eine akute Bedürftigkeit gibt es aber jetzt, nicht erst in einigen Jahren.
Er selbst hat in seinem Post Erklärungen dazu geliefert und um Hilfe gebeten:
https://steemit.com/hive-147599/@lilbiz-yl/eng-esp-seeking-for-support-i-m-in-need
Nicht nur dort, sondern auch auf einigen Kanälen auf dem Discord und anderen Sozialen Medien sucht er nach Unterstützung. Das Vorgehen mag dreist oder ungeschickt wirken, ist aber für mich letztendlich Ausdruck großer Verzweiflung.
Kurz und gut – ich habe Kontakt mit seiner Universität aufgenommen, die Anfang Juni die Einschreibegebühren von ihren Studenten kassiert. UCHE SUNDAY LEBECHI ist Student der Informationstechnik / Computer Science an der Modibbo Adama University (M.A.U), Yola, Nigeria im 4. Semester. Vor ihm liegen schwierige Zwischenprüfungen; in dieser Situation mit der Sorge um die Fortführung des Studiums und gleichzeitigen anderen Hürden konfrontiert zu sein, ist alles andere als förderlich.
Ich habe großes Verständnis für seine Bitte um Hilfe; meine Kinder hatten es wesentlich leichter auf ihrem Ausbildungsweg. Niemand sollte um seine Bildung kämpfen müssen! Es ist und bleibt ein Grundrecht für mich!
Laßt uns gemeinsam dafür sorgen, daß Uche Lebechi seinen Abschluß machen und mit seinem beruflichen Leben durchstarten kann! Ich bin sicher, daß er ebenfalls einem völlig Unbekannten helfen würde, wenn er die Gelegenheit bekäme.
Die Echtheit seiner Person ist geprüft; die Höhe und Fälligkeit der Gebühren habe ich ebenfalls gecheckt und es liegt nun an uns, dem Kollegen unter die Arme zu greifen.
Wir haben uns entschlossen, unsererseits als Dream Steem Community 50 STEEM und 100 TRX zu spenden. Die Überweisung wurde bereits ausgeführt:
Das ist nicht genug für die ganze notwendige Summe, aber ein Teil, zu dem Ihr vielleicht auch noch etwas beisteuern mögt: @o1eh – Du bis aktiv im WOX-Helpfund, mögt Ihr eine Kleinigkeit beitragen? @ubongudofot und @damithudaya – kann Steem for Betterlife helfen? @crypto.piotr – hat das Project Hope noch Kapazität für einen kleinen Beitrag? Insgesamt werden 200$ gebraucht: die Aufschlüsselung der Kosten findet Ihr im oben verlinkten Originalpost von Uche Lebechi…
Ich bitte Euch alle um ein bißchen aktives Mitgefühl und Eure spontane Hilfe! Und ich danke Euch dafür von Herzen! @lilbiz-yl ist voller Hoffnung...
Euer @weisser-rabe