Urdu community- Application for Monthly Support Program July-August 2022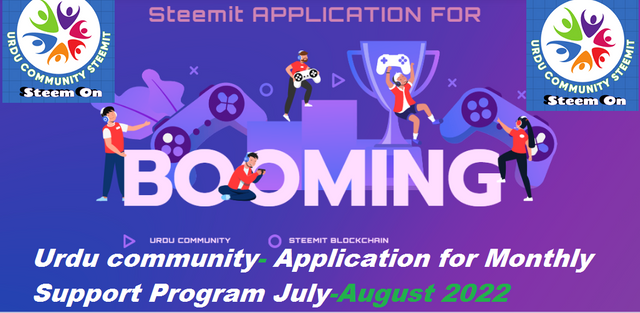 ---
Respected steemit team !!!@steemitblog,
---
Aslam-mu-Alakum!
First of all, a lot of love and affection to all the steemit community and steemit team. I will share the details about the Urdu Community in this application.
in this monthly community Booming Support program application today and we very much hope that this Booming Support program will create a new spirit in the communities.
And I wish all the Communities success on the steemit blockchain and the Urdu Community
also plays and is playing an important role in this regards.
The monthly Booming Support program is an excellent program and should not be underestimated as it will go a long way in developing and promoting communities. I will now provide information about the Urdu Community
in this application which will provide information about the future plans and current success of the Urdu Community.
The team of Urdu Community is well aware of the importance of booming support program and thanks to this program, Urdu Community has managed to get SP above 21k today.

The name of your community, and the name of the community account.
Ans: Name of community is Urdu Community , Community account is urdu-community

A list of all Admins and Moderators
Community Team
Team of Urdu Community is very efficient. And this team has different tasks.
Keeping the most important task user active and verifying the new member of the community is also the goal of the steem Urdu community.

Details of who has which keys for the community account.
At this time, all the keys of the Urdu Community curator account are safe with me as founder community @yousafharoonkhan. And all keys are safe offline,Pdf file, print and hand written. These keys are with me and @jessica566. @jessica566 is a very reliable and trustworthy admin. also keys has @janemorane , we trust on each other, jessica also has active key and @janemorane has posting key , to curate the post and etc

The community must have at least 50 active posters.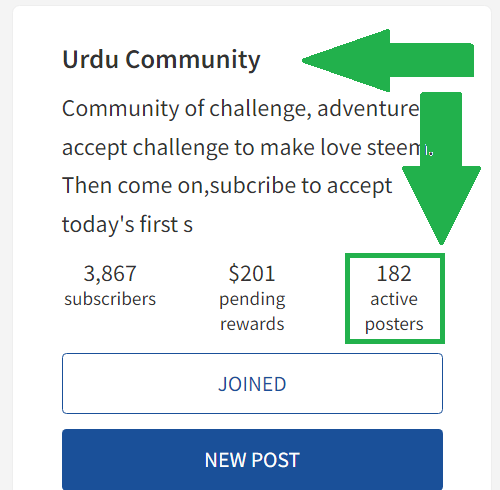 at the time of writing the application dated 5 July,2022 , there are total 182 Active posters . urdu community is one of the active community , Urdu community has community what apps group to connect or announce update
| Total subcribers | Active member | Required |
| --- | --- | --- |
| 3,867 | 182 | 50 |

The community account should have at least 500 SP of its own, and at least 5000 SP in total, including delegations.
---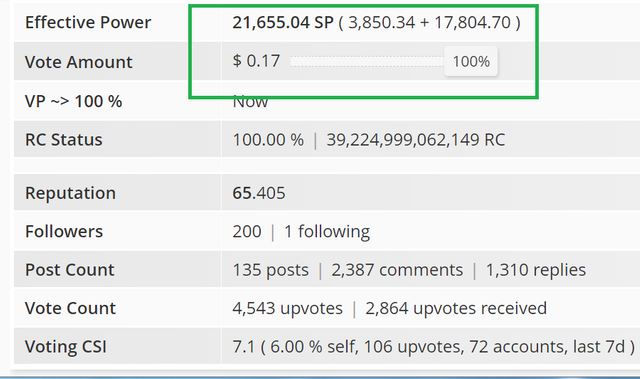 The Urdu community account has 3,850.34 sp + (3,539.26 including steemchallenge account sp)= 7,389 sp owned and total including delegations Effective Power is 21,655.04 SP.
| Total Own SP | Effective Power +Delegaion | Required |
| --- | --- | --- |
| 7,389 | 21,655.04 | 5000 |

The community should not have any compulsory delegation or beneficiary for votes policy.
Urdu community is supporting every member of urdu community if we get post from any user in urdu community urdu community is supporting old and new user equally .We do not have any compulsory delegation or beneficiary for vote policy. We only encourage users to support us and we upvote users that have shared their post in the urdu community.

All Admins and Moderators must be currently active, have a Reputation of at least 60, not be powering down (or have powered down in the past 3 months), be in at least #club5050, and not be using any bid bots or delegation for votes service.
Urdu community team has good Reputation and did not power down since joining of steemit. as admin and founder of the urdu community i promise , urdu community team will never power down, never
Urdu community team is honest, trust worthy , i as founder of community proud feel to work this team, their mission to develop the steemit Urdu community. Urdu community team is not using any bid bots or delegation for votes service.

A brief description of the purpose of the community.
Urdu community is participating very vital role to creating quality content, Urdu community is taking participate to make the steemit one of the quality content creator place.Urdu is a language spoken and understood all over the world. And Urdu-speaking Community live in Europe,US, in all over the world, India and Pakistan. Urdu community culture is very rich and has a distinct identity.
The culture, traditions and lifestyle of Urdu community people are very beautiful. The purpose of this community is to bring together Urdu community of all over the world and those who understand and encourage Urdu speakers on the steemit.
Urdu-speaking people can beautify the Urdu community with poetry, novels, dramas, satires and many other great writings. urdu community is one of the active community and manys posts are being written on a daily basis in this community. These posts include cooking techniques, diary, tourism and various topics, about which users are writing posts in Urdu community.
Because the Urdu speakers were very worried that they could not understand or read English or any other language and no one was giving importance to Urdu writer, speaker and now urdu community provide support to all languages but also urdu community .
Hopefully, now the Urdu community earned a separate identity on steemit blockchain with the great support from steemit team . the urdu community working very much hard to promote steemit to every corner of the punjab and getting success.
And now we have great hope that steemit team will keep continue support to the Urdu community to encourage the members.There is a beautiful addition to the Urdu community steemit.
The purpose of this community is to support positive and healthy and quality content in Urdu community on the steemit blockchain in every way.
The purpose of this community is to organise different types of challenges through different contests for every language speaker,writers,. It can also be a challenge to quality of content in urdu and other language . And it can be a great diary challenge, landscape,weekly contest,poetry,drama,novel, news,culture of urdu community.
The quality of content of every steemians is a challenge. The goal of the Urdu Community
is to create a quality community. And the formation of a quality and standard community. The goal of this community is to support all kinds of quality of content.
Because every person has different skills and turning these skills into quality of content is also a challenge of this community. Since the formation of this community, his team has given importance to the quality of content and has supported it.
It is also the mission of this community to make people involved in education part of the Urdu Community, no matter what sector they are associated with. And it is also the slogan of this community that steemit for all.

Details of how your community prevents plagiarism and abuse.
Plagiarism & Abuse
I as admin urdu community and CR Pakistan fought against plagiarism abuse writer, and it is on the record that i did not show any tolerance against these act and user so, We have assigned a task to each group leader to check for plagiarism and abuse posts. We have divided the community into different groups to check the copy paste, plagiarism & abuse. All group leaders are responsible for checking the posts of one to ten users.It is strong team, there is no place for plagiarism writer in Urdu community , because we all community working in this area to check every post. our team is strong.
Thus, if any mod or admin leader is negligent or negligent in this matter, then this group leader will not be given a support vote.
Our entire team checks for plagiarism & abuse and the head of this team is @jessica566. Because there is no place for plagiarism and multi-account users in this community. When any member in this community writes or will write a post, we will check his / her history of content, behavior and then the quality of the content will be verified after checking in other community. Thus this community is now a plagiarism & abuse free community.
Plagiarism checker team : @jessica566 @janemorane @yousafharoonkhan and all community leaders

Promotion Plan
I am also proud to announce that we have launched a steemit blockchain promotion campaign. We launched the campaign in about five areas in April , june July 2022, in every corner punjab area, we started it.
We have also used banners and charts for this purpose, we have flyers for distributing in the public to aware them about steemit . In addition, all steemit member are participating in the Steemit promotion campaign in their respective areas.
As founder of community and Cr Pakistan ,My target at the moment is female in this regard because educated women in our country spend more time at home and steemit blockchaik will be a great source of livelihood for them. it is also proof that urdu community has dozen active user of female that are from remote areas.

Urdu Community Future Plan
Increasing steem power
steemit charity fund, keeping continue
students education scholarship program inshah Allah
steemit promotion
new registration of people
much more inshah Allah

Conclusion
the urdu community team has great hope that steemit team will support us and we will be able to achieve the set goals to develop the best community of steemit. urdu community work is witness of its success , we have great hope this month july again our members will get support. because they are also part of the steemit. we are zero without steemit team. our power, support, and motivation all is connected with steemit team, our love , great wishes to steemit team.

---
Join Discord Group Urdu-Community
Join Whatapps Group :Urdu Community
Join our Facebook Group Facebook Urdu community

---

Subscribe URDU COMMUNITY
---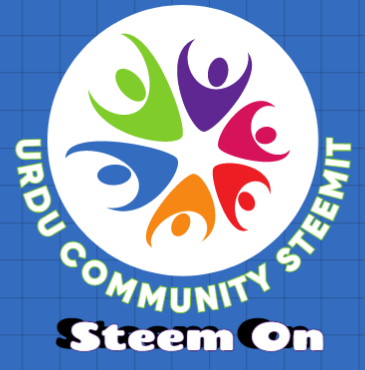 Subscribe URDU COMMUNITY
Our mission to promote Steemit in Urdu Community to all over the world
Stay together
Join the Urdu Community with more confidence.
Steem On
---
Thank you very much
Regards
Urdu Community & all team
---
We LOVE STEEM POWERUP #CLUB5050 TO CLUB100