THE DIARY GAME | 09.09.2020 | DAY 34: Tempura and Squid Roll
I've been craving for some Ube delight lately. This has been greatly influenced by my roommate who talked about how delicious the Ube Cheesecake she had eaten given that she doesn't like Ube. Ube has been one of my favorite flavors. Whenever I am in Mister Donut, I always order their Taro ThirTea, their milk tea.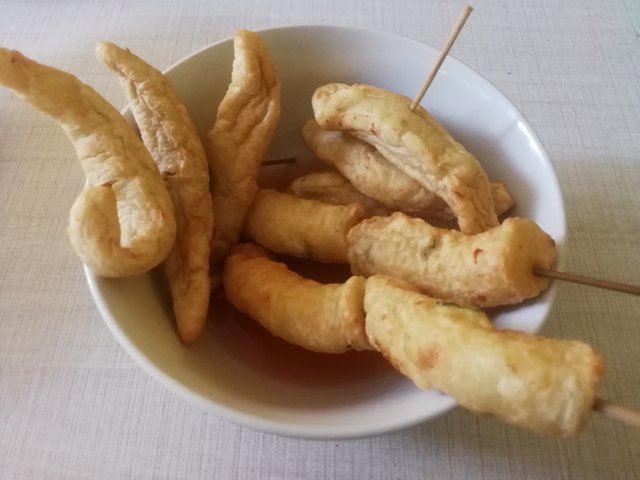 Tempura and Squid Roll
So when my housemate decided to go to the mall to buy groceries good for a week-long consumption, I immediately asked for Ube Buchi and Ube Cheesedesal of Julie's Bakeshop. The mall is in front of our apartment, and the bakeshop is just beside the mall. When my housemate arrived, I was looking for the Ube Buchi and Ube Cheesedesal then I saw Tempura and Squid Rolls. I was so happy since I have an additional snack. But apparently, my housemate bought Tempura and Squid Rolls as a substitute for the Ube Buchi and Ube Cheesedesal. I was excited about the Ube-filled bread. My hype went downhill even though I had Tempura and Squid Rolls in front of me. Of course, I love these two snacks but I was looking for a taste of Ube.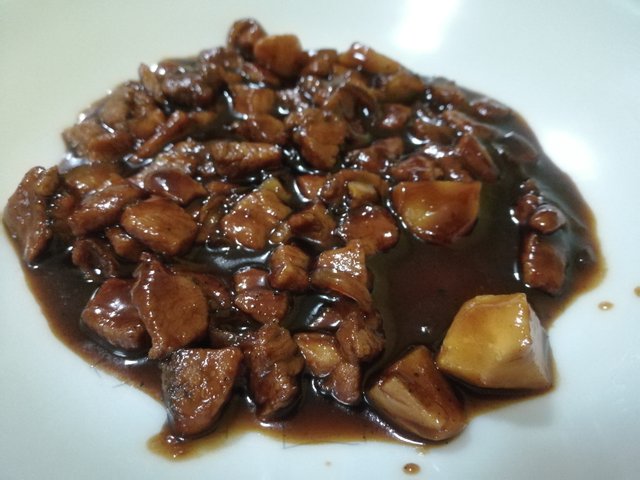 Marinated meat with Gochujang
Before twilight, I already finished my task even though the deadline was set a minute before midnight. After I had submitted my task at the drafts repository in GitHub, I prepared a marinated sauce for our dinner. I used ginger, garlic, onion, black pepper, soy sauce, vinegar, brown sugar, and gochujang. Gochujang is always present since my two housemates love spicy foods. It's two versus one. I am still following the "Majority wins" rule even though I am the cook in the house and I decide what to eat every meal.
After I finished preparing the marinating sauce and cutting the meat into small cubes, I went to my bedroom and lie down. I stayed there until it was past seven in the evening. I stood and started preparing our meal. As mentioned, I am not a fan of spicy food so I decided to make it a mild one.
• • •
• • •
I am participating in The Diary Game initiated by @steemitblog.
Thank you and your teams' great initiative, support, and for your hard work!

To know me better, you can check my introductory post:
Hello Again, Steemit!

Team Ph

@fycee, @olivia08, @dashand, @pingcess, @appleskie, @sarimanok, @loloy2020, and @diosarich.
Writing should be fun and healing.
Let's have some fun writing our open diary.
---
K N E E L Y R A C