This is what a top HIVE witness does: self comment+voting and downvote-retaliation
Until today, I had no interaction (comment, upvote, or downvote) with @gtg, former top witness of STEEM and now top witness of HIVE.
Not very surprising, as gtg has been a top witness with significant steem power but I was nobody - who occasionally writes in a non-English language and plays games like steemmonsters - who did not have much steem power.
---
This morning, my Steem neighbor told me that he saw a previous top witness shamelessly milking rewards. So I followed his link and saw this: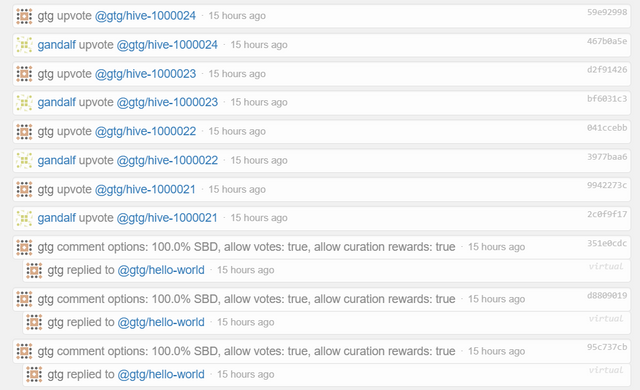 by the way, I do not know how to set 100% SBD option - isn't it either 50% SBD/50% SP or 100% SP?
---
I checked what these were: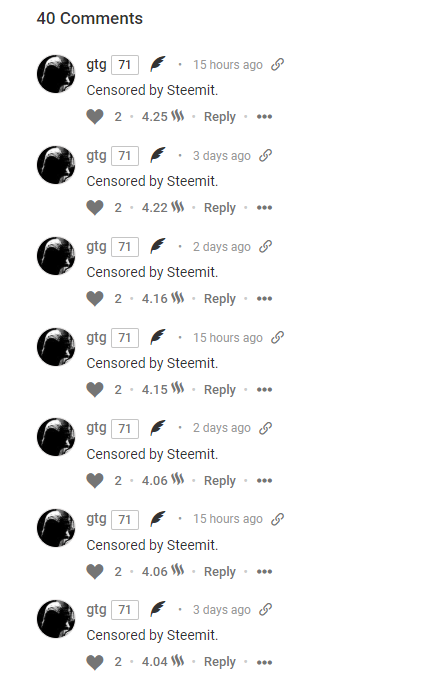 Yes, he was making lots of spam comments and self-voting on his first posting Hello, World! dated Jul 3, 2016.
---
I was disappointed. I know that he was not happy regarding the current situation of Steem and decided to move to HIVE - and then why is he doing such disgraceful things here instead of improving HIVE?
So I decided to downvote them, even though my stakes are not big so my downvotes only cost like 0.14 STU, as a sign of disappointment.
I am pretty sure that most people agree that this crap should not be worth more than $3 rewards.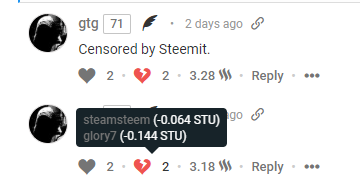 ---
When I got back home after a few hours, I found that gtg decided to retaliate, and downvoted me three times.

When HIVE first started, since I was one of the "blacklisted" users who did not get HIVE airdrop, I did not login for a while. But later some of Steem neighbors encouraged me to use HIVE at least several time to test, I wrote two short postings after claiming previous rewards (otherwise I didn't have enough RC as my HP is zero).
And I guess I should stop trying HIVE, as now the top witness with more than 472K power decides to downvote me, which made my posting rewards zero. I am okay with them going to zero per se, but I feel bad about my neighbors who voted me to make me feel better using HIVE, as their efforts are in vain.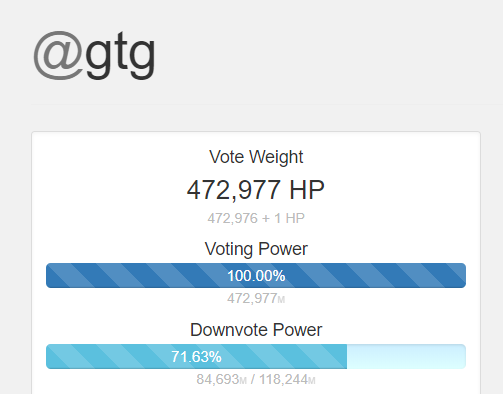 My posting now shows zero reward "thanks to" gtg's downvote:

All my HIVE postings (only two, fortunately) went to zero.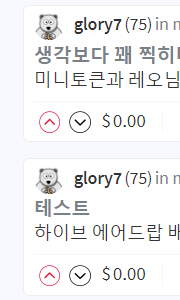 ---
In retrospect, now I understand why the neighbor who reported gtg's shameful spam+self vote milking did NOT downvote it while he thought it was despicable.
He expected potential retaliation - downvotes - and didn't want that.
It reminded me of the past - I didn't (in fact I couldn't) downvote some crap as I feared that I would get downvoted as retaliation.
And even when I get downvoted sometimes for ridiculous reasons like "not English" or "no thumbnail", I chose not to fight back as the counterparty had too much steem power compared to what I have.
Yes, I admit that I was a coward who just waited these downvote bullies to find another victim.
---
At least, from now on, I will try not to be silent and do what I believe to be correct.
Even though I lost a lot (in terms of the current token price) more by getting downvotes from a whale, I do not regret my action.
---
Update: @steemit, while I appreciate that your vote would put this posting on trending so that many users may have a chance to read this, I believe that the posting reward would be too much - so please remove the upvote before the payout.