3Speak excited about Steem Tron collaboration #heyTron
Justin Sun, founder of TRON and CEO of Bittorrent has recently taken over Steemit Inc. and this news is definitely one of the biggest turning points in the history of the Steem Blockchain. The potential spin offs and opportunities for both Tron and Steem (as well as the dapps and communities running on these two chains) cannot be overstated.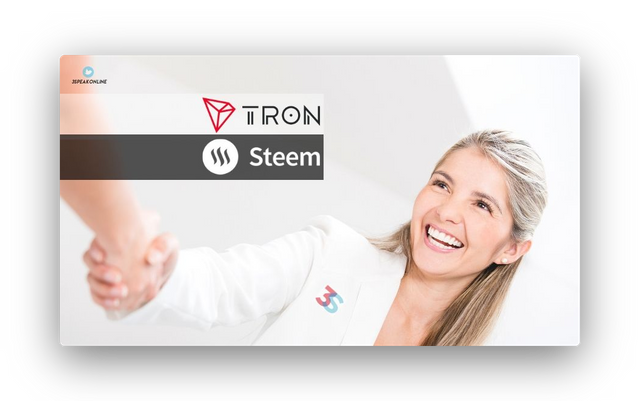 OUR THOUGHTS
We think this event can help both STEEM & TRON grow together at a faster pace than their counterpart blockchain networks can do individulally. In the upcoming months, we will get more clarity about how this partnership will affect both of the communities and to what extent, but we are sure that it is a doorway to innumerable opportunities. We believe that this mutually beneficial partnership between TRON & Steemit Inc. will prove to be fruitful going forwards for the Steem blockchain. We would like to reassure the STEEM community that this change, although difficult to understand at the present time is going to be a win-win for all of us. STEEM brings its tech & highly active communities while TRON has the tech, network and resources which can help both of us co-exist in a bigger, connected CRYPTO world. Just imagine the possibilities! Together we can solve the problems which seem unsolvable in today's world.
Our no. one priority is to make a commitment to the Steem blockchain & the communities we all have built so far. That's precious! We trust the Steemit Inc. Team, the Top 20 Witnesses and all the Stakeholders to navigate us through this time of uncertainty in the best way possible. The Steem blockchain is at 3Speak's core technologically, and it is also in our hearts.
At this point in time we think that the potential positives far outweigh the negatives. Based on the AMA, with Justin and Ned recently, we can see a fruitful and positive future for both chains from what was said.

We would like to take this opportunity to welcome @justinsunsteemit and TRON community to STEEM - one of the ground-breaking social media ecosystems which is so much more than that. The biggest asset of STEEM is not the technology but the community. We sincerely believe and hope that under the leadership of Justin, Steemit Inc., will reach bigger and better milestones, in development and on-boarding more creators, developers, entrepreneurs and investors. There can be a mutually beneficial relationship between the two ecosystems.
We also encourage the Tron team, the Tron super representatives and the Steem witnesses to open a clear dialogue so that any doubts can be resolved and identifications of ways forward can be agreed upon.

FOR TRON COMMUNITY
Protect Your Content, Tokenise Your Communities! - 3Speak is a video hosting platform which advocates Freedom of Speech. It provides a censorship-free environment for content creators who have been deplatformed or demonetised on conventional social media websites, i.e. Facebook, Youtube etc. We are open for everyone and anyone. Creators can earn rewards in the form of STEEM Tokens or donations in our native SPEAK tokens.
(Soon to be upgraded to the Steem based Smart Media Token.)
We welcome the #TronArmy and #Tronians to try our platform and to help you get started, we have already pushed the following updates in the application:
We will provide free instant STEEM accounts to TRON users who hold a balance of min. 3500 frozen TRX tokens (please stay tuned for more information coming about this soon)
We have added TRX donations to our live stream Super Chats.
We will soon add a TRON Wallet which will help you check your balance and send/receive your tokens.
The TRON Token Utility will be integrated in the upcoming weeks. As well as this, ETH, BTC, NEO and other crypto currencies are in the pipeline to be integrated in the future.
We hope that this initiative will help the TRON community explore 3Speak, STEEM and other amazing DAPPs we have to offer. Please stay tuned for further updates!

LARGEST STEEM COMMUNITY:
3Speak's platform is built with STEEM at its core. The recently released "Communities" feature is already implemented into 3Speak, we are eagerly waiting for SMTs to rollout.
We remain committed to STEEM and our DApp will continue to run off the same blockchain as its features are perfectly suited for running 3Speak.
We look forward to solidifying our integration of STEEM into the DApp while also adding unique features from the TRON Blockchain, such as smart contracts and Tron tokens.
Our growth strategy has worked so far in on-boarding Talent from outside STEEM and retaing them during the bear markets. Now, with the TRON community backing STEEM, we will update our Roadmap to achieve bigger goals in 2020.
Please feel free to join our discord server or telegram group to connect with us. We are quite active on twitter as well so you can follow us there. All the important links are mentioned below. Cheers and welcome once again!
FOUNDERS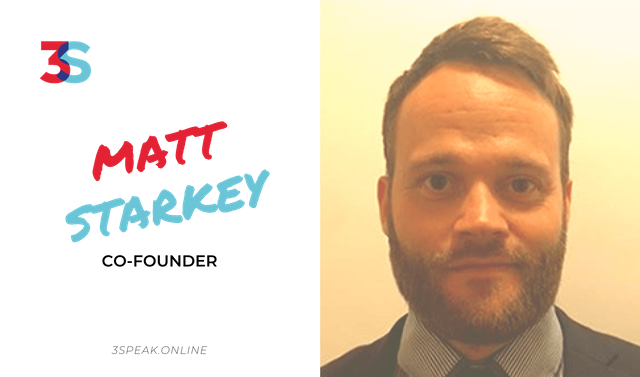 Steem username: @starkerz
A chartered mechanical engineer and project manager, he has lived and worked all over the world managing large scale multibillion dollar industrial projects for over 10 years. Matt became a blockchain and crypto currency investor and enthusiast in April 2013. Having made successful investments in blockchain and the crypto currency markets. He has applied blockchain technology to Co-create the world's first decentralized promotional network, Promo-steem as well as the Oracle-D (now YooDoo) platform, Andre Gray Football Academy, DCO-RE digital asset review platform and 3Speak video platform.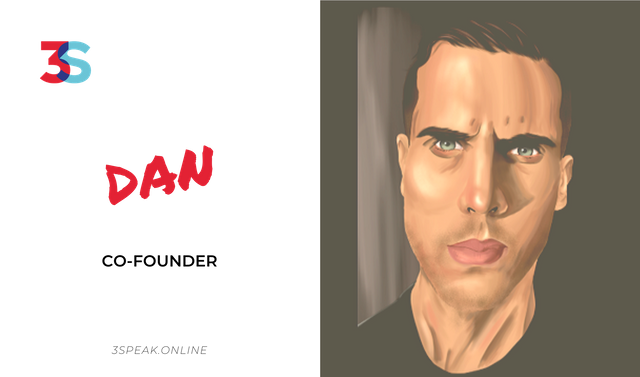 Steem username: @theycallmedan
Passion: Technology & Entrepreneurialism. Dan's online presence began as an accomplished professional poker player. He became a Top writer on Quora, going on to document his crypto journey on Youtube. He is a successful crypto investor and advisor. He took his passion for free speech and fell in love with Steem. His main focuses are now Building up the Steem ecosystem with 3Speak.
---
Discord
https://discord.me/3speak
Telegram
https://t.me/threespeak
Rate Us Here
Dapp.com - https://www.dapp.com/dapp/3speak
State of the Dapps - https://www.stateofthedapps.com/dapps/3speak
Follow Us On Twitter
https://twitter.com/3speakonline

Note: All payouts of this post go to @steem.dao