173. Today in 1920s Turkey: 8 January 1927 (How Not to Behave Foolishly)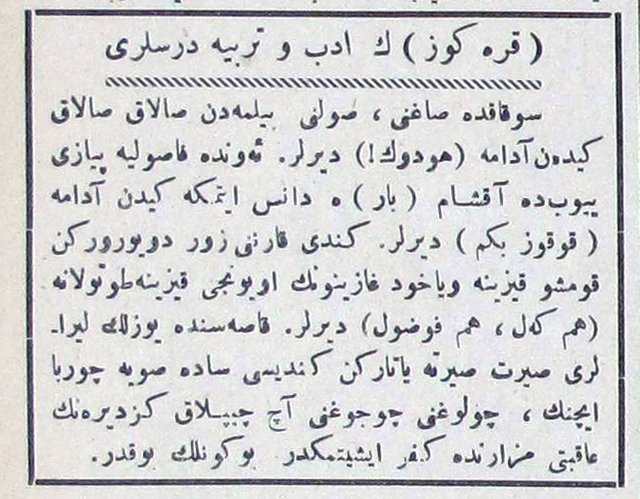 (Short column, Karagöz, 8 January 1927, no. 1963, p. 3.)
Türkçe
Karagöz'ün Edep ve Terbiye Dersleri
Sokakta sağını, solunu bilmeden salak salak giden adama "hödük!" derler. Evinde fasülye piyazı yapıp da akşam bara dans etmeye giden adama "kokoz beyim" derler. Kendi karnını zor doyururken komşu kızına ve yahud gazinonun oyuncu kızına tutulana "hem kel, hem fodul " derler. Kasasında yüzlük liraları sırt sırta yatarken kendisi sade-suya çorba içenin, çoluğunu çocuğunu aç çıplak gezdirenin akibeti mezarında küfür işitmektir. Bu günlük bu kadar.
English
Karagöz's Lessons in Etiquette and Good Manners
They call a man who walks stupidly down the street without paying any attention a "boor." They call a man who makes bean salad at home but goes out to the bar dancing at night "a broke gentleman." They call (a man) who can barely feed himself but falls in love with the neighbor girl or the nightclub's dancer "both bald and big-headed." The fate of a man who drinks plain soup and lets his children go hungry and shoe-less while his safe is full of hundred-lira bills is to hear curses in the grave. That is all for today.
Comments:
Sometimes Karagöz's lessons in etiquette and civilization take the form of somewhat irritated rants. This is one such instance. The author makes no attempt to reign in his enthusiasm for the subject and attacks those guilty of certain crimes with a biting tongue. Today he is moralizing about proper financial responsibility and basic principles of respect toward one's own self, family, and community. This kind of satirical scolding could function to either shame any guilty parties into changing their ways or serve to simply mock bad behavior as a sort of vicarious semi-public punishment. Nevertheless, I cannot help but suspect the author might have specific persons in mind when it comes to the inspiration for his self-righteous outburst.
There are, of course, many examples of moralizing content of this nature. Columns such as this one are sometimes even serialized. For instance, another installment of Karagöz's Lessons in Good Manners was recently covered by Today in 1920s Turkey. Alternately, often cartoons are used as particularly potent mirrors for foolish behavior. Post #168 (The Neighbor's Grass Is Greener) considers a cartoonist's illustration of a popular moralizing proverb. Whereas other content, such as this "PSA" about playing loud music, deal with more modern concerns about city life and personal/community boundaries.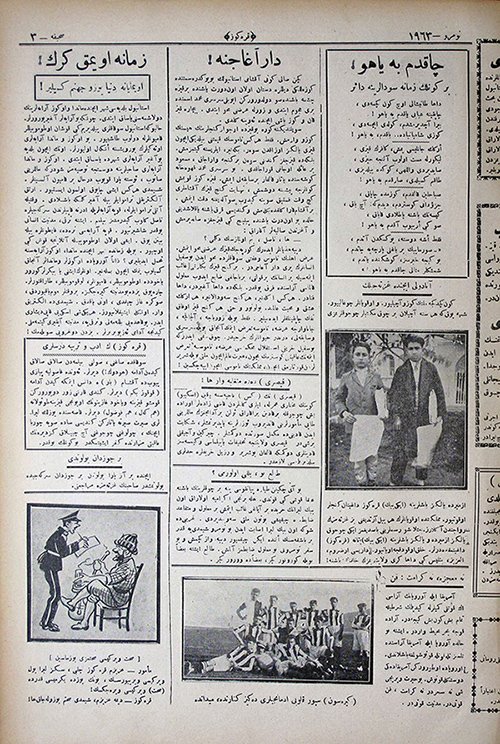 (Entire page, Karagöz, 8 January 1927, no. 1963, p. 3.)
Like what you see? Follow the "Today in 1920s Turkey" Steemit account @yasemin-gencer, or follow me on Twitter to receive notifications for new posts @1920sTurkey.