168. Today in 1920s Turkey: 16 August 1923 (The Neighbor's Grass Is Greener)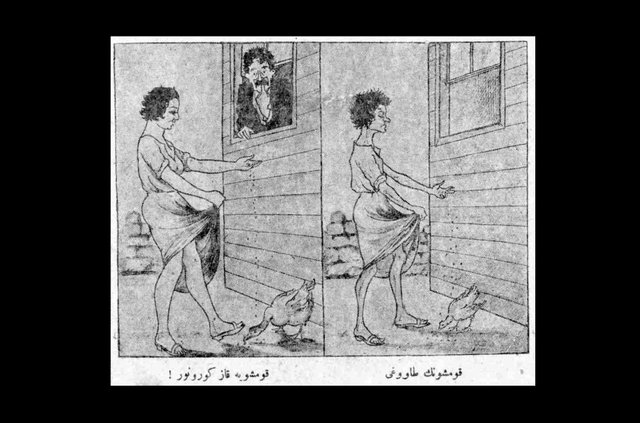 (Cartoon, Akbaba or "Vulture/White-Bearded Old Man," 16 August 1923, no. 73, page 4.)
Türkçe
(Sağ) Komşunun tavuğu… (Sol) Komşuya kaz görünür!
English
(Right) The neighbor's chicken… (Left) Looks like a goose to the neighbor!
Comments:
This cartoon illustrates the proverb included below it in the text. The meaning of the proverb is pretty straightforward and conceptually relates somewhat to "the grass is always greener on the other side of the fence." The cartoon consists of two halves, on the right is reality whereas the left represents an imagined world. The right side portrays an emaciated, older woman with scraggly hair feeding a small chicken and the left side shows a younger, prettier woman feeding a plump goose. Between the two sides, the cartoonist provides all of the characters from the original proverb: the chicken, the goose, and the neighbor who is located in the window in the left frame, leering at the woman in the yard. The old/young woman is added as another example of how these wise words might ring true in real life, thus adding weight to the saying.
To summarize, an aged woman and her chicken are perceived as more attractive by those who cannot have them. This shift in "appearances" is depicted in the left frame as the woman is more attractive and the poultry more meaty with the presence of and outside (hungry?) male. Finally, suffice to say that in another universe, this cartoon would illustrate the concept of the "observer effect" in psychics.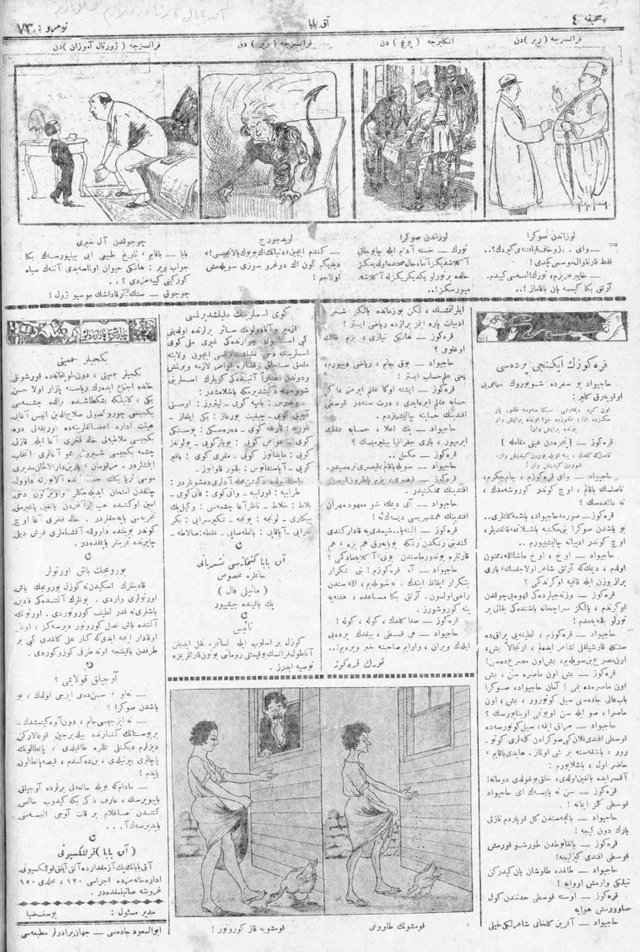 (Entire page, Akbaba or "Vulture/White-Bearded Old Man," 16 August 1923, no. 73, page 4.)