I bet you didn't even know there were fun facts about lettuce. Well strap in and get ready to never look at salad the same way again because its about to get weird as fuuuuuuuuuuuuuuck in here.
Egyptians in the predynastic Era (Between 6,000-3,500 BCE) cultivated lettuce as much for its seeds (which were pressed for oil) as for the leaves. As far as plants go, lettuce is like that one slutty girl in high school who got pregnant any time someone looked at her. Lettuce is highly susceptible to cross breeding and pollinating with other strains of lettuce, which is cool because it gives us a lot of options for salads. But because of that, lettuce in ancient Egypt was much different than the iceberg lettuce you get in that big ass bowl of awesomeness at Olive Garden. Lettuce stems secrete lactarium, which is a milky substance that contains latex. Ancient Egyptian lettuce looked a lot like a penis; a penis that squirted out white stuff when you squeezed the base. This led lettuce to:
A) Be funny as shit to people like me
B) Be a symbol of fertility

Lettuce was associated with the fertility God Min. Min is easily recognizable in ancient hieroglyphics because he is always standing next to some lettuce. He's also holding his rock-hard cock in his left hand and holding a flail in his right hand. Lettuce was considered the Viagra of the Predynastic era. Eating it was supposed to help you get busy all night long. At the annual festival devoted to Min, Egyptians would offer sacrifices of lettuce, then eat some to make their baby batter potent. Then everyone would take turns climbing a giant tent pole. The constellation Orion was attributed at the time to Min, with the three bright stars representing his hard dick.

An ancient papyrus scroll found dating back to the time of King Ramses V called "The papyrus Chester-Beatty I" tells the story of the falcon headed god Horus engaged in a series of competitions with his uncle Set over who would be king of the gods after Set murdered his own brother and ruling king, Osiris. Set was pissed because Horus kept beating him at everything, so Set decided to get Horus drunk and invite him to spend the night. Once Horus passed out, Set date raped Horus in the booty hole. But the crafty Horus was only pretending to be passed out and at the last minute he caught Set's spooge in his hand and threw it away. The next day Horus went and told his mom Isis about it and she's all like, "Set loves lettuce, you should totally go jerk off in his salad." So, he did. Then Set and Horus go see Ra, who is arbitrating this whole shit show. Set is all, "Yo Ra, I busted a nut all up in Horus's butt." And Horus is all, "Nah fam, I jerked off in Set's salad." Ra was like, "So who got nut in, yo?" Then Horus's salad nut got Set's forehead pregnant and a gold disk popped out of it. Then Ra is all like, "Oh shit Set! You da bitch!" After that Horus got to be king and Set got a job protecting Ra's daily commuter boat from the chaos monster Apophis.

Greeks thought lettuce would make you limp dicked and infertile. Ok, so Greek Goddess Aphrodite got mad at Theias, the king of Cyprus, because he was coming up short on his offerings to her. Apparently, Aphrodite is petty as fuck so she convinces Theias's daughter, Myrrha, to bang him. She does, and gets pregnant. Once Theias realizes what happened he chases Myrrha down and shoots her with an arrow. Right before he shoots, she turns herself into a myrrh tree. The tree splits open and her incest baby, Adonis, pops out as she dies. Aphrodite takes Adonis and gives him to Hades' wife Persephone to raise in the underworld. Then Adonis grows up and he's a total hunk so Aphrodite starts banging him. Persephone and Aphrodite get into a dispute over Adonis so Zeus sets up a split-custody agreement between adopted mom Persephone and Pornhub mom Aphrodite. Then Adonis goes out Game of thrones style by getting killed by a boar while hunting. Said boar may or may not be the war god Ares, who is jealous of Adonis cuckolding him with his girl Aphrodite. Did I mention Aphrodite was a ho? In some versions of the story Adonis is hiding in a bunch of lettuce when he gets gored, and in all versions a grief-stricken Aphrodite lays Adonis to rest in a bed of lettuce.

Everything about this story pissed off Greek dudes because the young hot guy was fucking everybody and the girls were loving it so they were like, "Fuck lettuce," because you know, that makes sense. Greek women were like, "Well fuck you too." There was a long running cult of Adonis where women would give their men anxiety complexes by having yearly festivals where they ripped their shirts off and beat their chests… for some reason… and they would put pots of lettuce on their roofs to grow and die like Adonis's custody agreement that brought him back and forth from the realm of the living and dead. For these reasons Greek men equated lettuce as a sign of being a little bitch, because they were salty about Adonis getting pussy more because he had a square jawline than a steady job.

Romain lettuce comes from Yugoslavia. Just kidding, it comes from Rome. Romans were big on Lettuce because, well, its food. The name Lettuce comes from the Latin "Lactuca Sativa." "Lac" being the Latin Term for Milk because of its milky discharge. For all you stoners out there, calm down. "Sativa" just means "Cultivated." FYI, "Indica" just means "From India." Although, Roman lettuce was said to be able to get you fucked up and pass out. The milk from lettuce was similar to the milk from poppy plants, which is used to make heroin. In fact, Lettuce was floated around for a while as an alternative to heroin, even being widely investigated by European and American medical associations throughout the ages for that reason. I'm not saying you can get online and readily buy lactuca serriola seeds and milk your lettuce opium and smoke it….but if you do, let me know if it works. Or I'll let you know. I just ordered some.

…. where was I? Oh yeah, so according to history, salads were served in Rome after a meal so everyone could get lettuce drunk and pass out. They say that around the year 90 A.D. Roman Emperor Titus Flavius Caesar Domitianus Augustus would force dinner guest to eat their salad before the main course to get everyone groggy because he was a dickhead and thought it was funny to watch everyone try to stay awake because they were scared (literally) to death of passing out at the dinner table in front of the emperor.

That's a funny story but Romans have a bad habit of re-writing history to make anyone they didn't like out to be total dickbags. Considering a lot of Roman emperors left their job by being murdered, they usually weren't in a position to defend themselves so when you hear some weird ass shit about a Roman Emperor you can safely assume he probably was a dick, but not as bad as you heard. Domitianus was generally liked by everyone but the Senate, who wound up having him stabbed in the femoral artery. The story probably isn't true but sadly, the lettuce rumor is the thing history remembers him by the most.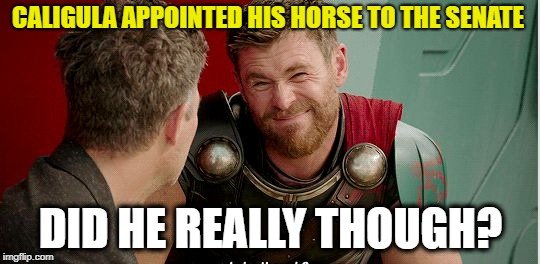 Fun fact: Thomas Jefferson had nineteen different kinds of lettuce growing at his estate, Monticello. You might think he really cared about his diet but he also had giant ass poppy fields growing there because he was a fucking hopeless smackhead. So, we can safely deduce that T.J. was hitting that lettuce like 8th graders who heard from a senior you could get high from smoking banana peels.

Also, the term "salad" comes from the Roman phrase "Herba Salta," which means salted herbs. Roman salad was bitter as fuck so they used salty ass dressing to make it palatable.
Here it is. Your moment of Zen.