A travel to everest #Tenzing Norgay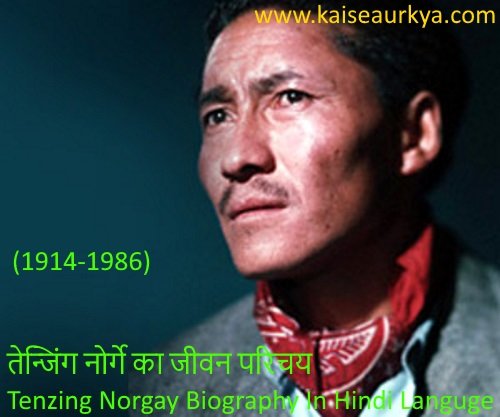 Hello my dear steemit friends. Let's go in HISTORY.
PROUD TO BE AN INDIAN
Tenzing Norgay Biography
Name: Tenzing Norgay
Birth: May, 1914
Birthplace: Kharta Valley, (Tibet)
Death: May 9, 1986
Tenzing Norgay, who was called Sherpa Tenzing, was the first Indian to receive Fateh to the world's highest peak Mount Everest. He first achieved success with climbing Mount Everest, 8,848 meters high on March 29, 1953, along with New Zealand's famous Mountaineer Edmund Hillary.
Tenzing was born in May 1914 in a poor farmer family in the Khata Valley of Tibet. They do not know the exact date of birth, but according to crops and season they were born in late May. After climbing Mount Everest, he started celebrating his birthday on 29 May.
His childhood name was 'Namgyal Vagandi' but Lama chief changed his name to 'Nagavang Tenning Norge', which means - Rich, Lucky, Religion Believer. His father Ghang La Mingma was a keeper of Yak. His mother's name was Dokyo Kunjam. His mother was alive till his mountaineering. He was the 11th generation of his parents in 13 children, most of whom died.
Tenzing was also called Khumjung Bhutia. He was a follower of Buddha religion. He had adopted Indian citizenship in 1933. He fled to Kathmandu twice in his childhood. Later, at the age of 19, they started living with Sherpa castes in Darjeeling of West Bengal.
In 1930, 3 British officers tried to climb Mount Everest on behalf of Northern Tibet, then Tenzing had done the work of the Kuli with them till the height. Many times, there was an opportunity to climb Tenzing. In the 19490s, he had made the most fierce climbs of Nanda Devi eastern peak.
In 1947, he tried to climb again, in which three people from many countries were climbing unauthorizedly. But the efforts failed due to the tremendous storm at 22,000 feet. The three people returned after giving defeat.
In 1952 the Swiss people again tried to climb Everest. Under the leadership of Raymond Lambert, an attempt was made by the Nepalese side to seriously attack. Lambert managed to reach record high of 8599 meters.
He attempted to climb Everest for the seventh time in John Hunt's Expedition in 1953, and Hillary succeeded in reaching Everest first. With them, Tenzing also achieved success. He was welcomed back in India and Nepal after his return. These people were worshiped as Lord Avatar of Lord Buddha and Shiva.
He was awarded 'George Medal' by the British Government. One interesting thing is that only photos of Tanzing were seen in the top of the Everest photo. Later it was discovered that Tenzing did not come to take a photo with the camera, so Hillary used to draw photos on the top of the Everest.
Tenzing had married three times. The first wife died in 1944 in the youth of the divorce party. The names of other wives were Ang Lahmu and Daku. His children's names were PEM, Nima, Jamaling and Norbu.
The Indian government honored him with 'Padmabhushan' in 1959. In 1954, Himalayan Mountaineering Institute was established in Darjeeling (West Bengal) and Tenzing Norgay was appointed as Director. His nick was named 'Tiger of Sno'. In 1978, he created a company called 'Tenzing Norgay Advertents' which used to be Trekking in the Himalayas. In 2003, his son Jamiling Tenzing Norgay was running this company, which has won Everest in 1996.
Tenjing Norgay died in Darjeeling on May 9, 1986.
Achievements:
Teenging Norgay became Everest winner in the world with Edmund Hillary. He succeeded in climbing Everest's Garnagma peak on May 29, 1953.
He was honored by the Government of India with 'Padamabhushan' (1959).
The British government honored them with 'George Medal'.
In 1954 he became the director of the Himalayan Mountaineering Institute.
In 1978, he made for the fans of trekking in the name of Tenzing Norgay Adventures.
Thanks for reading.
If you like this man than plz hit upvote.