Chittorgarh fort fortitude example.
Chittorgarh fort (Chittor fortification) is one of the largest in India. It is also a World Heritage Site. This fort is especially known as Chiittaur, the capital of Chittod Ka Kila Mewar. At first it was the rule of Guillot and later Sisodiya's reign.
The Suryavanshi dynasty of Chittodi Rajput ruled till the abandonment of 7th century to 1568, and in 1567, Akbar had siege this fort. This fort stands at 180 meters high on the hill and spreads in the area of ​​691.9 acres. There are many historical events associated with this fort. Today this monument remains a tourist attraction.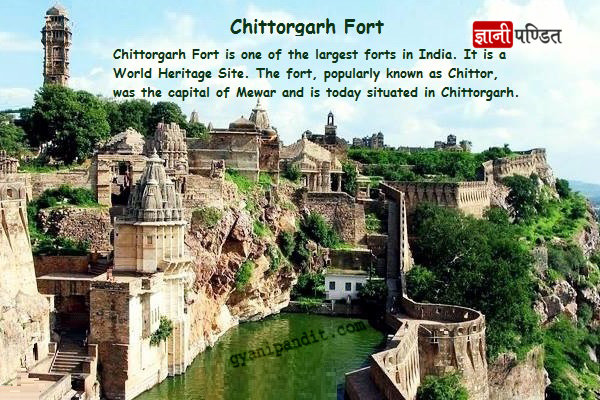 The Fort was robbed three times from the 15th to the 16th century. In 1303 Allauddin Khilji had defeated Rana Ratan Singh. In 1535 Sultan Bahadur Shah of Gujarat defeated Bikramjit Singh and in 1567 Akbar defeated Maharana Udai Singh
Who had left this fort and established Udaipur. But in all three times the Rajput soldiers fought with their own lives. He made every possible effort to save the palace and the state, but every time he was facing defeat. After the defeat of the soldiers in the Battle of Chittorgarh, more than 16,000 women and children of Rajput soldiers had made johar. And had sacrificed his life.
Firstly Jauhar Rana Ratan Singh's wife Rani Padmini did it. Her husband was killed in the war of 1303 and later in 1537 Queen Kannavati also made Jawhar.
That is why this fort is the best example of patriotism, courage, medieval heroism and sacrifice of Sisodia and his women and children in Mewar in the 7th and 16th centuries to the state. At that time, Rajput rulers, soldiers, women and locals used to think that sacrificing the fighting-fighting forces instead of surrendering the Mughal army.
In 2013, in Phnom Penh of Colombia, in the 37th session of the World Heritage Committee, along with Chittorgarh fort, five more kilograms of Rajasthan were included in the UNESCO World Heritage site.
History of Chittorgarh Fort -
Chittorgarh Fort - Chittorgarh fort was built during the reign of Maurya in the 7th century and its name was also kept after the Maurya ruler Chitrangada Mori. According to the historical documents, the Chittaurgarh fort remained the capital of Mewar till 834 years. It was founded by Bappa Raval, ruler of Sisodia dynasty of Mewar in 734 AD.
It is said that this fort was given to Bappa Raval in the 8th century by the Solanki Rani as dowry. In 1568 AD, this fort was destroyed by robbing this fort during Akbar's reign but after a long time later it was repaired in 1905 AD. Three important battles took place to get control of this fort.
In 1303 Allauddin Khilji surrounded the fort. In 1535 Sultan Bahadur Shah of Gujarat had surrounded the fort and in 1567 the Mughal emperor Akbar invaded the fort. If the time of siege is abandoned, then this fort was always under the control of Sisodia of the Rajput descent of Guhilot.
They quoted it from Bappa Rawal. There are many ancient stories about the establishment of this fort and there are many stories of reconstruction after every siege.
Chittor has also been mentioned in the Mahabharata. It is said that Pandav's brother Bhim was known for his huge strength. Because of this, once he demonstrated his power on water, a trunk was constructed and that trough was known as Bhimtal Kund.
But later it was renamed Bhima. According to ancient gatho, Bhima started the construction work of this fort.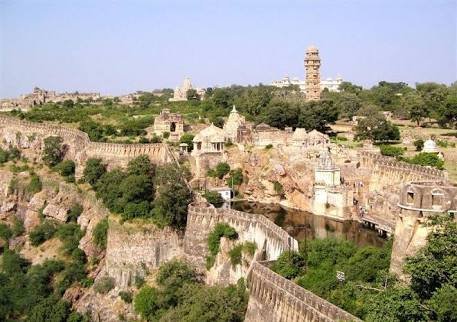 Bappa Rawal: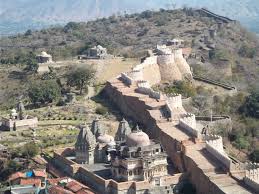 In ancient history we see this fort connected to Bappa Rawal. Bappa Rawal's Huna empire was demolished by Yashodarman. But later the Kshatriya Empire Tuck, aka Takshak had seized it. From ancient times, Mori was considered to be the God of Chittor.
But after a few generations Guhilot took his place. In the 9th century, we also see small Buddhist stupas on the edge of the Jamal Leaf Lake.
Vijay Stambha: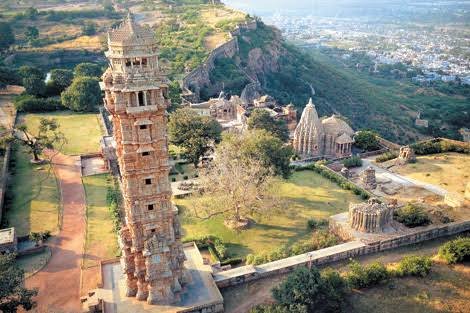 Vijay pillar or Jai pillar is considered a symbol of Chittod, and in particular it is considered a symbol of victory. It was constructed between 1458 and 1468 by Rana Kumbh in 1440 AD in order to win against Sultan Mahmud Shah First Khaliji of Malwa.
Its construction began almost 10 years after the war. This 37.2 The meter (122 ft) high and 47 square feet (4.4 m square) is built on the basis. It has approximately 157 staircases till the 8th floor. From the 8th floor we see a breathtaking view of the city of Chittod.
The dome formed on it was damaged in the 19th century. But at present this pillar is decorated with lighting in the evening and with its top floor we can see the spectacular view of Chittor.
If I feel anything wrong, we will keep updating this as soon as we wrote a comment.
If you look good then upvote post
Thanks for reading