Howdy folks and greetings from the Great Plains of North Texas! We're getting close to the end of my series about Belle Starr but I wanted to talk a little about what happened to her kids Pearl and Eddie.
At the time of Belle's murder Eddie was waiting for his trial for horse theft to start. He had to go before Judge Parker, the Hanging Judge, who kind of liked Eddie's mom Belle, but I don't know if that helped in this case.
Eddie goes to prison
Judge Parker sentenced him to 5 years plus 2 more years for theft of personal property that was found on the horse. Now, back then wasn't like today where it's pretty much a given that a sentence served is actually half the time of the official sentence. In other words you get sentenced to 10 years but can get out in 5.
Pearl and Eddie were very close and she worked at getting his freedom. The only way that could be done in those days was to get a pardon from the President of the United States. It was a long shot and cost a great deal of money but it was possible.
Pearl started working as a prostitute in a brothel in order to hire attorneys who could make this happen. She made the money, got the attorneys to act, and Eddie did indeed get his sentence commuted by the President.
Here's a photo of Pearl with a couple of friends, they had some hats back then didn't they? Pearl is on the right edge: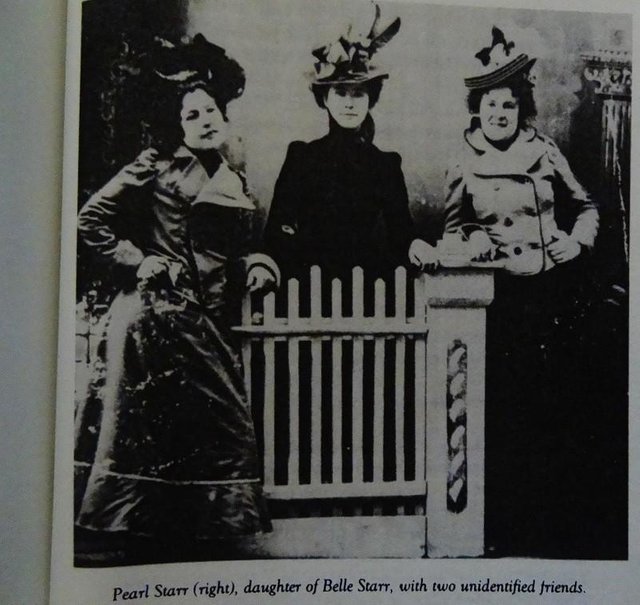 source
When he made it back home and looked Pearl up and found out what she was doing he was disgusted and told her he'd rather stayed in prison than be freed through her raising the money with that lifestyle.
Here's what she told him:
"There are only two of us...everyone knows the conditions under which we have been placed; a change now would not help matters, and if you cannot bear your sister's disgrace I will provide you with money and you can go far away where I am not known."
That is so sad. But Eddie didn't go far away. Because of his skill with a gun he was hired and served as a Sheriff Deputy until he was ambushed and killed when he entered a store one night, two blasts from a shotgun just like his mother had been killed except from the front.
Pearl continued working as a prostitute and in 1899, ten years after her mother's death, she opened her own brothel in Fort Smith and we even have an ad for that business venture which she ran in the newspaper.
She capitalized on her mother's fame and notoriety.
Here's the ad she ran in the Fort Smith newpaper: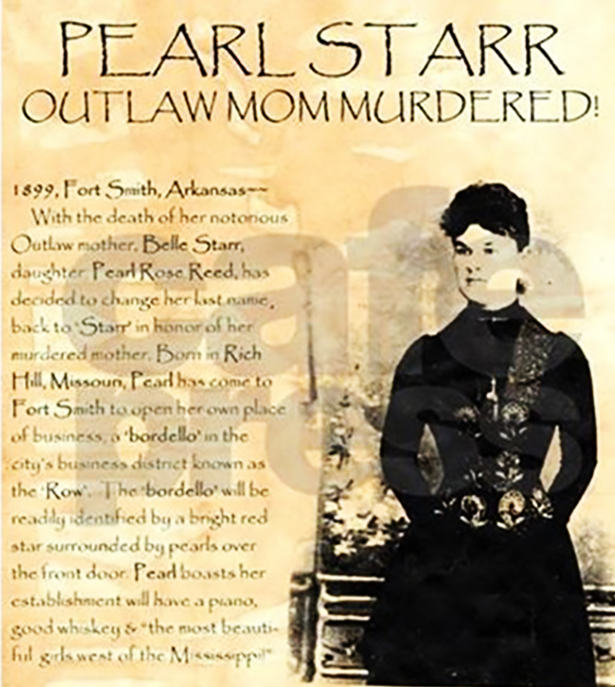 source
The print is faded and hard to read, here's what it says:
"1899, Fort Smith, Arkansas
With the death of her notorious outlaw mother, Belle Starr, daughter Pearl Rose Reed has decided to change her last name back to Starr in honor of her murdered mother.
Born in Rich Hill, Missouri, Pearl has come to Fort Smith to open her own place of business, a bordello in the city's business district known as the Row. The bordello will be readily identified by a bright red star surrounded by pearls over the front door.
Pearl boasts her establishment will have a piano, good whiskey and the "most beautiful girls West of the Mississippi!"
She ended up being the Madame of two of these houses of ill repute and was married 4 times. (By the way, I'm always talking about prices in the 1800's compared to now...well back then the girls cost from $2 to $5 per visit. In today's dollars that would be $137.)Not too surprising given the dysfunctional situation that she was raised in. Eddie chose a superior path and died young.. go figure.


Thanks for reading folks, the next post will be an epilogue of Belle with a couple of intriguing incidents.

PS- ya know....you MIGHT just be a redneck if:
You refer to the time that you won a free case of motor oil as "the day my ship came in!"