In what was considered (at the time) the greatest sporting event of the 20th century, Muhammad Ali solidified him self as "The Greatest of All Time" by knocking out George Foreman in the last minutes of the 8th round.
While World Cup audiences routinely see these kind of viewership numbers in the 2000's, back in the early 70's getting a billion people to watch the same live event was a very big deal as it surpassed everything up to that point including the Olympics.
The year was 1974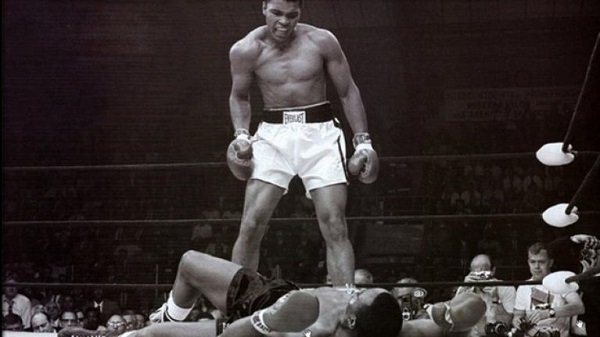 source
Although George Foreman is probably better known for the ubiquitous "Foreman Grill" (which is a great invention btw) there was a time where George was 25 years old, undefeated, and considered to be much better than anyone in the field, including Ali.
Many people will not understand why Ali wouldn't be considered the best at the time but he was actually a 4-1 underdog coming into this match and the main reason was because he received a near 4 year ban from the sport in the late 60's due to refusing to participate in the military-draft citing that is was against his religion. Upon returning to the sport in the early 70's he didn't seem like his old self, and was defeated by Joe Frazier in 1971.
Also, George Foreman had already easily defeated the only person other than Frazier to ever best Ali, Ken Norton... and he did so in a mere 2 rounds. With this in mind, and the fact that Ali was 7 years older than Foreman, the bookmakers didn't give Ali much of a chance in the bout.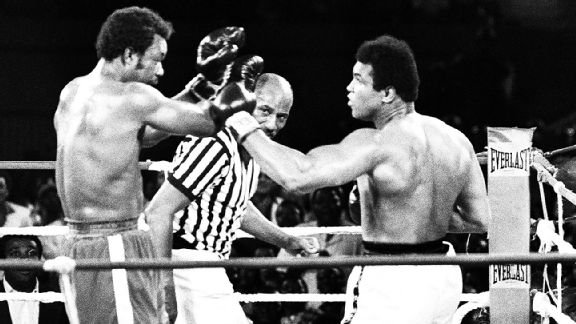 source
The fight took place in Zaire, and both fighters spent the better part of 1974 in Africa in order to get accustomed to the very different climate that can be expected there.
Even if you don't know much about Ali or Foreman, or even boxing, there is a good chance that you have heard of "rope a dope." This is a technique that Ali designed specifically for George Foreman.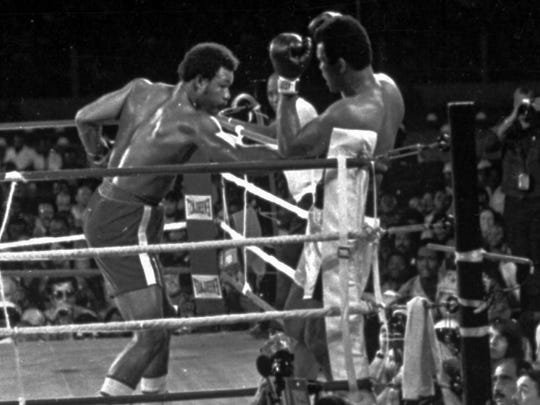 source
It consisted of Ali covering up and leaning back on the ropes, convincing the stronger George Foreman that he had an advantage and all he needed to do was finish Ali. This resulted in George expending a massive amount of energy on his very strong punches, but not only was he not hurting Ali and also wasting energy, he was scoring zero points on the blows. Ali was able to keep Foreman mad as well, as he would constantly taunt George throughout the fight saying things like "They told me you could punch, George!"
By the 7th and especially 8th rounds, Foreman was noticeably very tired. After landing a shot on Ali's jaw, Ali leaned forward and whispered to Foreman "That all you got, George?"
It wasn't long after the final taunt that this happened....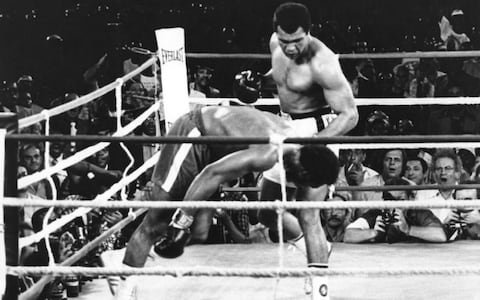 source
The record viewership of a billion went unmatched until nearly a year later when the numbers were surpassed..... by another Ali fight... this one-upping of viewership records would continue every year but one of them until 1980, all of them were Muhammad Ali fights.
Looking back on what we know about Muhammad Ali, it is difficult to imagine that back in the early 70's the industry had pretty much turned on him and considered him "washed up and "too old to make a comeback. "
Boy did he ever prove them wrong.
Consequently, Ali never did offer Foreman a rematch, but they did become great friends a bit after the fight once the hard feelings died down. In 1996 while receiving an Oscar for "When we were Kings," Ali, his body so diminished from the affects of Parkinson's disease, was unable to climb the stairs to accept his award. George Foreman was the guy who helped him up the stairs