With a life of 81 years and a reign of 63 as the Queen of the United Kingdom of Great Britain and Ireland, the then most powerful country in the world, it seems a great injustice to only write about the number of children she had. But alas that is what this post will be about.
Marriage Alliances
Queen Victoria and Prince Albert (don't laugh that was his name) were married for 21 years until his death and they raised 9 children together.
At that time royal children not only loved offspring but also tools of statecraft. Oft married to friendly royal families to shore up alliances and to one time foes to cement new treaties.
In this way several of her children were married into other Monarchies across Europe. One more generation would see some of her 42 grandchildren represented in the royal families of Germany, Russia, Greece, Romania, Sweden, Norway and Spain.
World War I
The rulers of 3 of the main participants of WWI were grandchildren of Victoria, Kaiser Wilhelm (of Germany), Tsarina Alexandra (of Russia) and George V (of Britain).
Kaiser Wilhelm even lamented that it was a shame she was not still alive (having died in 1901) as she never would of allowed her grandchildren to go to war.
I am not sure Wilhelm was correct in that, but it is a nice picture, an elderly grandmother scolding her grandchildren for fighting. Only with real soldiers instead of toy ones.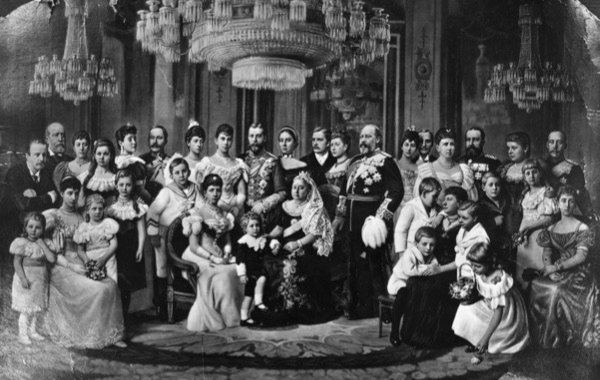 souce: Here is a picture of Queen Victoria and some of her many offspring
---
Sources:
---
---
---
If you enjoy these 'Cool Moments in History' please consider following me for more or if you liked this story in particular I'd appreciate a resteem.
Thanks for reading.