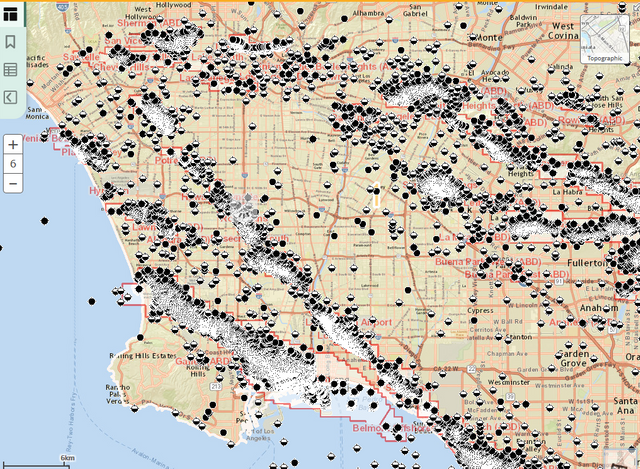 "The meek shall inherit the earth, but not its mineral rights." That quote was attributed to J. Paul Getty, founder of Getty Oil and perhaps the greatest oilman of all time. In 1966, the Guinness Book of World Records named him the richest person in the world at the time.
Getty became wealthy after striking oil in Oklahoma in 1916. He became far wealthier after finding more oil in Saudi Arabia and Kuwait, beginning in 1949. But Getty chose to live much of his life in Los Angeles, a city which had been built on…oil?
For a long time, people have associated Los Angeles with the Hollywood movie industry and the show business stars who live in its best neighborhoods. But before the filmmaking, before the garment industry, and before the orange groves came to the south, the City of Angels was a sleepy town on the Los Angeles River.
The Discovery of Oil Fueled the City's Growth
Even before the Spanish missionaries arrived, Native Americans in the Los Angeles Basin encountered seeps of tar and natural asphalt, rising up through the ground. It was used for water-proofing boats and baskets, for face-painting, and even to make chewing gum (ick!). Early settlers in the area dug open pit mines to extract some of the black tar. Today, the most famous seep in the area is the La Brea Tar Pits, but occasionally, oil and tar still bubble up from the earth in unexpected places.
In Pico Canyon north of Los Angeles in the 1870s, a hunter named Ramon Peria wounded a deer, which he followed to a spring of oil that was unusually green and thin. The Pennsylvania oil rush was common knowledge by then, so he realized this might be something special. According to various accounts, Peria notified a friend or took a sample of the oil to the local mission. It was of such high quality that he established a claim there. However, he was said to have sold his ownership interest later for a barrel of alcohol and a $20 gold piece.
A few years later, it proved to be much more valuable. The first commercially successful oil well in the Western United States was drilled in Pico Canyon. By 1883, the Pacific Coast Oil Company (which later became Standard Oil of California, and later again Chevron) was producing a huge amount from its 30 oil wells in the region.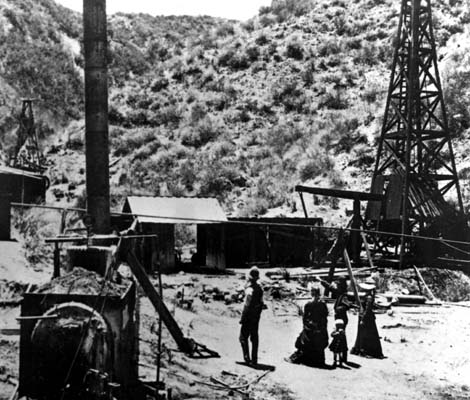 The first oil well in Pico Canyon, which lasted for many years. Public Domain.
In 1892, Edward Doheny had the crazy idea to drill in Los Angeles itself. He struck black gold in the vicinity of present-day Dodger Stadium, not far from downtown. Doheny was the first to tap into the Los Angeles City Oil Field. Later, the Beverly Hills, Salt Lake, Inglewood, Long Beach, and Wilmington Oil Fields, as well as others, were developed in the region.
Doheny's discovery had everyone seeing dollar signs. Neighbors dug wells in their yards. People came in from outside to buy land and try their luck. An industry was formed around this black gold.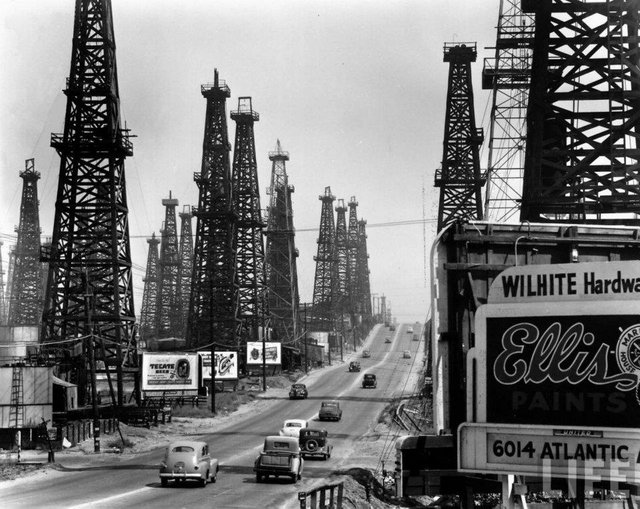 The road to Long Beach in the 1940s.
By 1923, Los Angeles was producing one-quarter of the world's oil. And the city's population grew rapidly, from only 50,000 residents in 1890 to some 1.2 million people by 1930. (It has about 4 million residents today.)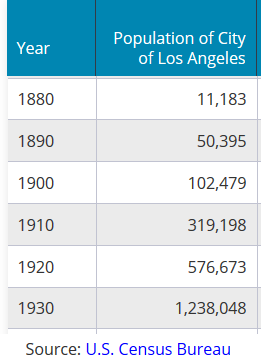 Gilmore: One of the Most Unique Oil Companies in History
In 1900, "the only oil company in history that everybody liked" was born when a Los Angeles rancher named Arthur Gilmore accidentally struck black gold. That quote comes from Charles Seims, co-author of a book called Roar with Gilmore, who was interviewed in LA Weekly (citation below). He went on to add, "How many companies had circus performers and lion handlers on their payroll?"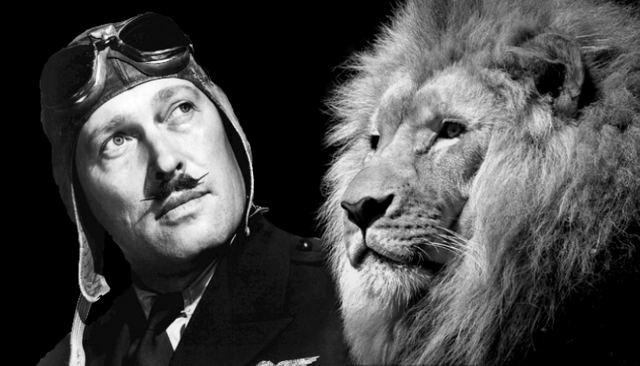 Roscoe Turner and Gilmore the Lion. National Air and Space Museum at the Smithsonian.
Gilmore was the first to discover what became known as the Salt Lake oil field, west of downtown Los Angeles and flowing under part of Beverly Hills. For a few years, Gilmore Oil had gas stations up and down the west coast. They were all somewhat different looking, also using the brand name Red Lion Gas, but lions were a common theme.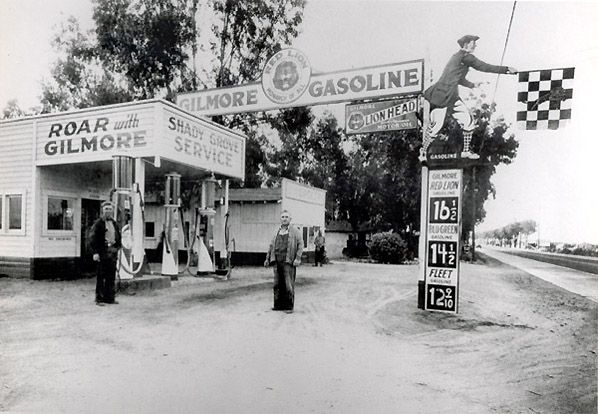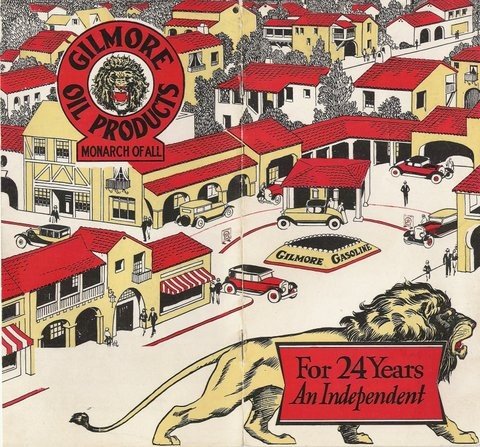 Public Domain images.
The company sponsored Roscoe Turner, a celebrity aviator who raced his plane in several air races and tried to break speed records of the time. Beginning in 1930, Turner flew with a lion cub, which they named Gilmore, and the two became a celebrity tandem. Along with the lion, Turner made record East-West and Canada-Mexico flights, finishing fifth in an LA-Chicago derby. The lion cub had his own harness and parachute, a concession to animal rights groups.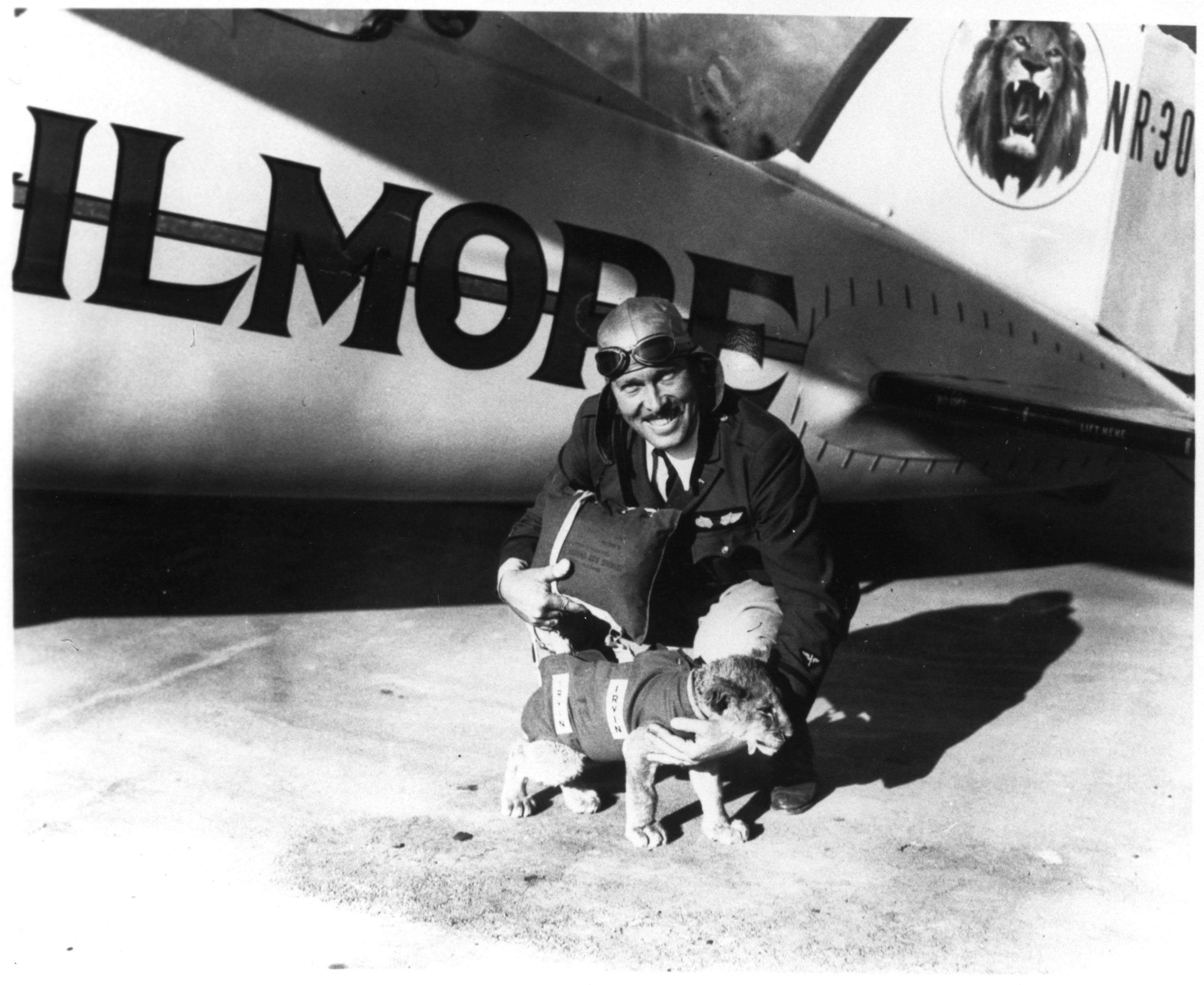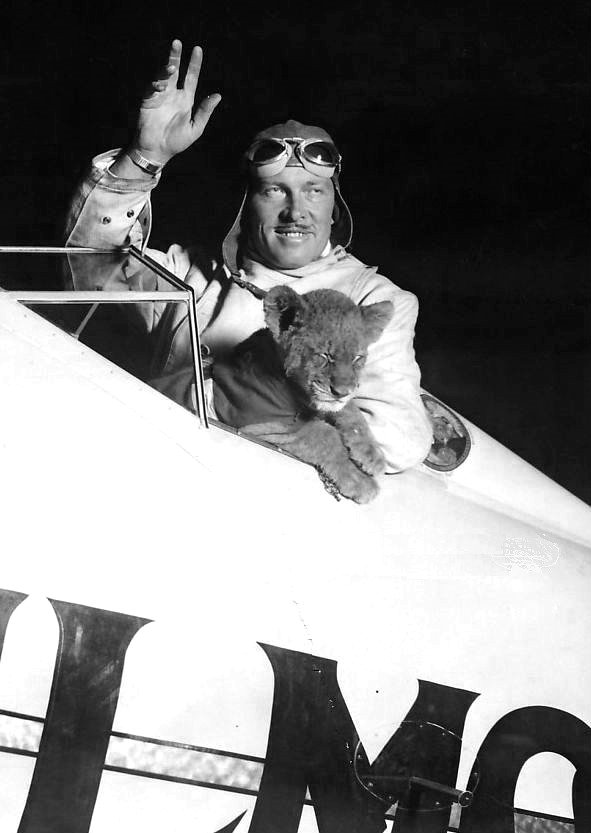 Roscoe Turner and Gilmore the Lion. National Air and Space Museum at the Smithsonian.
They drew huge crowds for their sponsor, Gilmore Oil. The company had other lions and handlers as well. When Gilmore the lion became too heavy to fit in Turner's plane (after logging 25,000 miles in the air), he still made appearances at Gilmore promotional events, from air shows to move theaters, restaurants, hotels, gold courses, and even movie premiers. The lion finally ended up in a cage at a gas station in Beverly Hills before being moved to a farm where he lived to the ripe old age of 22.
The lion's body was preserved and now resides at the National Air and Space Museum at the Smithsonian.
There are Still 3,000 Active Oil Wells in Los Angeles
In 2006, criminal charges were filed against an oil company that attempted steam injection at a Los Angeles well to access deeper reserves of oil. The hot injection caused oil to seep up from underground, flooding the basement of a 35-unit apartment building downtown with hot tar. 130 residents had to evacuate their homes, the apartment building was closed for two months, and the company had to siphon out the oil and conduct stabilization work on a nearby street.
Many Los Angeles residents are living on top of an oil field, and that story was just one more reminder of this fact. An oil field runs beneath Staples Center and Los Angeles City Hall. There are oil wells on the campuses of Beverly Hills High School and Mount Saint Mary's College. And there are a LOT more oil wells all around Los Angeles, some hidden and others in plain view. Here are a few.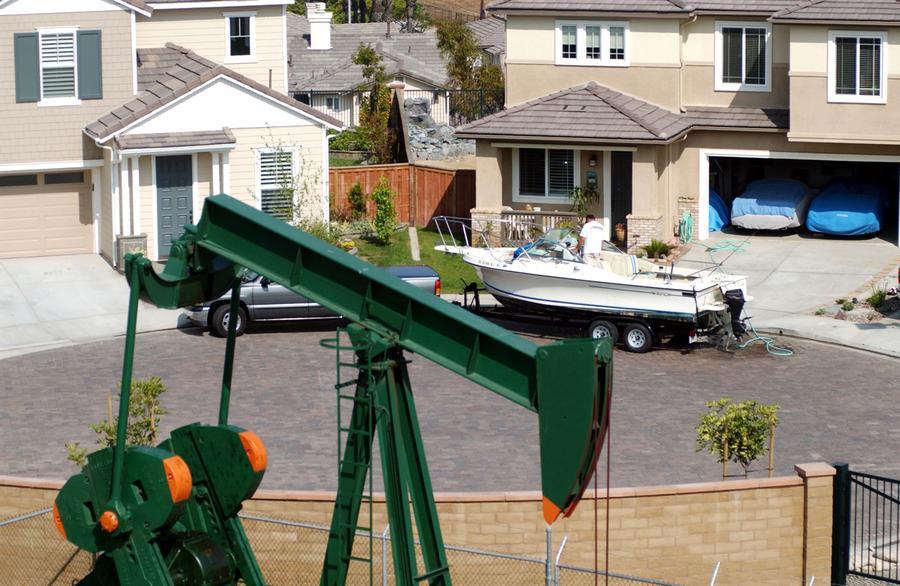 Source: Atlantic Magazine.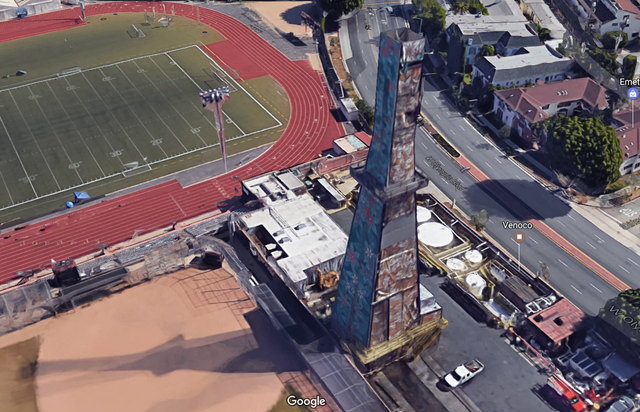 An oil well on the campus of Beverly Hills High School. Source: Google Street View.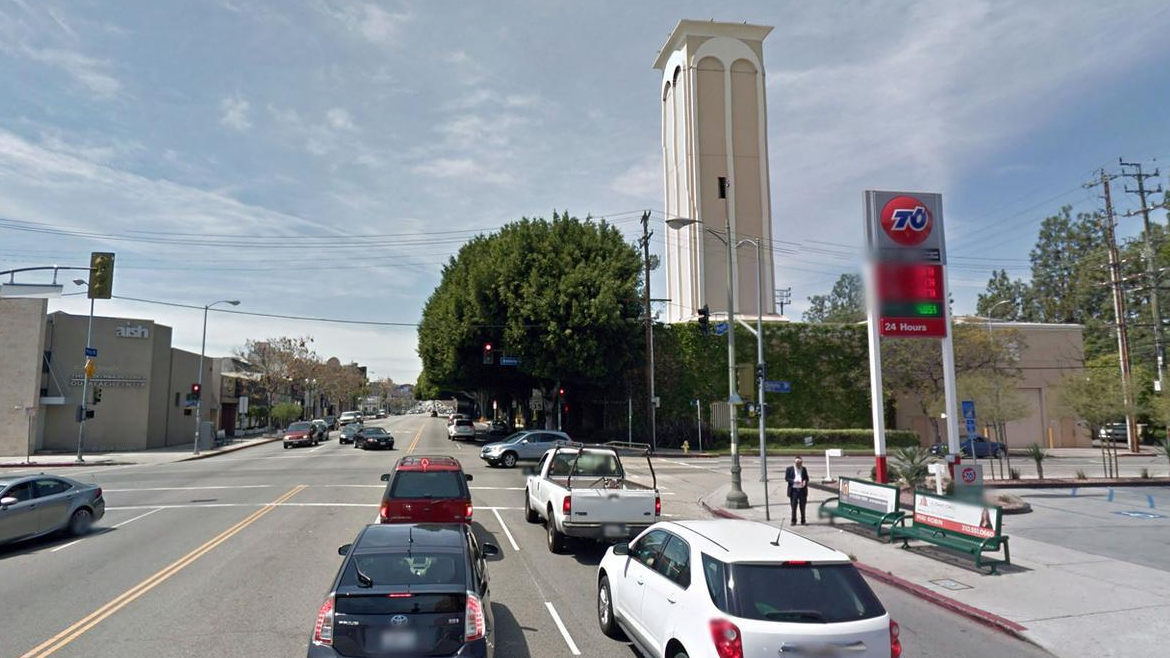 Is that a synagogue with no windows? Source: Google Street View.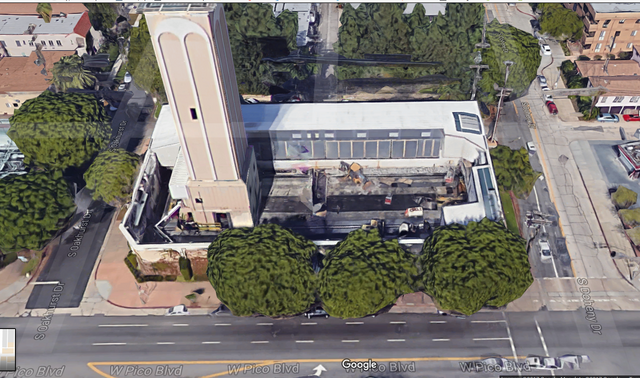 No, it's a cleverly disguised oil well. Source: Google Street View.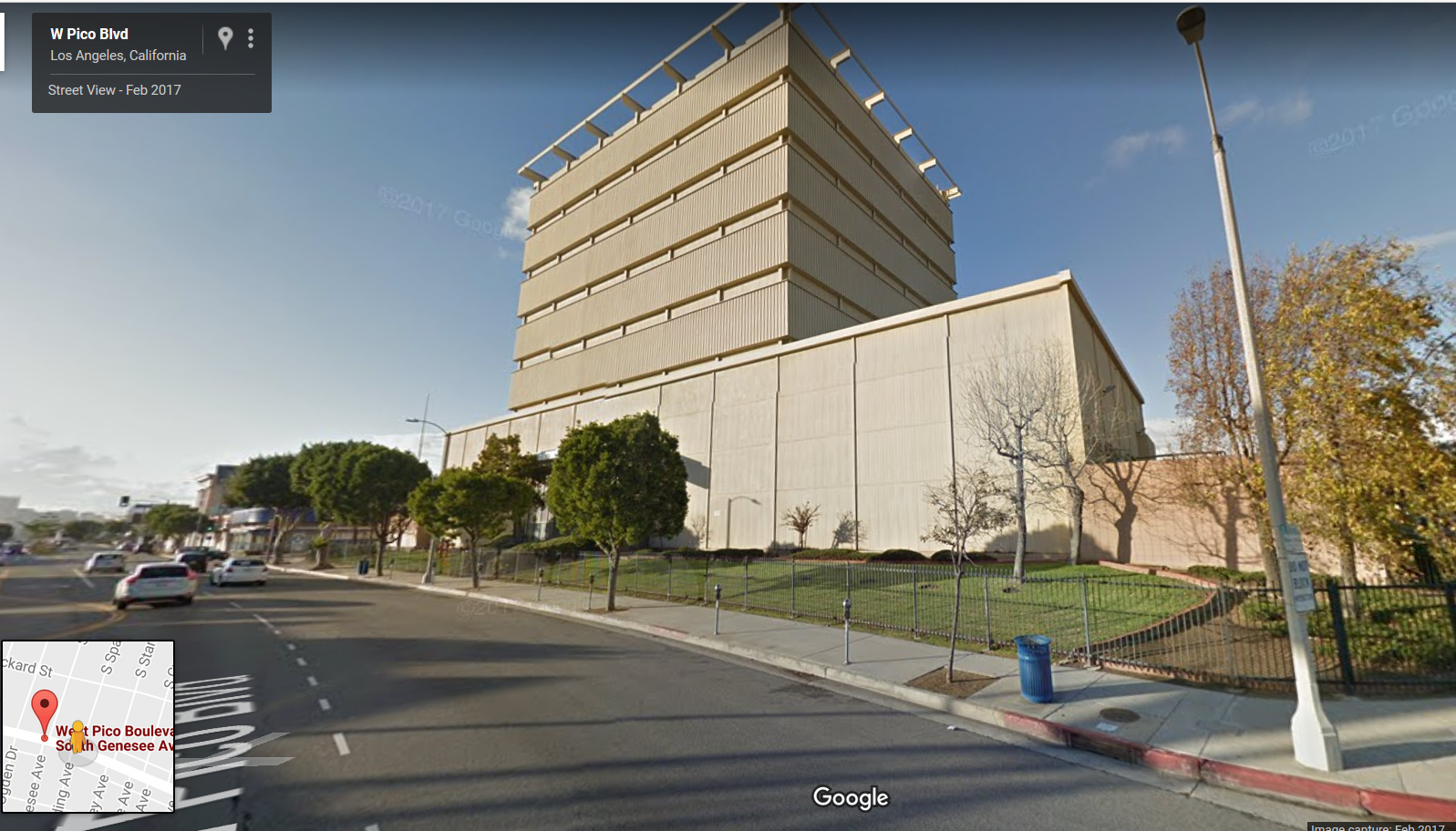 Such an interesting office building with no windows (it's actually an oil well, hidden in plain sight). Source: Google Street View.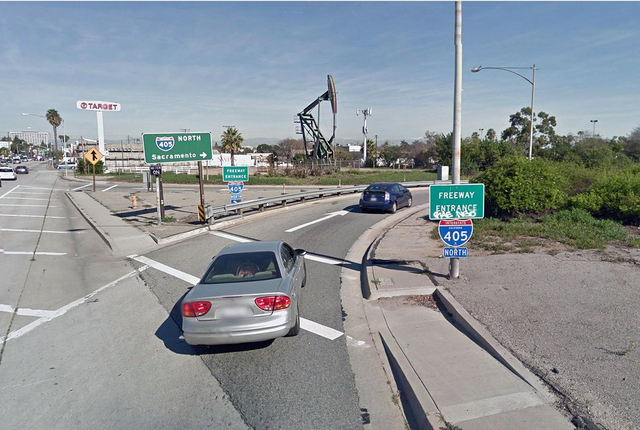 Others are not so hidden. Source: Google Street View.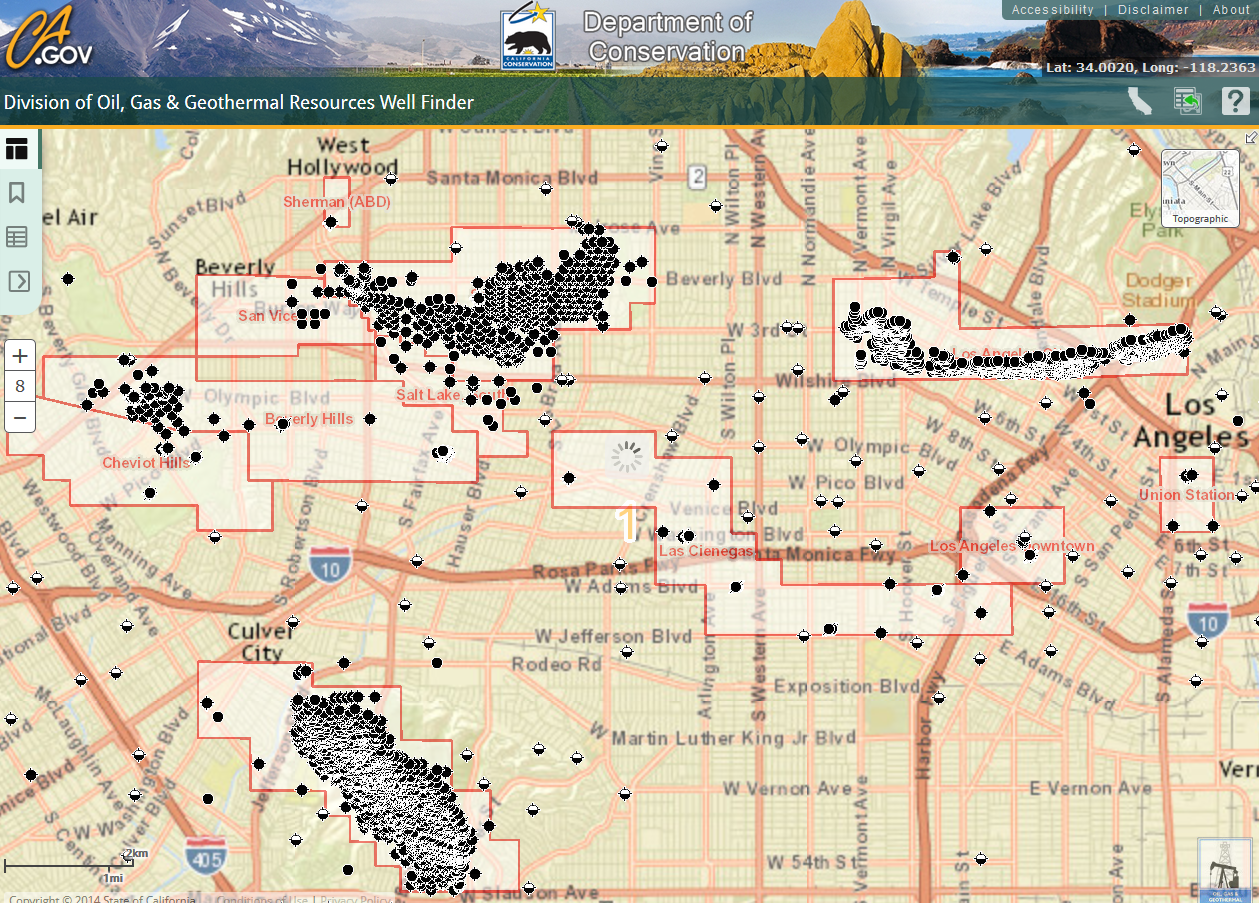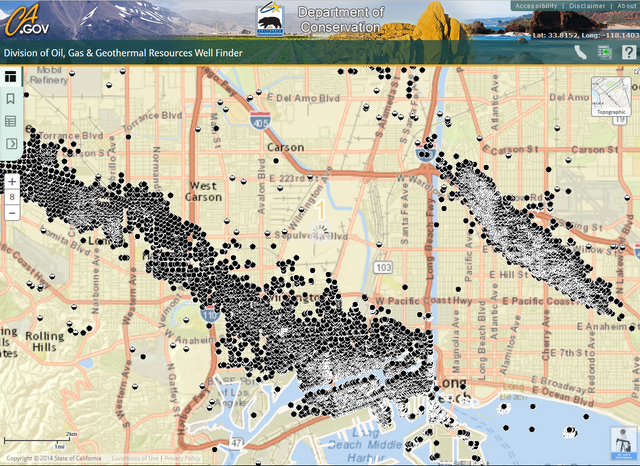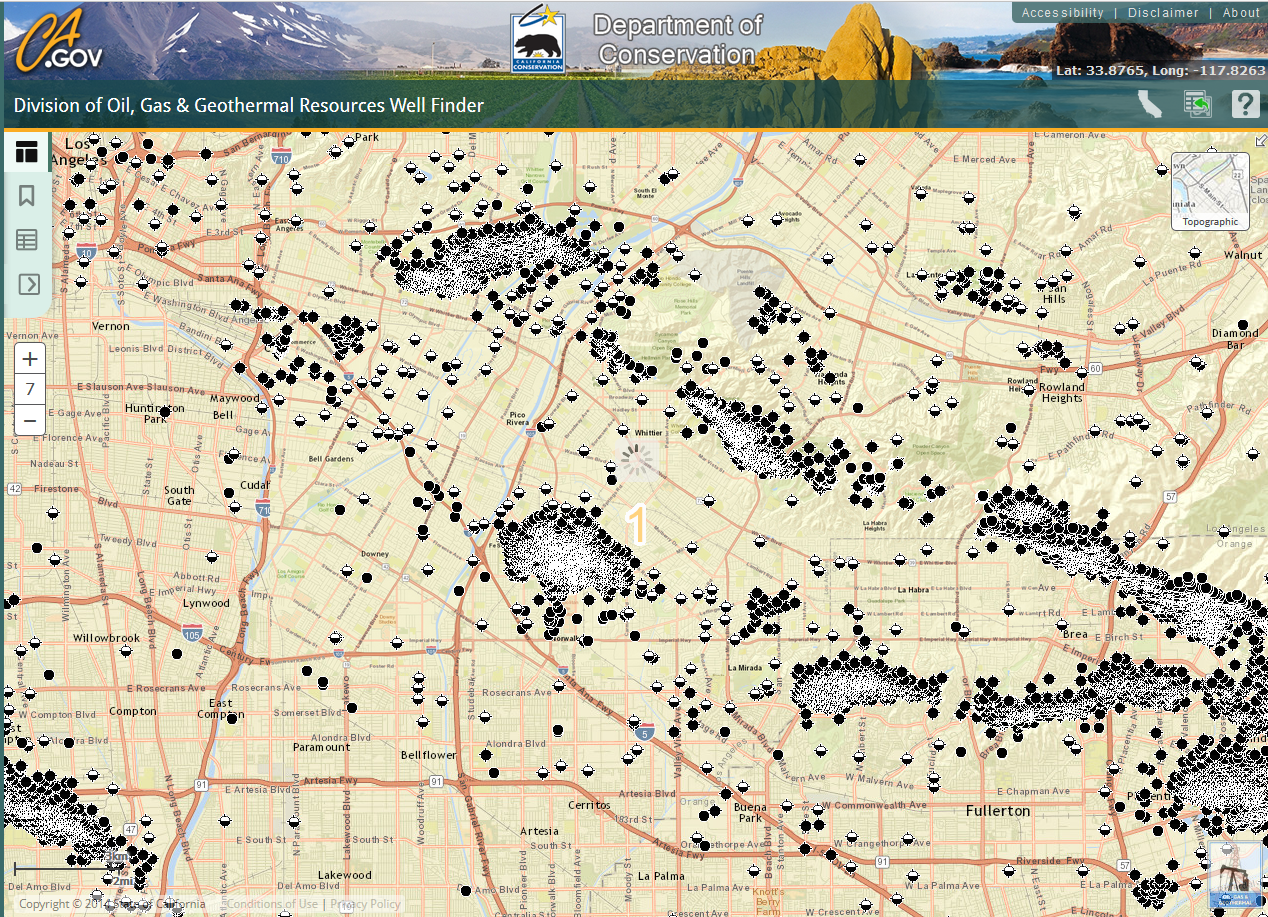 Oil wells in Los Angeles. Source: California Department of Conservation (see link in reference section below).
Here is a great video that covers more on LA's oil wells.