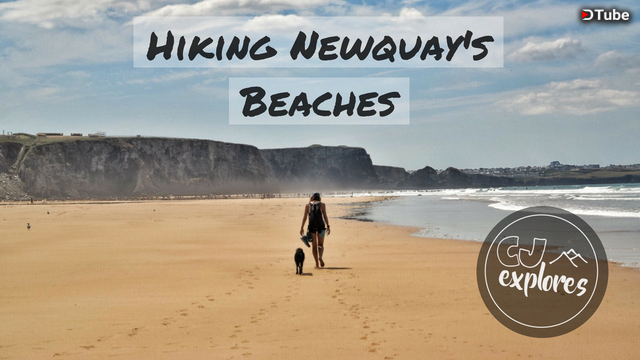 ---

As we eluded to in the last vlog, this one was going to be full of hikes. We are really gifted to be living in such a beautiful place during such a fantastic summer. I really think people are going to look back at the summer of 2018 quite fondly. We also have to doggy sit during the day, so Eddie is loving life right now. He does this weird thing where he pretends to not want to go out for a walk when we get his lead and harness. But then once we get out there, he absolutely loves it. As much as he looks like he's straight from one of the RSPCA adverts of abandoned dogs, he actually comes from a loving family, he is well fed and well entertained (and entertaining might I add!). He has just perfected that beaten, unloved, abandoned, puppy-dog look.


The first walk we took was south of Newquay to Crantock Beach. This is a massive stretch of sand that fills up dramatically when the tide is in. There can also be quite a nasty rip current here due to the River Gannel that flows alongside Crantock. Knowingly, we checked the tide times beforehand and knew we were in for a good walk. We checked out the Crantock Cave Carvings and Char describes the story of the beautiful woman who's life was lost. This cave carving is a tribute from a heart broken lover.


Eddie gets a good working over by two much larger playful pups and then we head further round the headland towards Fistral Beach where we find a nice little spot to jump into the azure ocean. You can see how crazy busy Newquay is getting as the holiday season gets into full swing. Fistral Beach was rammed!!


The very next day we go on a mad mission in the opposite direction, North. This is towards the wonderfully long Watergate Bay. Along the way we nearly get stuck by the tide on a headland, we run into an artist painting a lovely beach scene and keep finding awesome caves and hidden beaches to explore. We are so blessed to have all of this surrounding us.


Thanks for tuning in for another episode guys, next week we will be celebrating my birthday and gearing up for our very exciting festival coming up, BOOMTOWN!
---
PEACE, LIGHT AND LOVE
---
gear used;
Nikon D5300
Rode VideoMicro
Sony Vegas
Toshiba Satellite P70
Logitech Performance MX
GoPro Hero 3+


other socials;
YOUTUBE
INSTAGRAM
STEEMIT
BUSY
FACEBOOK
---
▶️ DTube
▶️ IPFS