We did a lot last weekend. Drove all the way down to Tucson in fact! And my favorite part was probably this hike. I hope my pictures can give you a little bit of the awe that I got that day.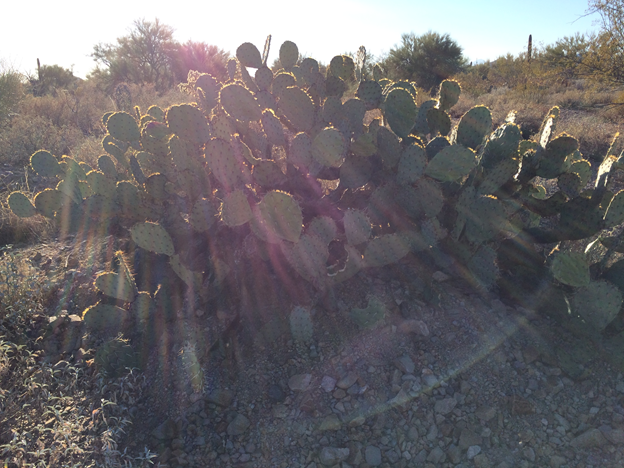 The sun shinning in over a gorgeous patch of prickly pear and this absolutely lovely and stately backlit cholla cactus really give you the feeling of that morning. It was cool and crisp and dry like the desert is on a January morning.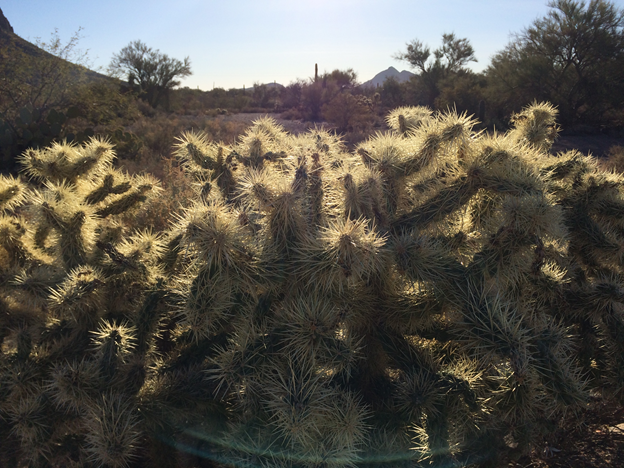 This little bird followed us for a while and had a pretty song. Birds are hard to capture with an iphone camera and I'm still an extreme beginner when it comes to bird identification. So I'll just leave you with the idea of it…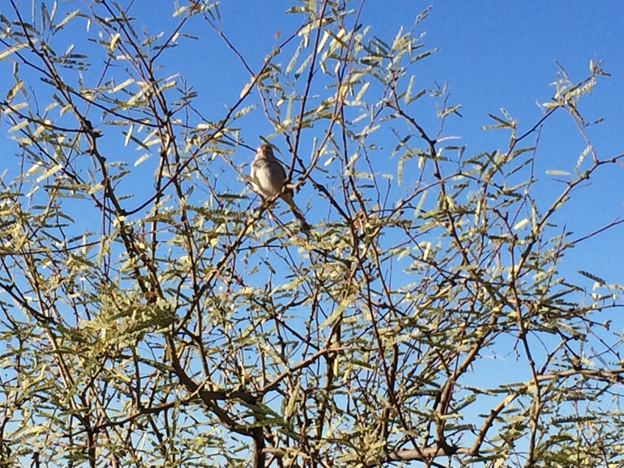 And just look at that forest diversity! I haven't done much plant identification in the desert but I'm sure there are over a dozen species in this picture.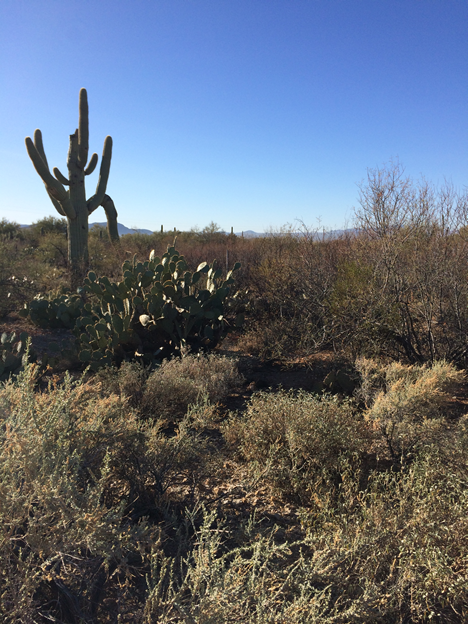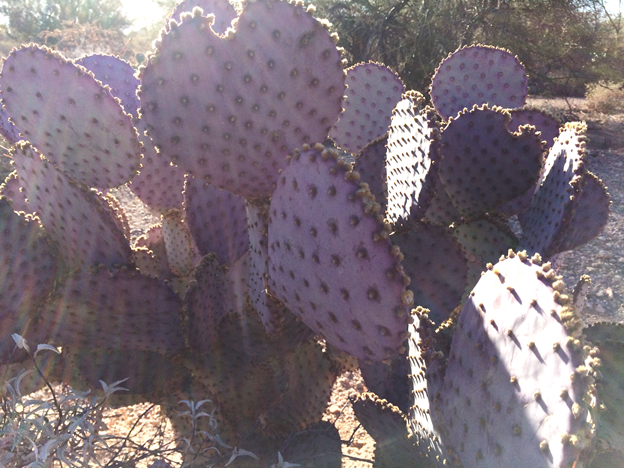 I'm not sure what makes a cactus purple but it's sure gorgeous.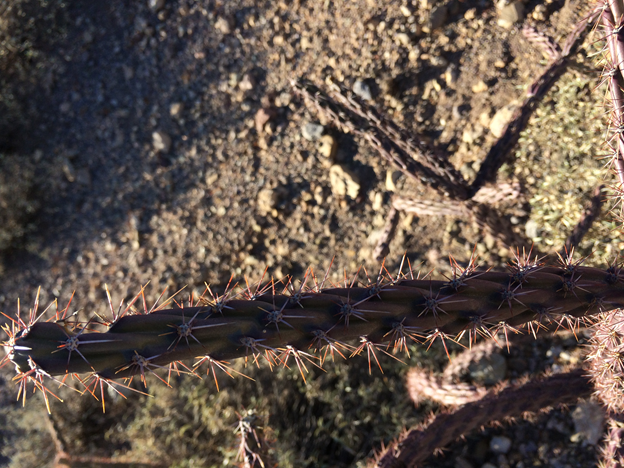 And here's a close up of the chainlike pattern on the arm of a cholla cactus (I think that's what it is).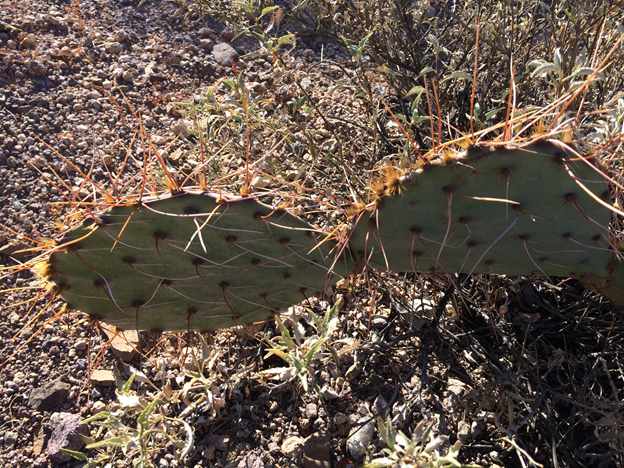 Some radiant golden spines.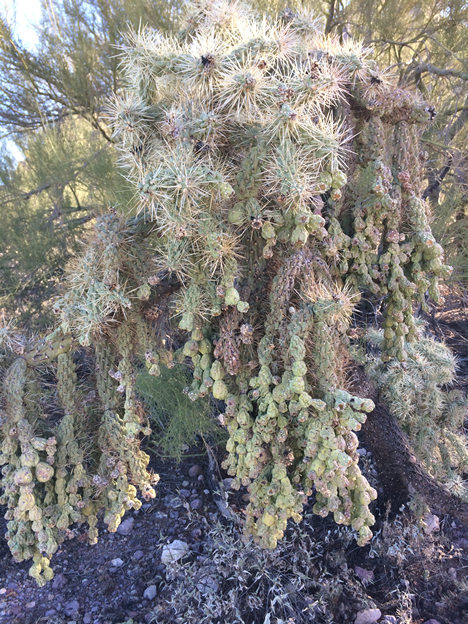 A cholla heavy with fruit… if I had to guess.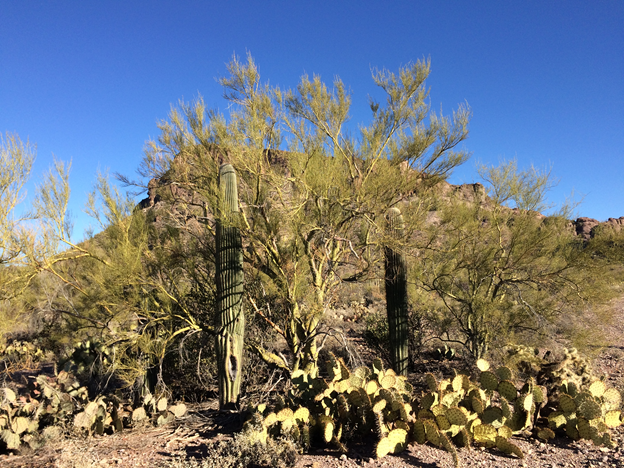 Look at that guild of plants. I wish I knew what that tree was with the green skin.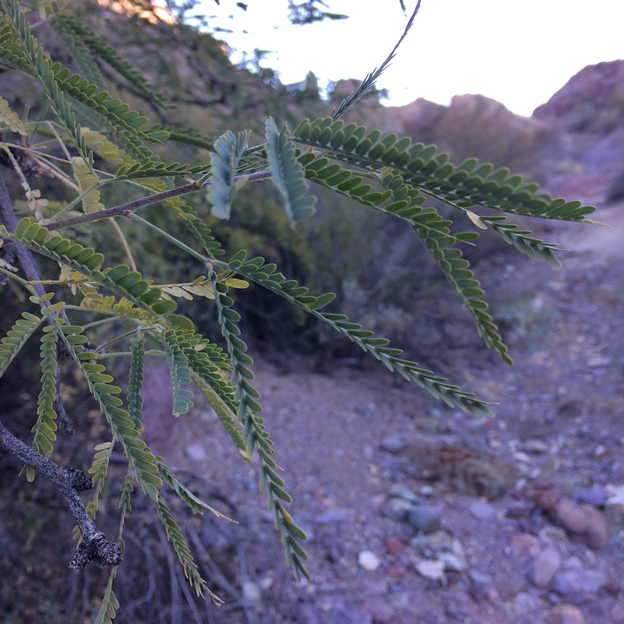 This is what it's little leaves look like. I bet it's a nitrogen fixer… lots of plants that fix nitrogen in the soil have leaves like this.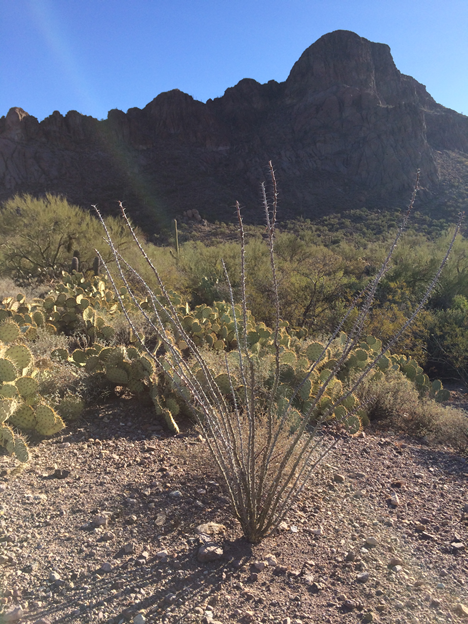 I don't know the name of this awesome cactus is but I know that sometimes birds will catch lizards and mice and hang them on this cactus to eat for later. I didn't see any meals saved for later here but I did get up close to take a picture of these sharp spines!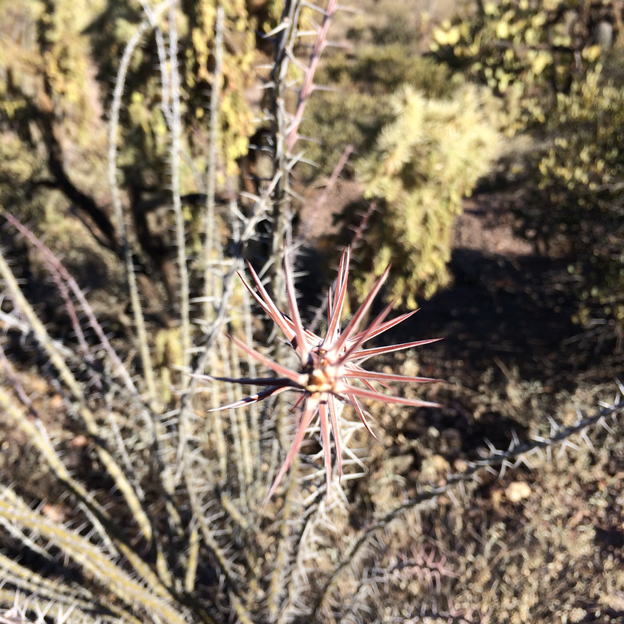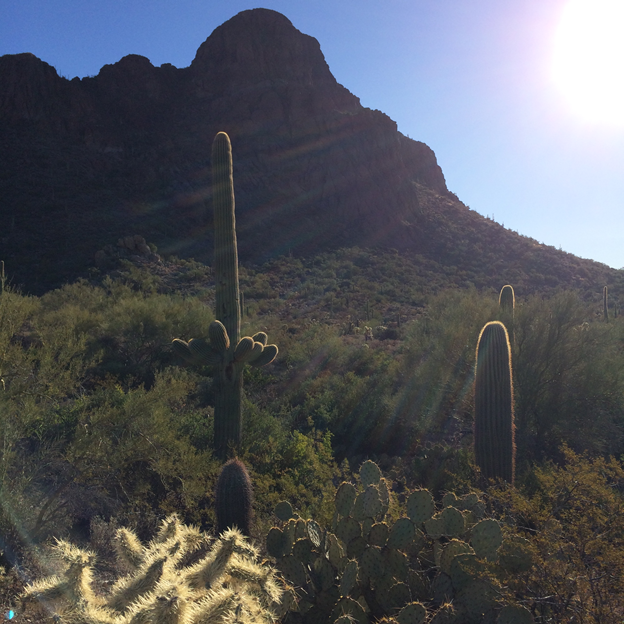 Sometimes you just have to stop and look around. And take it all in.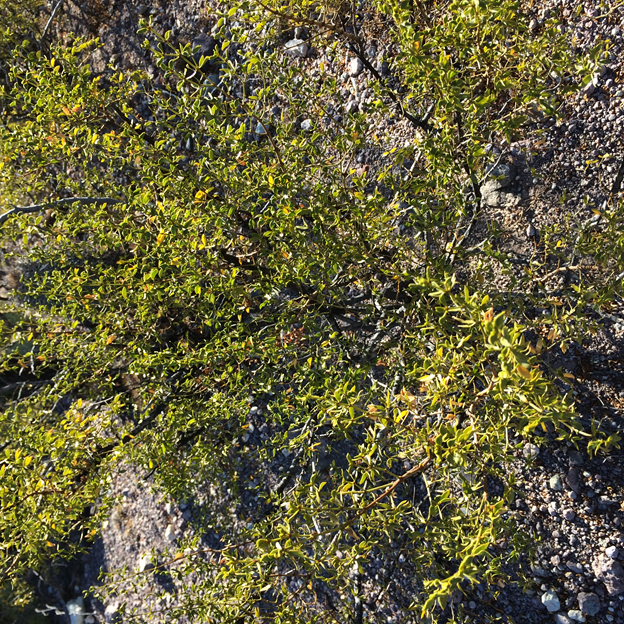 Other times you've gotta zoom in and take a look at what's right around you. Like this plant that I can't identify but had a lovely presence to it and those leaves are so vivid in the desert morning.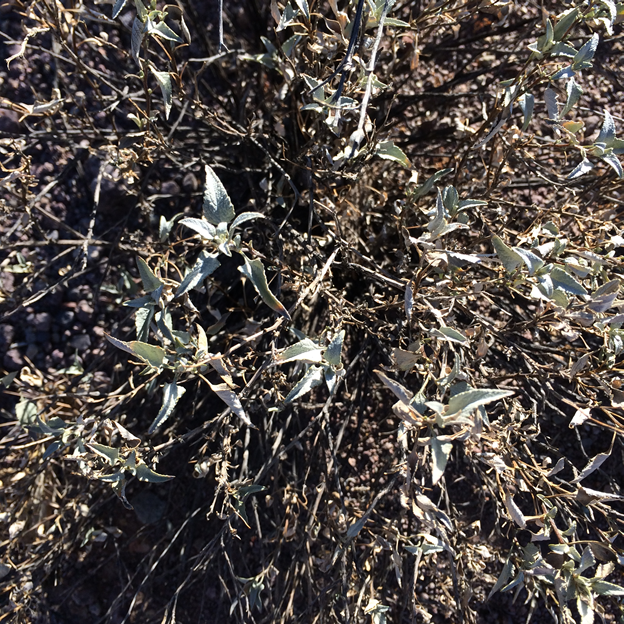 Or this one that kind of reminded me of sage except that it had no smell to it.
And then there is this beauty below, the skeleton of cholla cactus. Kind of zombie-like if you ask me. The spines and skin still not fully rotted off the web of "bone" underneath.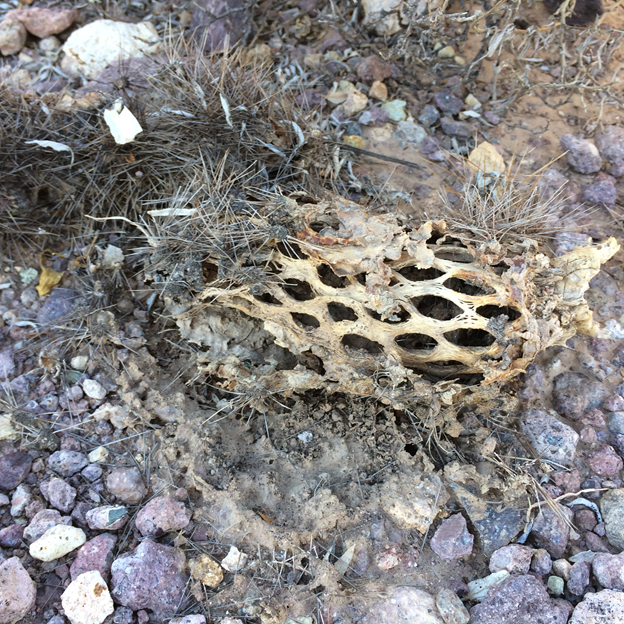 Okay here is a major surprise… Can you see it?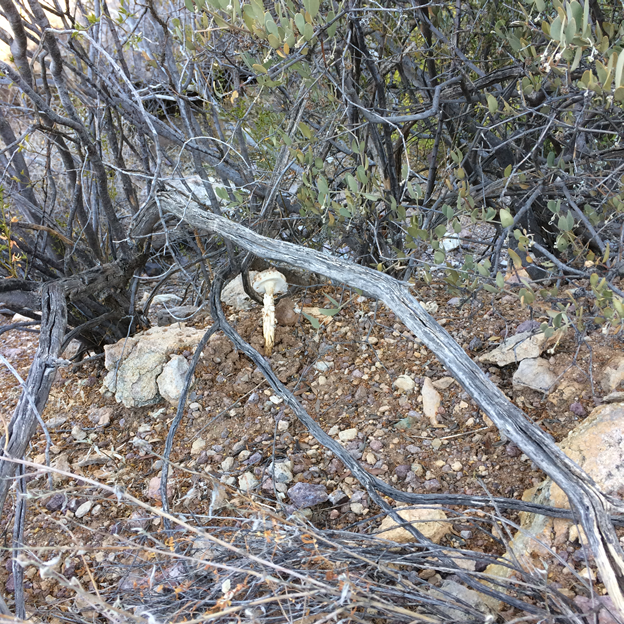 A mushroom coming up in the desert!? Obviously I had to get a closer look. It's really an odd one but most definitely a mushroom. No gills underneath… more like a bolet I guess. But I tried really hard to research this mushroom to figure it out but it wasn't like anything I could find online. If you can identify it I'll send you 1 Steem Dollar (I've never done something like this before but I'd really love to identify this thing!)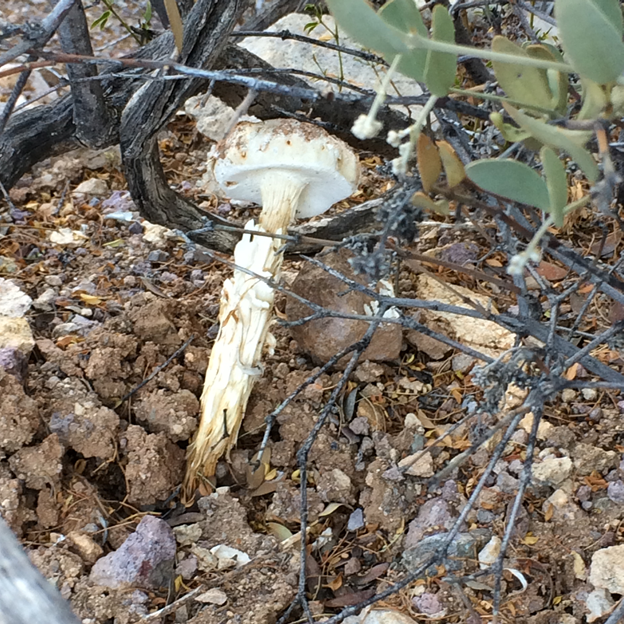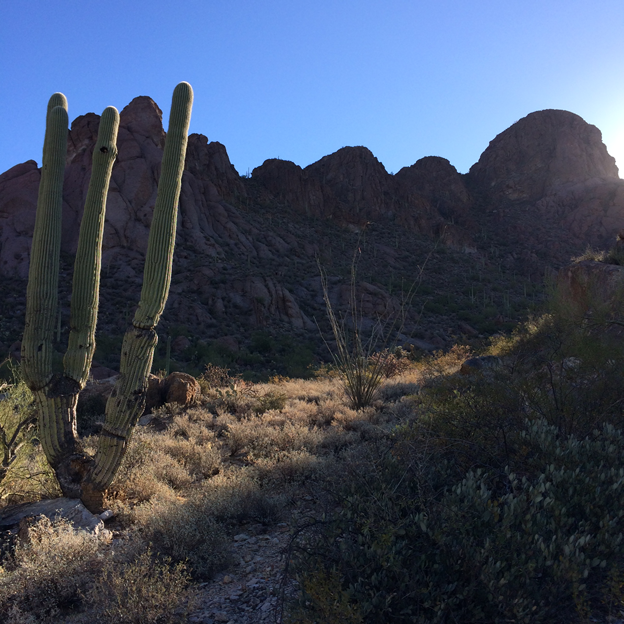 Zoom back out. The sun came through a dip in the mountain's ridge and shined a path like some kind of stairway to heaven.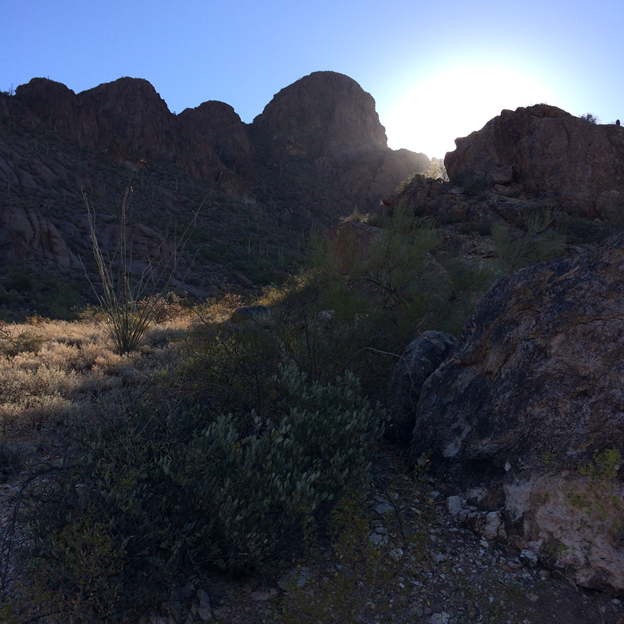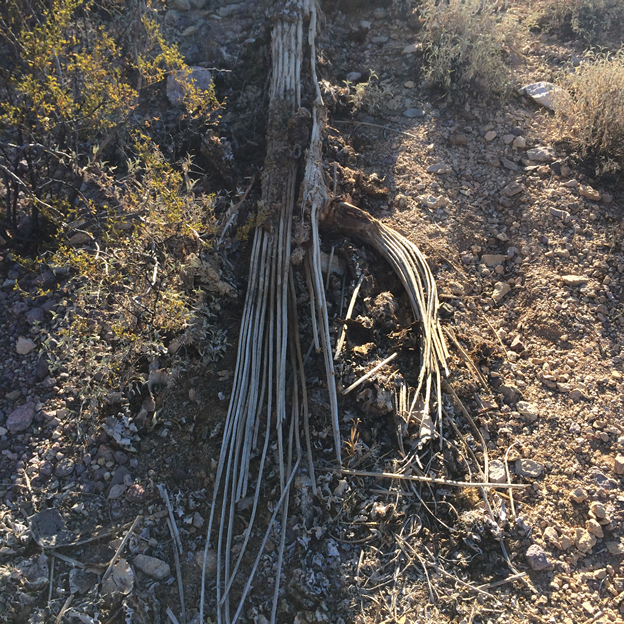 I guess this saguaro cactus climbed that stairway. What a beautiful skeleton.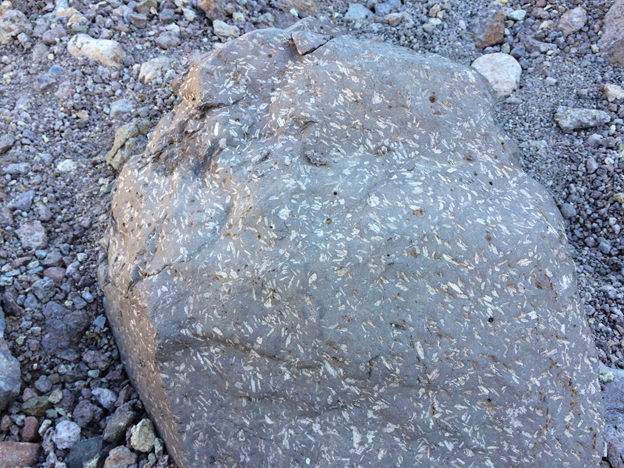 The geology was magnificent too. Check out the flecks in that stone.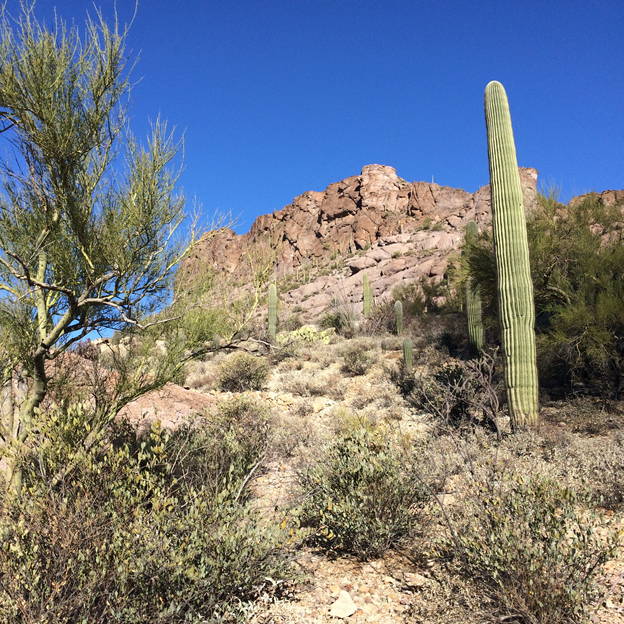 Do you see the saguaro on the top of that hill in the back.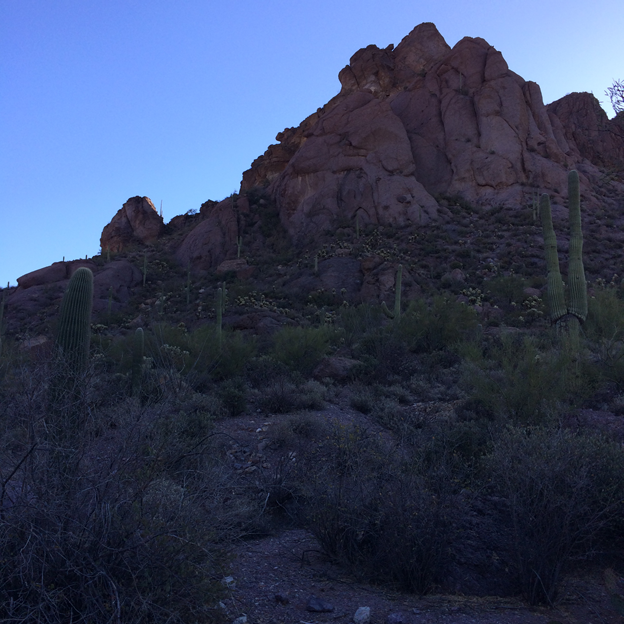 One side of the ravine was in sun the other in shade. The contrast added even more stimulus to the experience.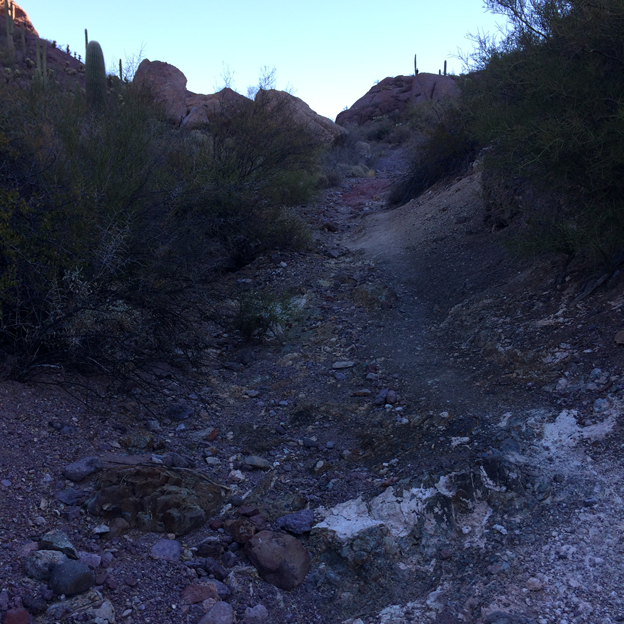 The trail.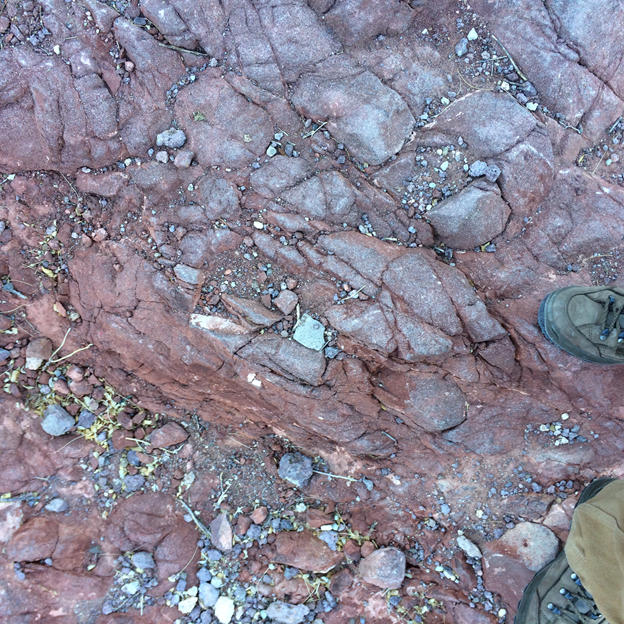 The stone under my feet changed all the time with streaks of new color.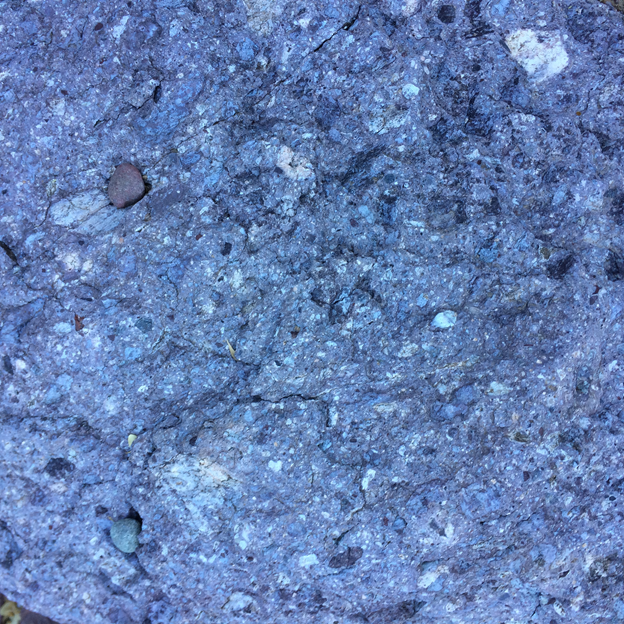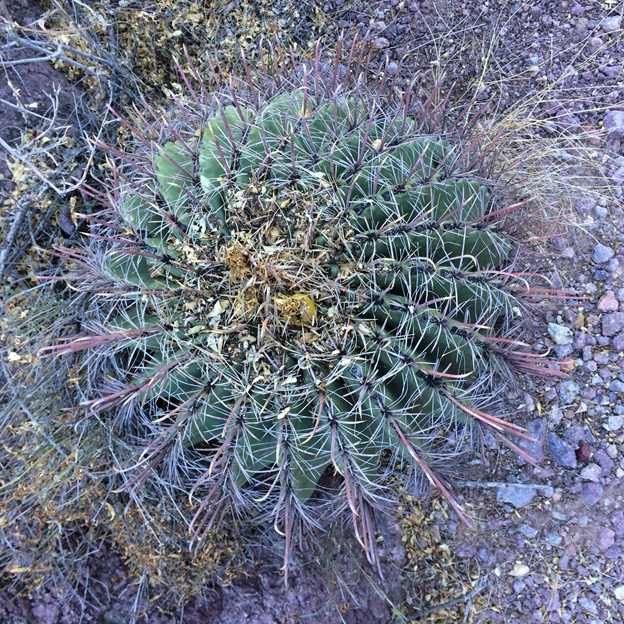 A barrel cactus? Look at the colors… Purples and pinks and greens and yellows…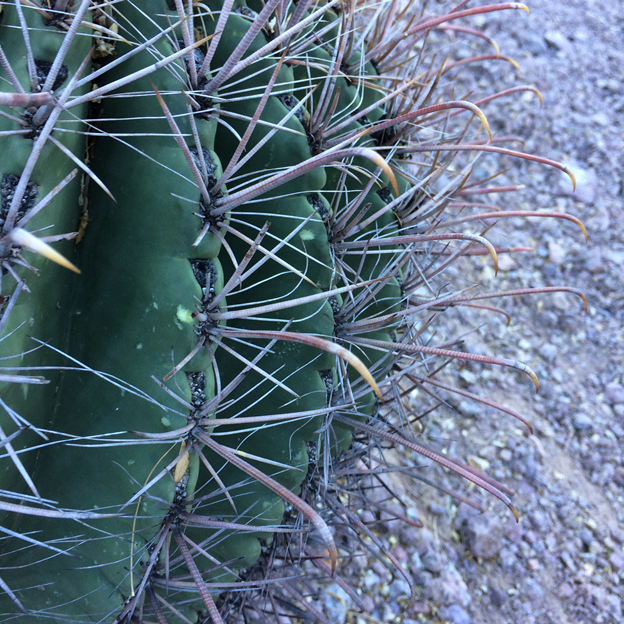 Look at those big spines! I learned in my
Volunteer Naturalist Course
the other day that the spines of a cactus are modified leaves. Nature is so adaptable it's inspiring.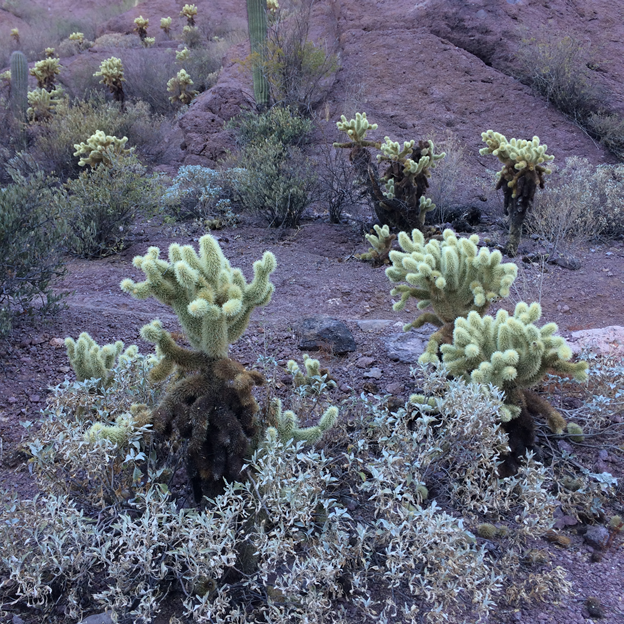 Zooming out again I can't help to be awed by the pale yellow of the healthy cholla cactuses running up the hillside like soft flames against the purple red rock.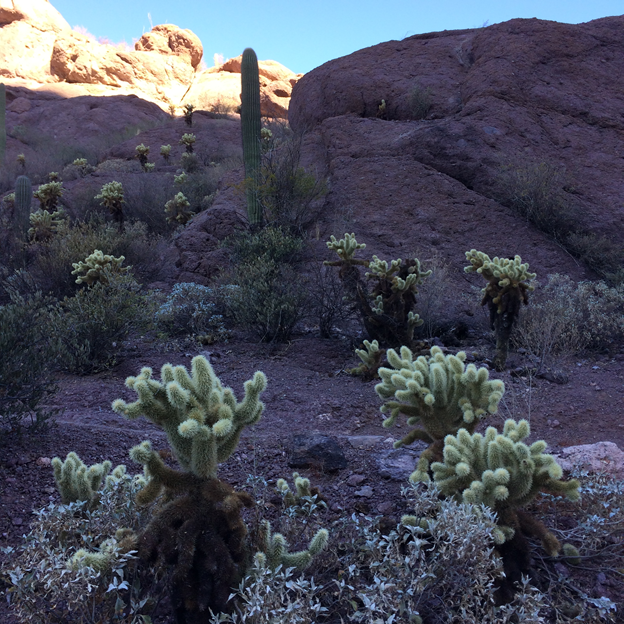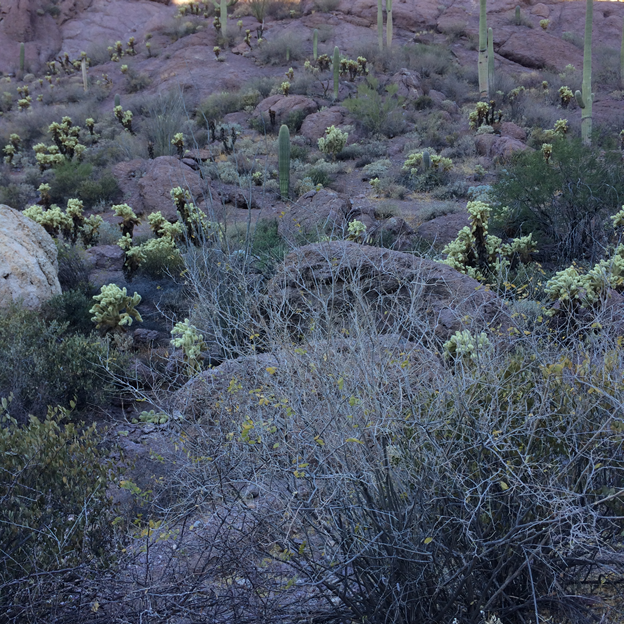 The greatest painter ever couldn't have come up with that amazing diversity. WOW!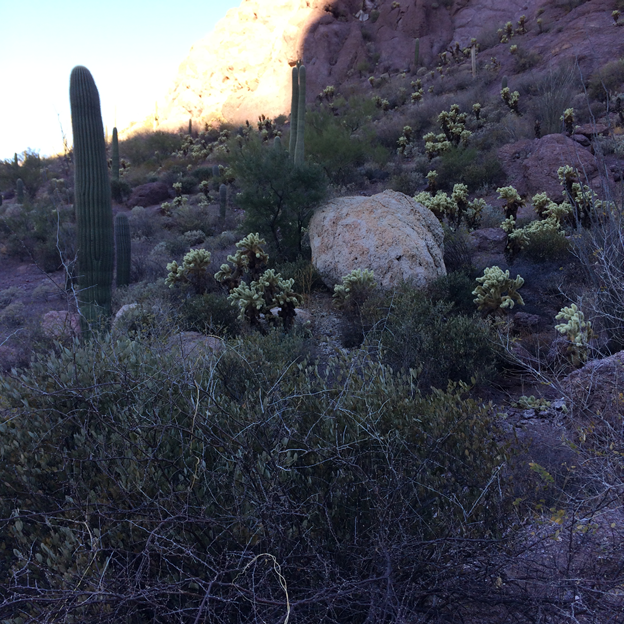 )
And then I look down and see this streak of blue stone…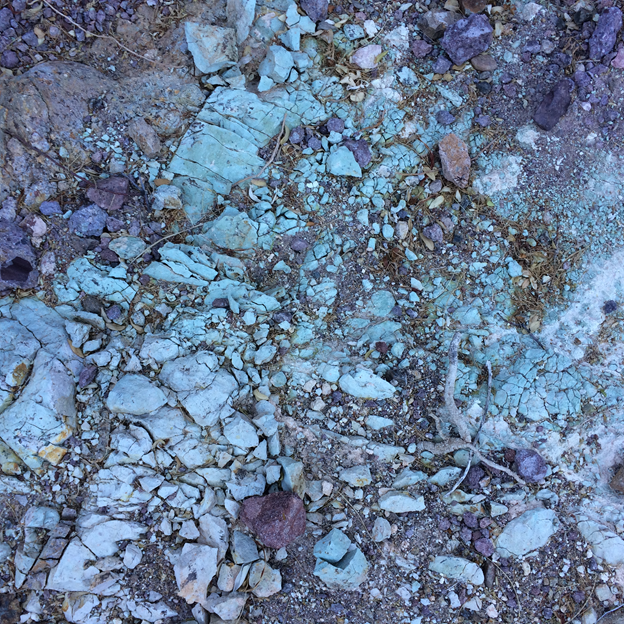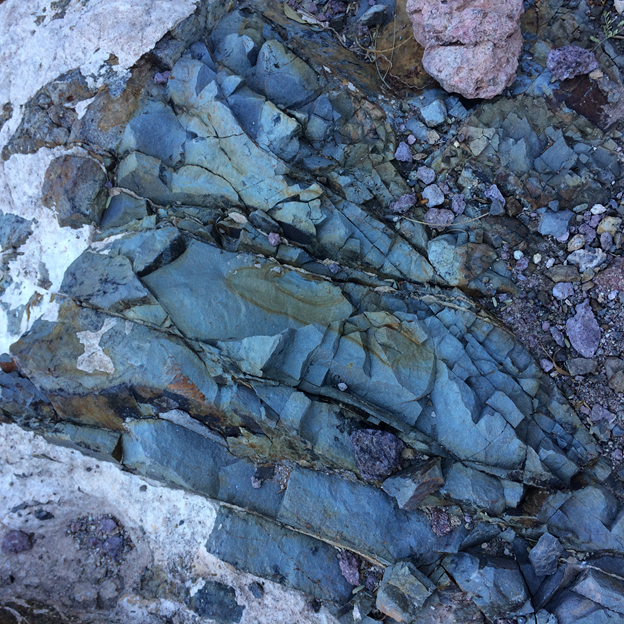 And this one…
Which drew my eyes to this patch of prickly pear that some animal or insect has made a meal of.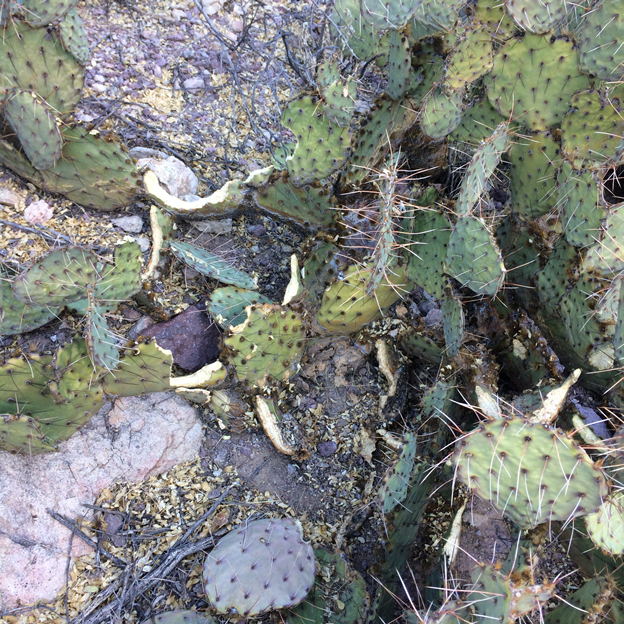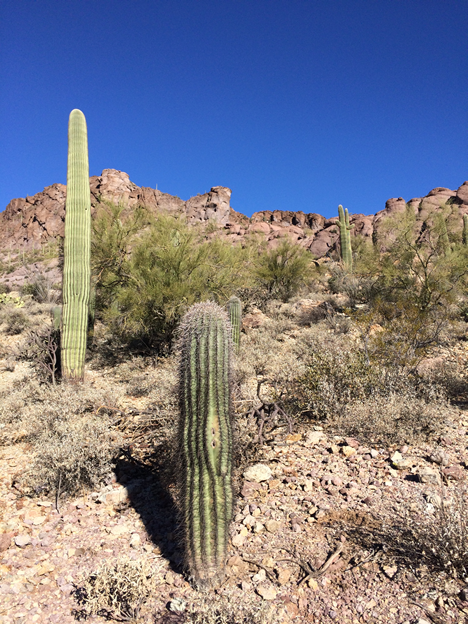 More saguaros in the sun.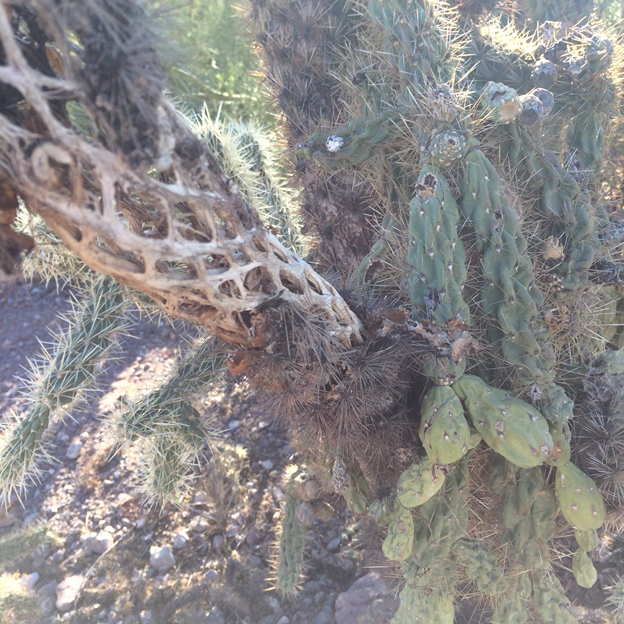 And the diverse timeline of life on just one cholla cactus.
Hope you enjoyed the hike (:
Check out the one I did in Taos, NM a couple days before if you haven't already!