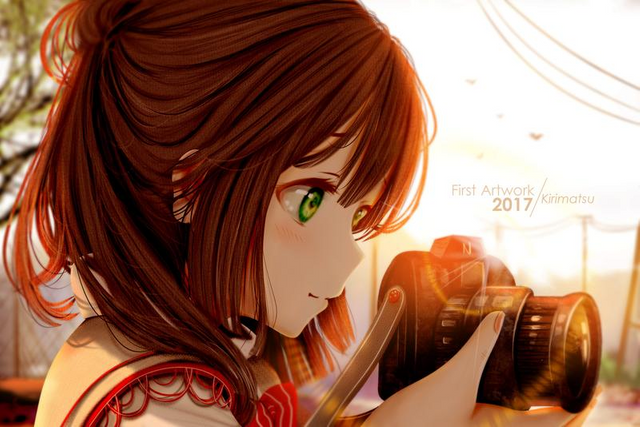 Thanks to kirimatsu
Pınar, babasından çok şey öğrenmişti: eğlence, mutluluk, merak ve daha birçok şey… Babası aklına geldiğinde onunla ilgili tüm anılarının gülümseme ve sıcaklıkla dolu olduğunun farkındaydı.
Ancak hayatta insan her zaman sevdikleri ile beraber olamıyordu. Babası bir gün bu dünyadan gittiğinde yaşadığı şok ve üzüntünün etkisiyle o anıları zihninde kilitledi: gözden uzak, kalbinin en ucra köşesine…
Uzun süre bu olayın etkisini üzerinden atamadı ancak belli bir süre sonra o anılar zihninde tekrar yer etti ve o anlarında yüzünden gülümseme eksik olmadı.

Babasının ölümü ile farklı bir şehre taşınmışlardı. Ancak çok zaman geçmedi lise için tekrar babasının hatırlarının dolu olduğu küçük kasabaya yerleşti. Onun için en değerli hediye bu olmalıydı: babasının hatıraları ile dolu bir yer, sevdiği insanlar ve babasının kamerası…
Babasının ölmesiyle duran zaman, kasabaya yerleşmesi ile devam etmeye başlamıştı.

Lisede çok sevdiği ve her zaman beraber takıldığı üç arkadaş edindi. Huzur ve mutluluk dolu anları toplayan babasından yadigar kamera ile beraber birçok kare yakalıyordu. Bu karelerin vazgeçilmezi de son senelerine gelmiş oldukları arkadaşlarıydı.
Lisedeki son yılının olduğu düşüncesiyle yaşadığı her an, gezdiği her yer onun için ayrı bir özel görünmeye başlamıştı. Öyle ki her şeyi özümsemek için hayatı daha bir durağan yaşamaya başlamıştı. Mutluluk dolu yaşadığı bu zamanlarda sanki zamanın durmasını istiyordu.
Hayat ise duygularının aksine ilerliyor ve onun kendisi için bazı kararlar alması gerekiyordu. Mezun olmalarına çok az bir zaman kalmıştı.

Okulda bir fotoğrafçılık kulübü bulunuyordu. Pınar da bu kulübün daimi üyelerindendi. Zaten tüm gün elinde fotoğraf makinesi ile ilginç kareler yakalamaya çalışıp dururdu.
Okulun fotoğrafçılık kulübü, öyle çok aktif bir kulüp değildi. Dışardan bakıldığında durumu içler acısı bile sayılabilirdi. Kulubün bu halini fark eden iki alt sınıftan Suzi(2.sınıf) ve Şenay(1.sınıfı) kulübe katılma kararı aldı.
Kulüpte Pınar'ın en yakın 3 arkadaşı da bulunuyordu : Handan, Nevin ve Oya. Ancak aktif değillerdi sadece Pınar yalnız kalmasın diye yer alıyorlardı.
Sene başında her kulüp kendi açılış konuşmasını yaptığında, fotoğrafçılık kulübü için konuşmayı Pınar yapmıştı. Pınar'ın samimi ve tutkulu konuşması bu iki alt sınıfın ona sempati beslemesini sağlamıştı.

Suzi ikinci sınıf olmasına rağmen birinci sınıftaki Şenay'la karşılaştırıldığında oldukça duygusaldı. Pınar'ın yaşadığı her anı fotoğraflarla ölümsüzleştirmesi onu oldukça etkilemişti. Öyle ki fotoğraf albümlerine her baktığında kendini tutamıyor ağlıyordu.
Pınar için babasından kalan kamera, kalpleri birleştiren ve insanları daha da yakınlaştıran bir şeydi. Belki Suzi'yi duygulandıran fotoğraflardan bu duyguları görmesiydi.
Şenay, Suzi'ye göre oldukça canlı ve duygularından ziyade aklı ile hareket eden bir insandı. Fotoğrafçılık alanında ödüller alması bu alana çok da yabancı olmadığını gösteriyordu.
Pınar'ın bir yarışma için çektiği fotoğraftan oldukça etkilenmiş ve o kareyi yakalamasını sağlayan şeyi merak ettiğinden kulübe üye olmuştu.

To be continued...