Die neue nicht-lineare Reward-Kurve ist unfair und schadet Blogger, die weniger als 20 STEEM per Posting oder Kommentar verdienen.
@penguinpablo hat ein cooles Tool entwickelt, das die Auswirkungen der neuen nicht-linearen (linear-konvergenten) Reward-Kurve simuliert.
Ich habe die Auswirkungen der neuen Reward-Kurve (blau) unterschätzt und finde die Änderung wirklich dramatisch. Postings, die weniger als 20 STEEM verdienen, bekommen jetzt 30% bis 40% weniger und auch die eigenen Votes auf Kommentare und kleinere Accounts sind jetzt weniger wert. Um 20 STEEM zu verdienen, braucht man Votes im Wert von 500K Steem Power.
Das ist einfach komplett unfair. Daher fordere ich die Rückkehr zu der linearen (grauen) Kurve.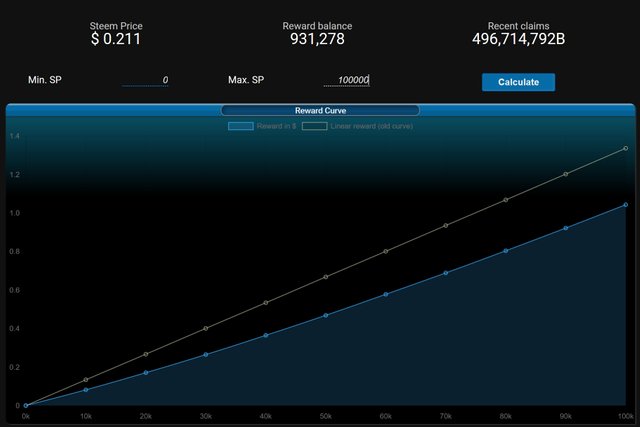 Rewards bis 100K Steem Power simuliert
Rewards simulated till 100K Steem Power
https://www.steemnow.com/rewardcurve.html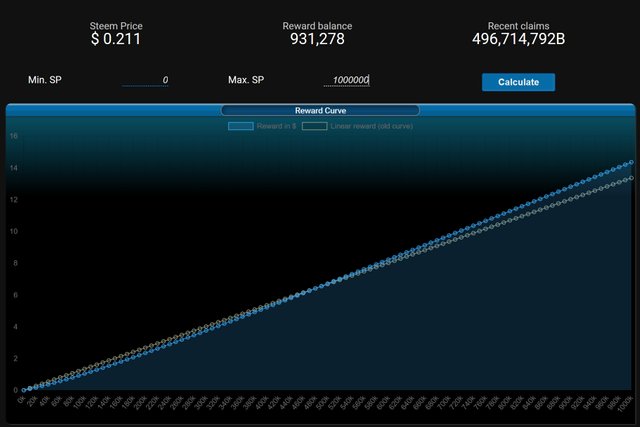 Postings auf Trending werden jetzt noch reicher
Rich posts on Trending are getting richer
English
The new non-linear reward curve is unfair and harms bloggers and commenters who earn less than 20 STEEM per post.
@penguinpablo has developed a cool tool that simulates the effects of the new non-linear (linear-convergent) reward curve.
I underestimated the impact of the new reward curve (blue) and think the change is really dramatic. Pots that earn less than 20 STEEM now get 30% to 40% less than before, and even your own votes on comments and smaller accounts are now worth less. In order to earn 20 STEEM you need votes worth 500K Steem Power.
That's just completely unfair. Therefore I demand the return to the linear (grey) curve.
Sources
[1] https://steemit.com/steem/@penguinpablo/new-on-steemnow-com-the-reward-curve
[2] https://steemit.com/newsteem/@vikisecrets/non-linear-reward-curve-my-votes-are-now-worth-up-to-50-less-after-hf21
[3] https://steemit.com/steem/@vandeberg/reward-curve-deep-dive
Live your Secrets and Steem Prosper 🔥
xx Viki @vikisecrets