HF21: Just wait and see
We are eight days out from the expected Hardfork 21 where all the drama of Steem will meet in a focal point within the universe and destroy us all! Or something like that. But, what is good to note is the reminder about how some hardforks operate when there are changes to the economics and that is, they affect all open posts.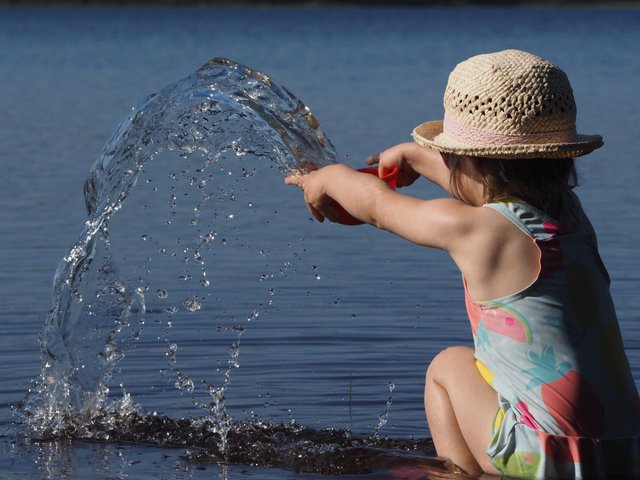 Once upon a time...
What ensued at the point of Hardfork19 in mid-2017 was ecstatic elation, as the curve was removed and suddenly, everyone's votes mattered. Yay!! Nearly all the open posts on the chain were boosted in their value as the small votes they had collected increased in value and the large whale votes decreased away from their N2 peaks and into a linear function. People were so happy with the change - and then the first bidbot was created.
RIP Randowhale
However as far as I know, this is pretty much how the next Hardfork is going to be applied to the Steem blockchain as I think calculating all open posts differently based on their posting time before or after the hardfork is not possible, so the backdate should happen.
Remember that Hardfork21 has several key points included:
The SteemDAO which will lower the 25/75% for curation/content to 65% - This is a development point aimed at incentivizing development by financing it out of the chain. Hopefully many users offer their support in suggesting projects and changes and developers do their job.

50/50 Curation - So rather than the 25/75 split of the 75% of the pool, it will now be split evenly where the authors are guaranteed 50% of the payout (of the 65% of the pool after the SteemDAO change).

The convergent curve - and while technical and I don't have all the answers, this change in the code reapplies some additional weighting to votes depending on stake. I think there is a post from @Vandeberg on it here.

2,5 Downvote pool - which means that there is going to likely and hopefully be more flags flying around the place, especially on abuse and content that is getting heavily over-rewarded. Don't be scared.
and Lastly,
Voting auction times - I am pretty sure that the voting time is going to be reduced further from 15 minutes to something like 5 minutes. This will bring in more randomization of voting order for the bots (I believe) and also mean that normal manual voters like myself don't have to wait to vote if we see something early.
Now, other than the downvoting pool since most people won't likely increase their downvoting habits yet, all of these things affect the economics of the Steem blockchain (EIP - Economic Improvement Proposal) and if backdated to all open posts, will start coming into effect tomorrow.
But what does this mean??
Dunno.
However if calculations are backdated, The Hardfork21 changes will start to be seen on the posts that haven't paid out yet. But be warned, this isn't going to be a very good representation of what the Hardfork is addressing, because people will not likely have changed their behaviors much at all, if any - since most people have no idea what is going on or what it al means. Yet over time and as the system and people start to adjust, things will become clearer as to how people are going to behave and what effect our behaviors have on the economics.
After Hardfork20 where Resource credits were introduced and a bug caused most people to be unable to interact, the place went crazy and people screamed and ranted for a few weeks with some still screaming and ranting.
My goal of this particular post is for people to take a bit of a "wait and see" approach this time and rather than screaming about the what has been lost, evaluate what has been gained.
This is easier said than done for many people, but how I handle it is I have established a small and knowledgeable group of users who I trust to have a discussion without getting emotional, whether they are personally affected positively or negatively. Generally these people are veterans and, they have a track-record of not blowing up.
Now, it doesn't matter if you have a group of people or not, but just find something that you can anchor yourself with as often around Hardforks,
people get loco.
I suggest not sitting around in chats and on blogs where even during the calm times, the people are crazy.
The other thing that would be beneficial to let go of before the Hardfork is that the changes are likely to have negative impacts on you personally. And on me too.
This Hardfork is coing to change the most controversial components of the Steem blockchain code and while people think that is the downvoting function, it isn't. It is the economics of Steem that brought many people here and therefore, it is the potential negative change to earnings that will affect people the most on average.
While humans tend to focus twice as heavily on the losses, the actual opportunity will lay in what has been gained but when people are looking at the negatives, they are unable to simultaneously take advantage of the positives and therefore, they lose out twice. People need to remember that in any healthy economy there is both the potential to win and lose, something that will hopefully return to the system after 2+ years of guaranteed profits for some at the detriment of others.
The last thing I would like to impress on people is that just like the wins and losses of Hardfork 19 and 20, at each stage things are learned and 21 and 22 will address some of the learning with a return to curves, free downvotes and the coming delegation pools likely in Hardfork 22 that will counteract the negatives for onboarding with Resource Credits from HF20.
People are so used to living in a broken, but long lasting economy that is managed by people with most decisions out of sight and definitely out of their hands that when faced with self-governance within a community, fear of the unknown becomes the norm. When acting on fears, rarely will the results be positive.
As said, Let's wait and see what changes for some time after Hardforks so that we can more accurately and effectively evaluate them and adjust without our emotions swooping in and fighting for the status quo.
Carry on
But stay calm.
Taraz
[ a Steem original ]