FAQ FOR STEEM PROPOSAL SYSTEM
Starting tomorrow SteemPeak.com will have a user interface for the new Steem Proposal system.
It's already built and live but not until HF21 will we see it populated with proposals
https://steempeak.com/proposals (view only for a few hours after HF21 the will be fully functional)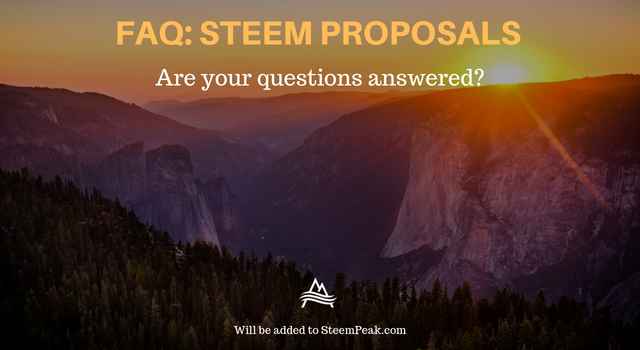 FYI: I took the picture last week in Yosemite.
WHAT IS STEEM PROPOSALS?
10% of the newly printed steem tokens from each day will be turned into SBD and set aside for projects that benefit the Steem ecosystem. Users will vote on proposals or vote to keep the SBD in the account until better proposals come around.
The hope of the project is to motivate lots of 3rd parties and give them a financial incentive to improve Steem. This can be everything from coding new features to marketing projects... and I guess we'll see just all what people will come up with.
PLEASE REVIEW THE FAQ
I would like to make sure that many people view this FAQ prior to us adding it to https://steempeak.com/proposals
So this is a call to those in the know to read through and make sure everything is accurate.
We'll also accept rewriting sections if you think there's a better way to explain them.
If you think some of these questions aren't important let me know... we can remove some as well.
PLEASE ADD TO THE FAQ
Do you have a question about SteemProposals that you'd like to see on the list?

HOW TO SUBMIT?
Make a post detailing your proposal.
What you write in the proposal is completely up to you and there are no official requirements for the post however voters will likely have many questions you could preemptively answer.
Go to https://steempeak.com/proposals and add your proposal
You'll need the following information.
A: Start and end time of funding period
B: Daily funding request
C: Link to your proposal post (permalink)
D: A subject. Aka "proposal name"
Pay 10sbd to submit

GENERAL QUESTIONS
1. Which Steem key can be used to vote? Which system can I use to make a vote?
Active or Owner key. And you can use both Keychain and SteemConnect.
---
2. Is there a limit to proposals I can vote on?
No.
---
3. Is there a fee to submit a proposal?
Yes 10SBD. Those funds go back into the Steem Proposal system.
---
4. What determines who gets paid?
There is a daily fund. The fund pays the top voted proposal the amount the proposal requested and then continues to pay proposals until it runs out of funding for that day. The final proposal will often only receive partial funding.
---
5. What happens if a proposal isn't funded on the first day? Can it be funded on the second day?
The proposer misses out on that possible funding. However they still have the rest of the days of their proposal period to get enough votes to get funding on those other days.
---
6. Can a proposal start to be funded and then loose funding?
Yes. There is no guarantee of continued funding. Votes can change hourly.
---
7. If a proposal looses funding half way through what happens?
They don't earn funding. What that means to the proposal is unknown unless the proposer says what will happen.
OPINION: We recommend voting on projects that give voters information about what they'll do if they are partially funded.
---
8. Is there any contractual obligation to finish what was promised in a proposal? Any accountability at all?
There is NO official accountability.
OPINION: Voters may read a proposal and see if the proposer has a method to secure accountability or at least give reasons for high levels of trust.
---
9. How do we know the proposers have finished their work?
There is no official way to know.
OPINION: We recommend voting on proposals that share how they will update their voters. Perhaps with a follow up post or comments.
In the future a 3rd party may develop a method to share the success rates of proposals.
---
10. Is there a way to see which proposers are most likely to accomplish what they're proposing? Anyway to see if they've finished others in the past?
There is not an official method.
But as in the previous question there may eventually be a 3rd party method that shares this type of educational information.
---
11. Can I downvote proposals? What is this "return proposal" thing?
There are no downvotes in this system. You can vote on what is called a "return proposal". Money that goes to a return proposal goes back into the account that distributes for the Steem Proposal System (@steem.dao) effectively acting as a way to say: "no projects voted lower than this proposal will receive money".
---
12. What is the value of my vote?
It is proportionally equal to your Steem Power
---
13. Can I just donate to a project?
No official method to do this to a specific project.
However you can make a general donation by sending steem or SBD to @steem.dao
To contribute to an individual project you'll need to have a 1 on 1 conversation with the proposer.
Eventually there may be a 3rd party method to do so that can provide some element of trust.
---
14. Do the funding dates represent just the days of funding or do they relate to days work will be done?
Relates just to the funding days.
OPINION: We recommend looking at the proposal post and see when they suggest they'll actually be working on the proposal and or finish with the work.
---
15. How often do proposals get paid?
If they have enough votes to qualify then the system will distribute SBD hourly.
---
16. Can a proposer withdraw their proposal early?
Yes there is a method to withdraw a proposal. But not edit.

OTHER PROPOSER QUESTIONS
1. Can I have a different account receive the funds?
Yes. There will be two fields proposal creator and proposal receiver. The receiver gets the hourly funds.
2. Can I have a different account make the proposal post?
The post must have been made by either the proposal creator or the proposal receiver
---
3. Can I suggest a minimum and maximum amount to get paid for a project?
Presently there is no official method for these things.
In the future there may be a system (3rd party) that keeps your funds in escrow until you hit a minimum. Also right now you'd have to end your proposal manually when you hit the maximum funds received.
---
4. What should I do if I only get partial funding?
Officially there is no policy.
OPINION: We recommend you have a plan B and or C in place in your proposal for what you will do in the case of partial funding.
EXAMPLES: You may do partial work. You'll still do the full work anyway. An amount of partial funding that will lead to you doing the full work. That you won't do the proposal and will send any partial funding back to @steem.dao etc.
---
5. Is there any requirement to give a time period for when I'll finish the promises of my proposal?
Officially there is not.
OPINION: We recommend you inform voters in your post about your own self imposed timelines because this may effect your votes.
---
6. Is there a way to show voters that I have been successful in the past or official method of metrics that can lead to trust in my proposal?
Officially there is no method or metrics like this.
OPINION: We recommend you inform voters in your post about information that can lead to them trusting your proposal, such as if you've had a successful proposal in the past. Perhaps in the future there will be 3rd parties that track success of proposals.
---
7. Is there a fee refund for proposals that don't get funded?
No refund of the 10SBD fee
---
8. Can we edit the proposal details?
You can NOT presently edit Subject, Dates, Funding daily request or Link.
You can edit your own post and this may be a smart move to update with answers to questions... or update with status updates about the project.
---
9. Is there any particular keyword to use for a proposal?
There is no official keyword nor even a commonly used keyword yet.