Self-help; A New Approach for Life Modification.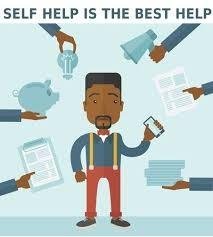 It is a new field based on the behavioral science psychology as well as motivational teachings of great gurus of business and sociology, so we can say it is an interdisciplinary field that includes the practical trainings of philosophy, spirituality, meditation, and yoga and lifestyle medicine.
The core belief of this branch of human science is that mankind can do anything if he just believes enough in himself and to be committed to the goal.
Samuel Smiles (1812–1904) published the first self- personal-development "self-help" book entitled Self-Helping 1859.
The opening sentence: "Heaven helps those who help themselves", provides a variation of "God helps them that help themselves".
We always try to be dependent and change our problems and psychosocial behavioral problems ourselves.
Self-help is not equal to be alone or not seeking professional help or getting consultations from experts or others.
It means that you have to work on yourself by using practical applications and positive intervention methods from new age philosophy and positive psychology.
Self-help books are revolving around the art of cooking, nutrition, weight control, psychological health, anti-aging practices, self-love, building friendships and coalitions.
There is no official ministry or branch within any government to support these kinds of teachings and it is mainly being conducted by private training institutions.
Few to no negative effects from joining a well-established, mutual-help group according to the investigations of psychology today journal.
Based on various factors these teachings can succeed like personal properties of the trainee, the problem that he is facing right now and the experience of the trainer himself.
Self-help process begins with the clarity of your needs by meditation and contemplation as well as thinking and asking both many guided questions for a better life.
Questions about knowing where you are right now? What do you desire to change? What are your goals, when, where and what resources are available to help you achieve your goals?
According to the APA Dictionary of Psychology, potential benefits of self-help groups that professionals may not be able to provide include friendship, emotional support, experiential knowledge, identity, meaningful roles, and a sense of belonging.
It's important to know that this field is based on continual learning and trying different pathways and action plans that should be literally applied and not to fall into the trap of just learning and forgetting to implement them to your real life because this is the purpose of that field.
Self-help believes in the power of intention and trains you to value thoughts and values as well as much as the importance of daily actions.
It is like the cognitive behavioral therapy which also focuses on managing thoughts that influences reality.
Self-help is like any approach which has limitations, so be aware of extraordinary claims and over promises.
Be sure the writer has the experience, certificates, knowledge, fame, and coached thousands before you to give you appropriate advice.
Remind yourself that self-help materials can help you adapt and accommodate with different social and mental problems but you will always need better understanding about the deep roots and symptoms as well as academic solutions for your crisis.
Self-help materials in the end are commercial products created to be attractive so that you can buy it, so if you feel many signs of financial or internal depression, it is crucial to keep in touch with an official business advisor and a mental health care professional to figure out the best treatment for resilience strategies.
At the end, we emphasize that self-help is beneficial but it is not for everyone or at least is not the only solution for all the problems.
Psychologist John C. Norcross, PhD, lead author of the book Self-Help That Works: Resources to Improve Emotional Health and Strengthen Relationships, says that self-help is generally better than no help at all and, in some cases, can be almost as effective as working one-on-one with a professional.
So helping your self is good and critical because when we direct ourselves using evidence based techniques will help us effectively.