Updates on Hede: New Design, New Features, New Communities and Roadmap
Repository
https://github.com/Hede-io/hede.io
In this post, we will present the following topics:
New Design
Entries as Steem Comments
Twitter-like text limit of up to 1500 characters
Unlimited editing
New Communities, Community Helpers, Moderators
Automatic language filters
SEO updates
Utopian VIPO, Fundition campaign, MSP Waves Radio show, and Minnowbooster whitelist
Guidelines for naming topics
Roadmap
Support us
What is Hede?
Hede is a social and personal knowledge sharing dictionary where you can add new opinions and information on any topic by defining it with your own words. You share what you know from your personal experience or observations, even it is not correct. Thus, Hede is a combination of Urban Dictionary's structure, Wiki's aim, and Reddit's personal knowledge to create a modern knowledge base using the Steem blockchain.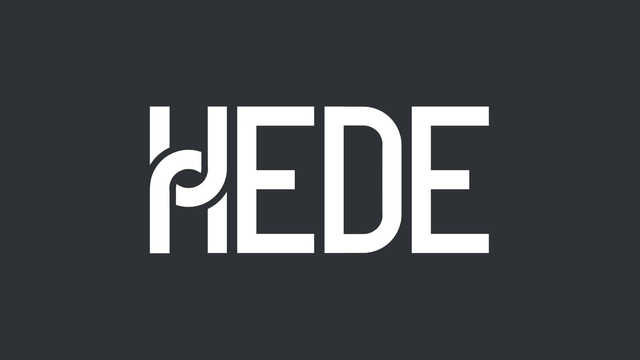 @ercu started developing it in February 2018, and we were ready to accept authors in April 2018. Since then, we have had more than 3000 topics, 4000 entries in English, Spanish and Turkish.
New Design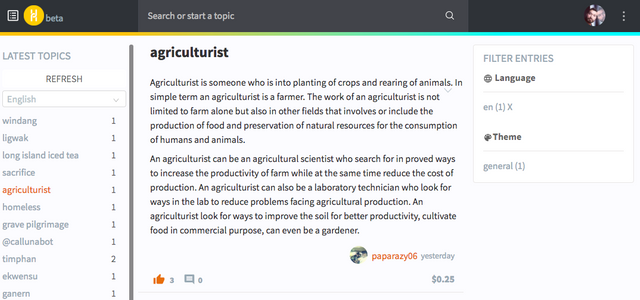 Hede is a content-based website, so color selection is critical for eye health. After a poll where users requested a change in our design, we have switched from yellow to a dark gray header, less shiny links, added thumbnails of authors and darker text color for the mobile version. Colors are now dynamically set, so expect to see more themes as well as night mode. (PR)
Entries as Steem Comments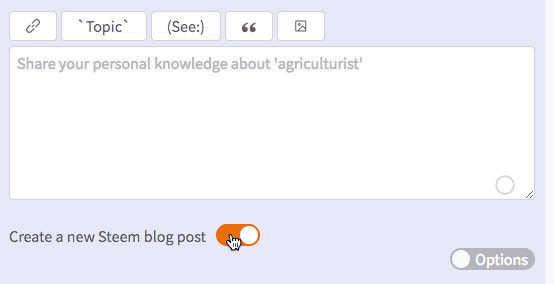 The value of an entry is independent of its length. A shorter entry may be more effective than a longer one. Also, in some cases there may not be much to write about a niche or specific topic. Besides, filler words and filler questions frequently of the kind often used in blog posts are what we are trying to avoid.
Since the beginning, we have been storing Hede entries as Steem blog posts. However, you might not like to create short posts, as they would seem spammy to your followers. Now, you can store Hede entries on the Steem blockchain without creating a blog post on your profile. If you deselect the blog post switch which is on by default, your entry will be a comment on Steem. (PR)
This is how the entry is seen on steemit.com:

You can see that we have a "Continue reading on hede.io" link to read the full entry on our website. The entry is fully stored on the Steem blockchain on json_metadata.entry field as shown below:

One reason for this is to not lock up users' devices when they want to see all the comments under the root post. Another reason is to make the authors have freedom of speech by preventing entries getting downvoted for any disagreement of opinions in them.
Twitter-like text limit of up to 1500 characters

We are happy that our authors like to share their knowledge, but we've had some very long entries (3k characters). For our target audience, time will be valuable, thus we believe our authors can write shorter entries without sacrificing their value. This may also prevent authors from describing other terms in detail by making lists (as we want everything to be in its own topic). To make this happen, we are now limiting the maximum size of an entry to be 1500 characters (~ 130 words). So, it is longer than a tweet but shorter than most blog posts.
For a clearer UX, we had to indicate the character limit to the user. Twitter's text limit animation seemed to be the best solution, so we have adapted it to our frontend and libraries. When we have multiple entries per topic, you may understand how beneficial this is. (PR)
Unlimited Editing
We were quick to allow our users unlimited editing, which is supported by Steem's HF 19.10. This feature will enable our authors to share their ideas more fearlessly, as they can edit posts that are older than 7 days.
New Communities, Community Helpers, Moderators
We now have community members from The Philippines, Indonesia, Nigeria, Venezuela, India, and Columbia. We are still planning to show our concept to new users in other communities, and build up a worldwide knowledge base. We can achieve this with the help of authors who believe in the project and want their friends to be part of it.
Our team is getting bigger as new communities are using the project, and we need people to help them. @carlagonz joined for Spanish moderation, @curtwriter as a Nigerian community helper, @holovision as global community helper, and @paraaltiredoks as a general moderator. We are glad to have them all on the team. We now have 6 community helpers excluding Omuabor "Onos" Bright.
Automatic language filtering
We currently support three languages for entries: English, Spanish, and Turkish. As we are a multilingual project and need localization, when you search or click on any "link to topic", it will show you entries in your preferred language. It first checks if you have any manual filters set. If you do not, it then checks your browser language to filter out entries in the target topic. (C1, C2, C3)
SEO Updates
When you publish posts using a dapp, Steemit.com still has priority in google search results. Steem Inc is about to solve this using canonical links. We have also updated our website for better discoverability on google searches. We've added a sitemap, more server-side rendering, and prevented duplicate content issues. We still have a long way to go. All these may help us provide additional delegation for the app. (PR)
Utopian VIPO, Fundition campaign, MSP Radio show and @minnowbooster community driven whitelist
We have been accepted for Utopian's VIPO list and have benefited from having suggestions, bug-hunts and promotion support. We have great support now, and we thank the entire Utopian team for this. We had two posts, My thoughts about hede.io and Define it Your Own Way rewarded by Utopian. Promote Hede and add utopian tags on your post, then you likely be eligable for any Utopian upvote.
We have also started our Fundition campaign to build the next knowledge base for the modern world. To support our journey, please find us on our Fundition page here.
@ercu was a guest of MSP Radio Show by the invitation of @buckydurddle and hosting of @jedigeiss. He was happy to meet all those great people who could understand our passion, and to have the opportunity to answer their intelligent questions. As our roadmap has too many items, he could not decide where to start telling that part.
Our project account (@hede-io) has been accepted to the @minnowbooster Community driven Whitelist. Thanks to those who voted for us!
Guidelines for naming topics
We have published our first guideline about picking the names for topics. You should read it here before contributing. Next, We will post more guidelines for entries.
Roadmap
We are building the future of knowledge sharing, by being a unique project and combining Urban Dictionary, Wiki, and Reddit. While we have local experience from similar projects that have 1 million entries a month, we need to work harder than most Steem projects, which have global competitors. We believe the world needs this app and Steem is the only way to generate content to fill this gap. We are glad to see that our authors are of the same mind. Thus, we have fantastic new ideas every day on how to fix the problems of discovering content in a faster way, preventing duplication and going into more in-depth and specialized topics. We have to work hard to reach our aim, taking one step at a time. We are already implementing new features and bugfixes as soon as we have the ideas, but some will take time to do.
Sub-Hedes! Communities on Hede.
Off-Steem memberships
Seven days reward limit removal
Posts to educate authors about topic names and entries
Go beyond definitions: collaborative lists
Airdrop of our SMT/ERC-20 tokens to our users, funditians and sp delegators.
Curation system using @steem-ua and auto-whitelisting
To-do list for the app itself (38 items and counting)
Support us
Hede authors see the project as one of the most significant inventions and feel they are writing human history on the immutable Steem blockchain and allowing people access it faster. Building the future of knowledge sharing cannot be done without your support. If you would like Steem to have quality and original content with predefined guidelines to make it accessible in the future, please think of supporting us.
There are two ways of supporting us. One way is via Our Fundition campaign.
Another way is to delegate SP to us so we can reward our authors. Hede is a dapp that has no support from any curation trails, so we need personal delegations more than many other projects.
Very soon, we will announce incentives for those who delegate SP to us.
We currently have 219 SP delegated by @firedream (102 SP), @sauronbey (101 SP), @keepcalmandread (10 SP), @ugurarslanboga (5 SP), @exodussian (1 SP). In addition to that, we monthly lease a small amount of SP using minnowbooster.
Discord
For announcements and sharing your suggestions directly with us, please Click here to join our Discord server.