The ancient language of ivrit ( עברית ) Genesis 1 - Part 6
The full study is now on line covering the Alef-Beyt is contained here in my blog. This is a beginners program to teach letters, vowels, and reading. The vowels are marked in this bible and are designed to help avoid confusion on what a word is and how it is pronounced. The confusion is obvious in the hundreds of interpretations globally. In modern Hebrew, only children need a niqqud or vowel marking for each letter. Old manuscripts also usually have vowels marked.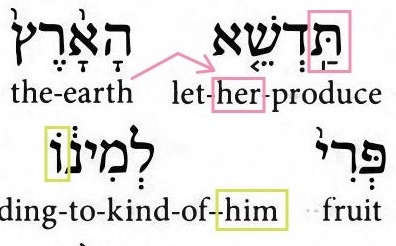 Last we left off with creation, the seas and dry land. Today we continue in b'resheet (Genesis) with the second part of day two. Look for the word for "that" (ah-share) and the word for "good" (tove) as we read. We can now easily learn "tree" (ayts) and "seed" (zerah) as we read.
I noted some structure and gender below. As with many languages, Hebrew has genders for things and people. I highlight some very basic examples of subject and object references to gender. And I will continue to explain them as we run into them. Learning languages is a combination of reading, speaking, listening, understanding and vocabulary.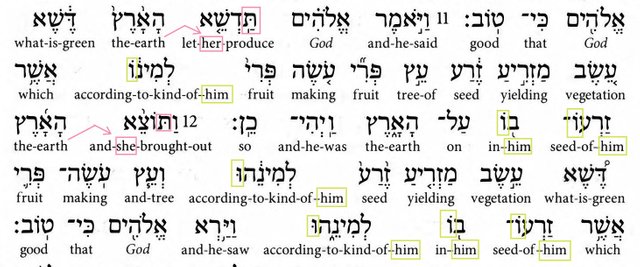 Terms:
Subject; the person or thing performing an action.
Subject pronouns; I - he - she - it - we - they
Object; the one impacted by the action.
Object pronouns; me - him - her - it - us - them
(there is no "it" in Hebrew because things are either he or she)
---
Notice also that word order is switched when the subject is used, otherwise the he or she is part of the verb.

There is no word-for-word translation for most languages, for that reason the above would be interpreted as "the earth brought forth" and in this case it was "green vegitation."
The image says "she brought out" which is more accurate. When I read this the first time, I noticed that everything on the earth seemed to be created on the first day. Now the Almighty merely brings the grass and trees out of the ground and causes things to become...
Think about when you were conceived. Seed and egg joining. A brand new string of DNA. Everything you are now was there and just needed to become. You were probably bald and your hair needed to be bought out.
---
▶️ DTube
▶️ IPFS
Get your Hebrew Bible now!
Click here to obtain the book we are using. It is a free download - or browser usable.
Thanks for taking the time to watch and read.
Shalom