Welcome back to my DTube Hebrew reading & language series.
The full study is now on line covering the Alef-Beyt here in my blog. This is a beginners program to teach letters, vowels, and reading. The vowels are marked in this bible and are designed to help avoid confusion on what a word is and how it is pronounced. The confusion is obvious in the hundreds of interpretations globally. In modern Hebrew, only children need a niqqud or vowel marking for each letter. Old manuscripts also usually have vowels marked.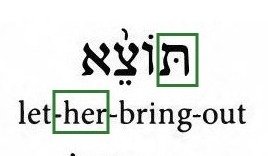 This week covers Genesis 1:23-25.
God is now commanding that the earth bring out each creature that is alive; the livestock, creeping things, and beasts according to the kind of each (her in Hebrew). Then God "made" the same set of mentioned living things.
It is common to repeat things in Hebrew sometimes for chronology, then repeated to give more detail. Other times, as in today's example, to express that everything was already there, able to have the earth bring out those things, then to affirm that God made them.
This video different.
I am putting more detail into the video this week. My intention was to identify the vowels in each word and their sounds. Then say the word drawing the order in which to join every letter and vowel. Then say the word fluently.
For now I am ignoring cantillation marks and other notations. My intention is to get you reading! The definitions are all there and the word order is something you will get used to when you are able to read and compare verses. The ability to learn on your own is one of my goals for you.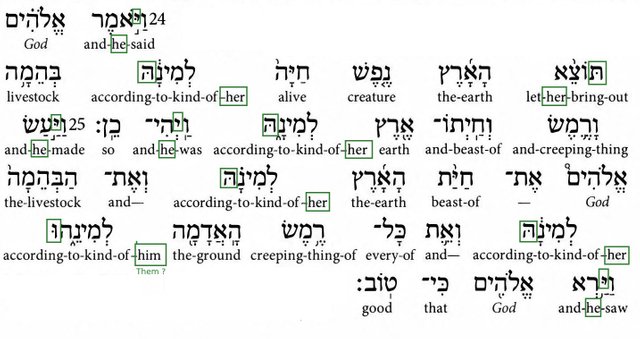 Actions
Actions words (verbs) change based on if a male or female is doing that action. Other letters are added at the end to signify that the action impacts him, her, them, etc.
I cannot teach reading, pronunciation and the entire gamut of verb structure at the same time. For now, keep in mind that this structure exists. Note the way each word changes depending on masculine or feminine doers and or receivers of the action. The rest will come in future lessons.
---
Here are the links
Please click over to DTube and read the above passage with me in Hebrew.
---
▶️ DTube
▶️ IPFS
Mistakes: I know how to press record, then stop when I am done. I do not know much about editing. I know there are several unintended errors. Please excuse them.
---
If you are just starting, my lessons are all here starting at Alef, adding vowels (the dots and lines) as we go, the sofit formations and numerical values. Just go to my blog and scroll to the bottom or click here
Get your Hebrew Bible now!
Click here to obtain the book we are using. It is a free download - or browser usable.
Thanks for taking the time to watch and read.
Shabbat Shalom
I give no opinion, but yours are welcome below